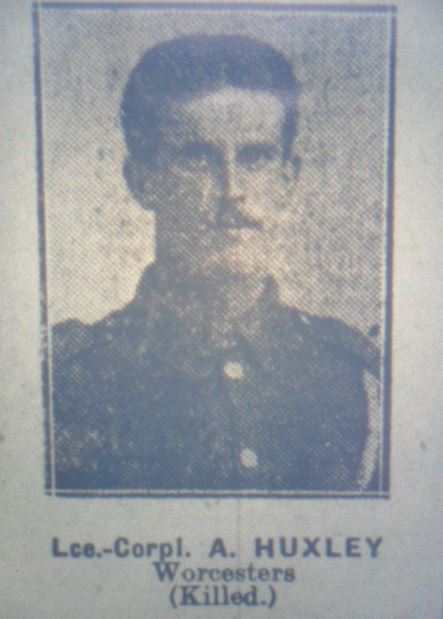 Albert Huxley had connections with both Badsey and Wickhamford.  His grandmother, Eliza Sharp, had been born at Wickhamford in 1829, his mother, Mary Sharp, had been born at Badsey in 1852.  Albert himself was born at Wickhamford and attended Badsey School; in the first decade of the 20th century, he moved to Bowers Hill, Badsey.  Lance Corporal Huxley is recorded on the war memorial in St James' Church, Badsey, and at Badsey School.
* * * * *
Albert Huxley was born at Wickhamford on 11th July 1895 and baptized in the Church of St John the Baptist, Wickhamford, in March 1898.  He was the second son of Mary Huxley and Richard Hardiman.  Mary Huxley was married to Edmund Huxley, by whom she had eight children, but the couple had separated.  The Huxleys had moved to Wickhamford in about 1884, but they were living apart by the time of the baptism of their eighth child, Rose Ellen, in October 1890 ("married woman living apart from her husband" was written in the baptismal register).  By the time of the 1891 census, Mary was living with five of her children in a cottage near the Manor House, in the home of 22-year-old bachelor, Richard Hardiman.  In 1892, Mary had a son, Richard Hardiman Huxley, and then Albert was born in 1896.  In the School Register, the Parent/Guardian was either given as Mary Huxley or Richard Hardiman, so the relationship was acknowledged, although on census returns, Richard was referred to as the lodger.
Albert was a pupil at Badsey School from 1898 until October 1900 when he left the village.  The reason for this was because Mary and Richard moved to Whittington with their younger children where they had gained employment on a farm, Mary doing field work and Richard working as a carter.  The Huxley/Hardiman family returned to Wickhamford in May 1902 when Albert and his brother, Richard, re-enrolled at Badsey School.
By the time of the 1911 census, they were living at Bowers Hill (present-day No 1).  It is possible that they had moved there in 1906 when the cottages were built.  Albert and his brother, Richard, their father, Richard, and four of their half-brothers who were still living at home, were all working as market gardener's labourers.
Mary Huxley died at Badsey in 1913, aged 61.  It is thought that the family may have left Bowers Hill at that point, as the Hancock family were living there by 1914.  In addition, a remark in the December 1918 magazine indicates that Albert was working at Elm Farm, Wickhamford, when war broke out.
Albert Huxley most likely enlisted in 1916 when conscription was introduced.  He joined the 2nd/8th Battalion of the Worcestershire Regiment.  The Parish Magazine of September 1917 reported that he had been severely wounded in the neck and shoulder, and was in hospital in France.  The update in the November magazine was that he had recovered and been home on leave.
But shortly after returning to the front, Lance Corporal Huxley was killed in France while on sentry duty.  The Parish Magazine of December 1917 stated:  "This makes the third death at the front among those employed on Mr Mason's farm when war broke out."
Albert was buried at Sunken Road Cemetery, Fampoux, Pas de Calais.  A Memorial Service was held at Badsey on 5th December 1917.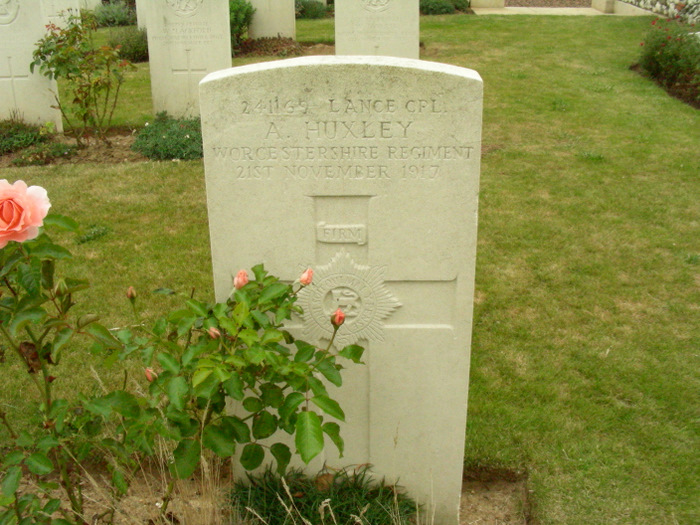 Albert's father, Richard Hardiman, died at Badsey in 1935.  His address on a 1924 electoral register was given as Hut, Willersey Road, so one assumes he was living in his market gardener's hovel.  Albert's brother, Richard Hardiman Huxley, remained at Bowers Hill for the rest of his life, living with his family at No 10.  Most of Albert's half-siblings also remained in the Evesham area.