Private Thomas Hartwell Knight was Badsey born and bred.  His mother's family, the Malins, had lived in Badsey since the later 1850s; his father's family, the Hartwells, had lived in Badsey since the late 18th century; the Knights (whose name he bore, but he was no blood relative) had lived in Badsey since the 17th century.  Private Knight's name is recorded on the war memorial in St James' Church, Badsey, and at Badsey School.
* * * * *
Thomas Hartwell Knight was born at Badsey on 11th January 1882, the son of widow Dinah Knight (née Malin) and her partner, George Hartwell.  He had two older half-brothers, George Malin and Walter Frederick (who later assumed the name of John) Malin, born in 1864 and 1867 respectively.  Dinah had then married John Knight at Badsey in 1875 but John died three years later, so Thomas never knew the man whose surname he bore.  Thomas also had two older brothers (William George Hartwell Knight and David Hartwell Knight) and a younger sister (Alice Hartwell Knight) and a younger brother (Charles Knight), who were also Dinah's children by George Hartwell.  On census returns, George was described as a boarder.
Thomas grew up with his blended family at The Leys (a row of cottages demolished in the 1950s on the site of Hither Green) and attended Badsey School.  On leaving school, he became a market gardener's labourer, working for his half-brother, George Malin.  By then they were living in a newly-built house on Badsey Fields Lane (present-day No 3).
Thomas enlisted with the Worcestershire Regiment in 1916 when conscription began.  The Parish Magazine of May 1918 reported that he had been wounded and was now convalescent.  The June magazine said that he was in hospital in France suffering from influenza and an injured ankle.  The following month's magazine gave the information that he had been discharged.
On his return to France, Thomas found himself serving in the same battalion as Lieutenant-Colonel Bernard Barton who, before the war, had been the tenant farmer at Bowers Hill Farm, Badsey; Thomas had worked on land adjacent.  On 11th August 1918, Lieutenant-Colonel Barton was killed in action.  The September 1918 magazine reported that Thomas attended the funeral of Colonel Bernard Barton in the capacity of bandsman.
The autumn of 1918 was a grim time for Dinah Knight and George Hartwell as they lost two children within the space of a month.  Firstly, their daughter, Alice, who was married to William Sandford and was the mother of nine surviving children (two others had died in infancy) died at the end of October 1918.  Then, just two days before the Armistice, the December magazine reported as follows:
On November 9, Pte T Knight's mother received two letters from France, one stating that he had been admitted to the 26th General Hospital on November 3 suffering from severe gas-poisoning, and the other informing her that he passed away on November 6 and would be buried in the British Cemetery at Étaples.  Pte Knight, who had seen two years' service, was home a year ago, was wounded last May, and was expecting to get leave just about the time his death occurred.  A memorial service was held at Badsey on November 19.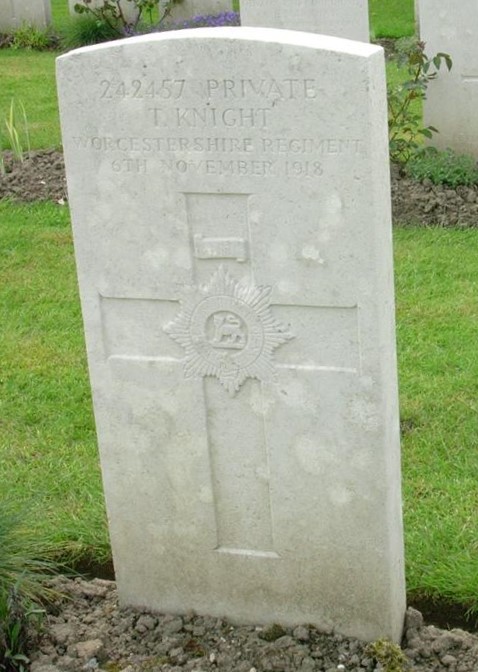 Thomas' grieving parents, George Hartwell and Dinah Knight, remained in Badsey until their deaths in 1920 and July 1926 respectively.  His half-brother, George Malin, died later in 1926.  His other half-brother, now known as John Malin, died in 1927, leaving several children who still lived in the Vale of Evesham area.  It is not known what happened to Thomas' brothers, David and Charles, but his brother, William, remained in Badsey until his death in 1945, raising a large family.