Ernest Albert Yeates moved to Badsey from Herefordshire in 1910.  Private Yeates' name is recorded on the war memorial in St James' Church, Badsey. 
* * * * *
Ernest Yeates was registered with the name Albert Ernest Yeates and he appears in early census returns as Albert E but, by the time he moved to Badsey, his name always appears ad Ernest Albert.  Ernest was born in 1888, the second of six children of Charles and Annie Yeates.  He was born in Bishop's Frome, Herefordshire, where his father was a tailor.  Charles Yeates died in 1905.  Presumably the family stayed on in Bishop's Frome for a time but, by May 1910, they were living in Badsey when the youngest in the family, William Henry, enrolled at Badsey Council School.  Ernest's elder brother, Charles, did not move with the family to Badsey, as he was about to get married and settle in Sparkhill, Birmingham, but Ernest's two younger surviving sisters and William came to Badsey.  They moved to Lanket Lane (today's Brewers Lane) and into a terraced cottage called Fair View (present-day No 41).
In 1911, Ernest was shown as head of the household at Fair View Cottages, Brewers Lane, Badsey (present-day No 41), which comprised his widowed mother, three younger siblings and two boarders.  He was working as a groom for a baker and grocer (presumably for James Brewer, whose bakery was close by).
On 24th February 1914 at the Church of St John the Baptist, Knighton, Leicester, Ernest married Lilian Crisp.
Ernest enlisted at Evesham with the Worcestershire Regiment probably in January 1917; he joined the 2nd Battalion as a Private (No 38219).  Various reports of his welfare appeared in the Parish Magazines.  In December 1917, "Pte E Yeates is in hospital in France with shrapnel wounds in the right arm and left leg."  The January 1918 magazine reported that he had been transferred to a hospital at Banbury and was progressing satisfactorily; reports continued to be favourable in the February magazine.
Ernest returned to France but was wounded again.  The October 1918 magazine reports:  "Pte E Yeates was wounded on September 26, but remained on duty."  Three days later he was dead.  The December 1918 magazine reported as follows:
Mrs E Yeates received the sad news that her husband, who had been missing since September 29, was reported "killed in action or died of wounds" on or near that date.  Pte Yeates joined the colours in January 1917, and went to France the following April.  He was severely wounded in November 1917 and, after being in hospital at Oxford and Banbury, rejoined his regiment in April last, returning to France in August.  A memorial service was held at Badsey on November 20.
Ernest was buried at Pigeon Ravine Cemetery, Epehy.  The cemetery was made at the beginning of October 1918 and contains 121 identified casualties.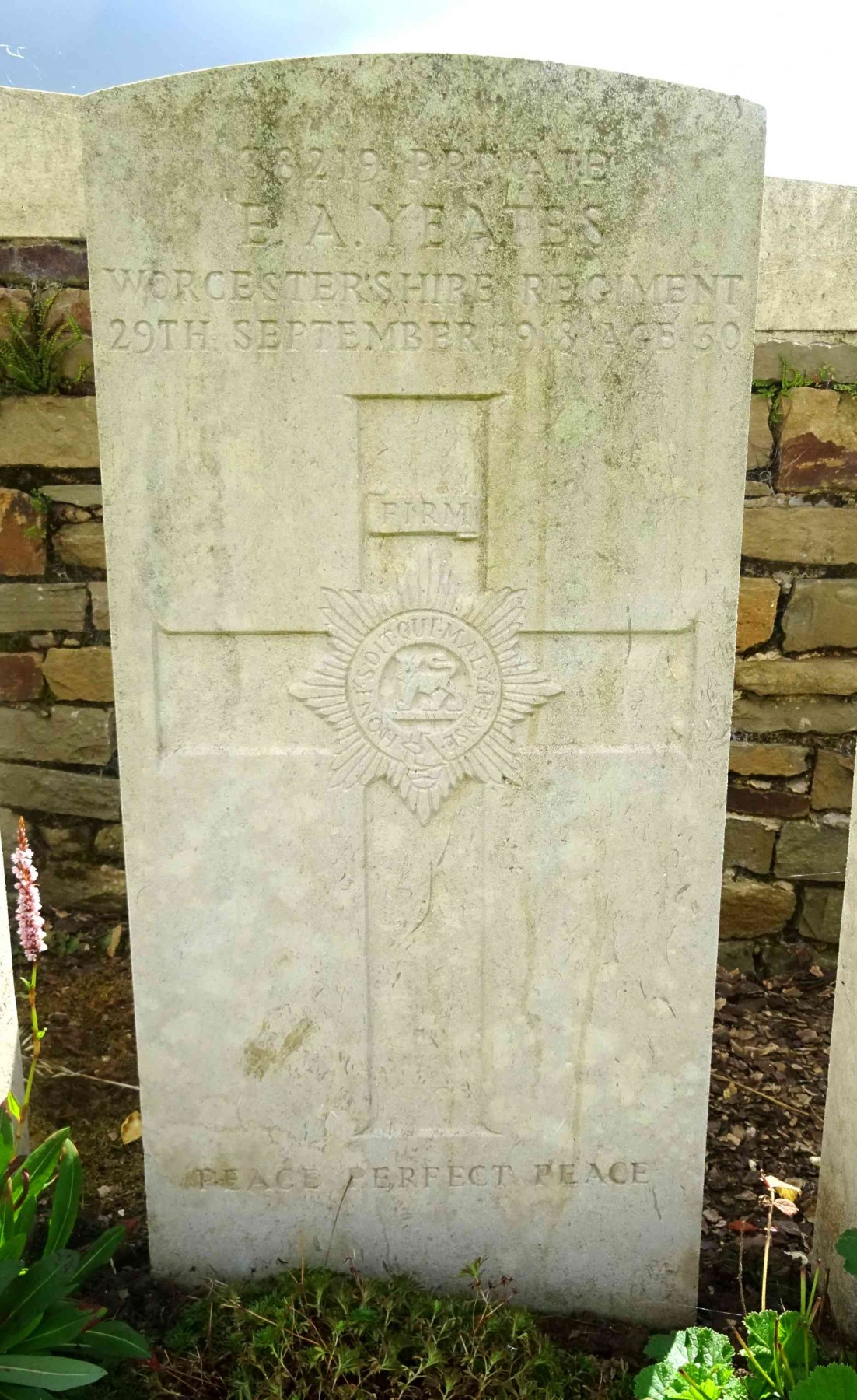 Ernest's mother and younger siblings, Flossie, Dossie and Bill, later moved from Fair View Cottages to 11 Badsey Fields Lane; the siblings remaining unmarried.  Annie died in 1934; Flossie was the last to die in 1984.  Of Ernest's widow, nothing is known; she is not thought to have stayed in the village.