Irvin (sometimes spelt Irvine or Irving) Godfrey Wilcox (sometimes spelt Willcox) moved to Badsey in 1912 and to Wickhamford in 1914.  Gunner Wilcox's name is recorded on the war memorial in St John the Baptist's Church, Wickhamford, in Wickhamford Memorial Hall and on the war memorial in Abbey Park, Evesham, where his name appears incorrectly as J G Wilcox.
* * * * *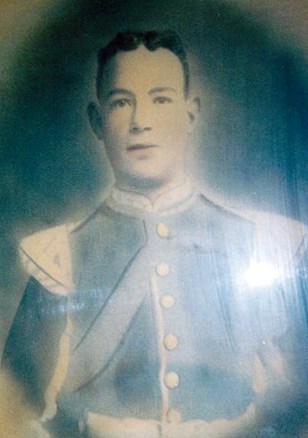 Gunner Irvin Godfrey Wilcox joined the Royal Field Artillery (No 47169) and was killed in action on 12th March 1918 in France, by enemy shellfire.  He was born in Woodmancote, Glos. and was a farm labourer in Tewkesbury in 1901.  In the 1911 census he was listed as a Gunner in the 75th Battery, R.F.A and in India.  Irvin Wilcox married Gertrude Smith in Stratford in 1912 and moved to Badsey.  They moved to Wickhamford and a son was baptised there in May 1915.  The Badsey Magazine of April 1918 mentions a letter of condolence to his wife from a Major Nelson, which was also reported in the Evesham Journal.  He spoke in the highest terms of a very gallant soldier.  He is buried in the Philosophe British Cemetery, Mazingarbe (Grave/Memorial No. IV.B.7).
He was the son of Charles and Emily Wilcox, and his name was also spelled 'Irvine' or 'Irving' in some sources, and 'Willcox' at his birth. His records also refer to him being in the Royal Horse Artillery.  He was a reservist at the outbreak of the War and joined up in August 1914, going to France with the first Expeditionary Force with the Royal Field Artillery.  He had been a gardener at Wickhamford Manor, working for George Lees-Milne for a number of years.  A Memorial Service was held in Wickhamford Church on 23rd March 1918.