Albert William Holland moved to Wickhamford with his family some time during the First World War.   On his maternal side, he had connections with Badsey, as his mother's mother, Rachel Winfield (née Hartwell), was from the Hartwell family who had lived in Badsey since the 18th century.  Private Holland is recorded on the war memorials in St John the Baptist Church, Wickhamford, and in Wickhamford Memorial Hall.
* * * * *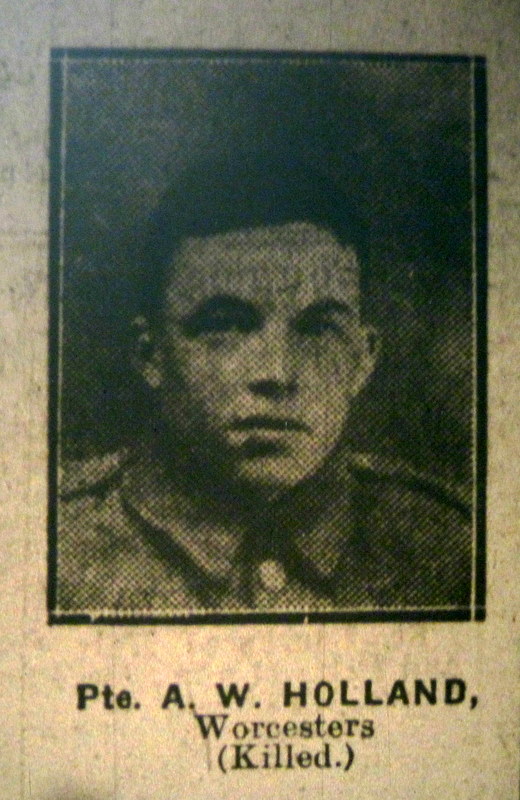 Private Albert Holland was born in Offenham and lived in Wickhamford (according to the Army records), presumably after the 1911 census; he joined the 14th Battalion, Worcestershire Regt (No 36213) and was killed in action on 1st January 1918 in France, aged 19.  According to the Badsey Parish Magazine of Feb. 1918, his mother received a letter from his platoon officer. It said, "During the short time he was with me he proved to be one of my best and most willing men. Although still very young he had the nerve of many men much older and I shall greatly miss him."  He had not been in France for many weeks and is buried in the Sunken Road Cemetery, Villers-Plouich (Memorial/Grave A 27).
He was the son of William and Elizabeth Holland and still at school in Evesham at the time of the 1911 census, living in Littleworth Street.  He lived at 10 Council Houses, Wickhamford when he enlisted.  His full name was Albert William Holland.
A Memorial Service was held for Private A Holland at Wickhamford on January 23rd 1918.