On 4th December 1915, The Evesham Journal reported that the late Samuel and Rebecca Halford of Wickhamford had five sons in the Army:  Private Alfred James Halford (known as Fred), Private Allen Ernest Halford, Private Horace Albert Halford, Corporal Walter Owen Halford and Private Francis Harry Halford (known as Harry).  Pte 'Fred' Halford was the second son and one of ten children of Samuel and Rebecca and had been born at Offenham.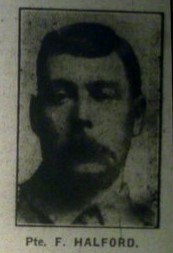 Fred moved with his family from Offenham to Wickhamford in 1894.  On Christmas Eve 1904 he married Sarah Staite at Wickhamford and they had three children, all born and baptized at Wickhamford.  By 1910, when his third child was baptized, Fred gave his name as Frederick on official documents.  By 1911 they had moved to Badsey where again he appeared on the census return as Frederick.  Fred's wife, Sarah, died in the Droitwich district in 1913.  He married again in 1918 to Elizabeth Austin in the Aston district. At one time, before the War, he worked as a miller and later was employed by Evesham Town Council.
It is not known whether Fred registered for military service under the name of Alfred James or Frederick.
At the time of the 1939 register, Fred was living at 8 Council Houses, Laurels Road, Evesham, with his second wife, and sons, Walter (from his first marriage) and Frederick (from his second marriage).  He died in the Evesham area in 1958 and his death was recorded under his full name of Alfred James Halford.