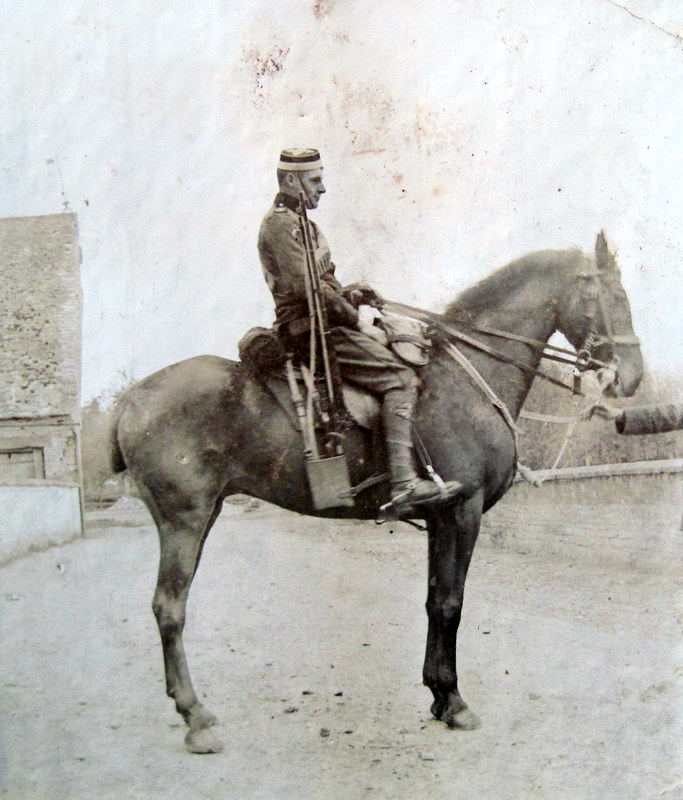 Gunner Harold John Idiens (1880-1953), born in Evesham, was the eldest of seven children of John Idiens, a coal merchant, and his wife, Alice (née South).  In about 1900, the Idiens family became tenants at Wickhamford Manor and quickly became involved with the local community; Harold was employed as a farm bailiff.  They presumably left Wickhamford in 1906 when George Lees-Milne bought the Manor.
By 1911, Harold was living with his aunt and uncle in Tettenhall, Wolverhampton, Staffordshire, working as a corn agent for a corn merchant.  In 1912 and 1913, his siblings and parents all emigrated to British Columbia, Canada; Harold was the only one to remain in England.
Harold is mentioned briefly in a letter of 13th June 1915 from Kathleen Sladden to her father, who said that Harold had been up visiting his brother, Bert, who was in hospital in London. 
Harold enlisted on 25th November 1915, giving a home address was given as High Street, Evesham.  He joined the 135th Battalion, Royal Garrison Artillery as a bombardier (No 9097) then a gunner (No 297354).  He had previously served a 5-year term in the Worcestershire Yeomanry.  He went to France on 27th May 1916, but by late in that year was in hospital in Cardiff suffering from trench foot. 
Harold's army files contains a letter, dated 10th April 1918, from the Overseas Military Forces of Canada giving his younger brother Albert's rank and number and stating that Albert should be regarded as Harold's next-of-kin, as he was in Europe, whereas their father was in Canada.  He was discharged from the Army on 15th March 1919 and received the Victory and British War medals.
As well as Albert Idiens, Harold's youngest brother, Stanley South Idiens, also served in the war.
Harold married Elizabeth Helena Crisp in 1921.  He died in Evesham in 1953.
See also:  Idiens Family of Bowers Hill and Wickhamford Manor