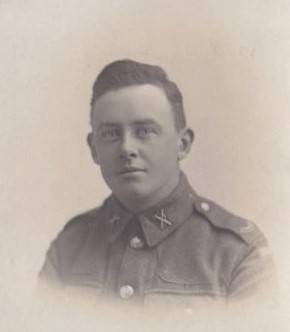 Corporal John Taylor (1891-1975) was a descendant of the Taylor family that had farmed in Wickhamford for many years.  In 1911 he lived with his parents at Rosebank, Pitchers Hill and was described as a farmer's assistant.  His older brother, William Herbert Taylor, who was living in Neath at the time, also served in the war.  The brothers were second cousins of Frederick Taylor, who also served in the war.
John was in B Company, 11th Battalion, Worcestershire Regt (No 33552) from 12th June 1916 until 16th August 1919.  The Badsey Magazines of June to Sept 1918 report on his progress after being gassed.  He made a slow recovery in hospital in Nottingham. In 1919, he served with the 11th Battalion in the Caucasus region of Russia during International attempts to overthrow the Communist Government in Moscow.  He is listed in the Absent Voters' List of 1919 as being in the 14th Battalion of the Worcestershire Regiment, but this may have been an error.
Acknowledgements:  With thanks to Angela Rimell for supplying a photo of John Taylor.