The recent addition to the archive of a letter written by a Second World War German prisoner of war has caused yet another Badsey Society member, Les Grinnell, to produce a similar letter.  This one was sent in 1947 by a German POW called George Jung to Les' father, Harold Grinnell.  The two men had worked together at Littleton & Badsey Growers when George was at the Prisoner of War Camp at South Littleton.  Les has kindly donated this letter to the Archive.
* * * * *
George Jung's letter
The letter, written in blue ink and dated 5th April 1947, was written some months after George Jung arrived back in Saxony, in what was to become East Germany.
Bernburg (Saale)
48 Richard Wagner Street
5th April 1947
Dear Mister Grinnel (sic)
Since a very long time I intended to write you, but I was still waiting in order to avoid any trouble for you.  But now, after reopening of the postal service between our countries, it is possible to do it.
First of all, I'll hope you and your family are quite well and in good health.  I am sorry to say my state of health is not the best because of the effects of my injuries, inflicted by war.  Especially the inner organism causes me great trouble, and it's very difficult that a favourable change may get in and to get a palliation, because I can't get here the restoratives necessary for it.  It makes me feel desperate, but unfortunately I can't change it.  So I hope in God and trust to his further assistance.
I should have been very happy if I should have had any occasion to see you again last May respectively June before my repatriation.  But I suddenly was transferred to the Hospital Camp 180 at Northwich near Liverpool and from this place some weeks later I came by train to London and from Tilbury Docks by hospital ship to Antwerp.  By railway, a long train of American goods-vans conveyed us in a time of about 37 hours through Belgium and Southern Holland to the German border.  It was a torture, indeed.  About forty men in a lorry, not enough straw and blankets, and lack of fresh air.  I can't describe it.  Ten days later I was at home.  I found it and my wife, Heaven be thanks, quite well.  And this was the chief matter of all.
After a short time of sick-leave, I have resumed my professional work.  Now, I am again a commercial director of a coal-mine (lignite pit).
Reviewing the past, I ever think of you and your chums of Littleton and Badsey Growers Ltd and of our former good fellowships.  Sitting now at my writing-table again, I often remember the time when I was repairing many hundreds of fruit-cases in the stores of LBG Ltd or loading cases on the station there etc.  Not to forget our luncheons and tea-times with you.  Do you remember when I came every day at 3 o'clock to fetch the tray with 4 cups of tea and some cigarettes from you or your comrades?  God bless you all!  These events would show and demonstrate us that honourable men ever will come to an understanding and that it's not necessary to lacerate each other by war.
I should be very happy to hear from you again, and I remain with my best wishes and greetings to you and your family, Mr Workman, Mr Wheeler, Mr Brownley, Miss and Mr Smith, Miss Crisp and all other ladies and gentlemen, names of them unfortunately I have forgotten.
Yours faithfully
George Jung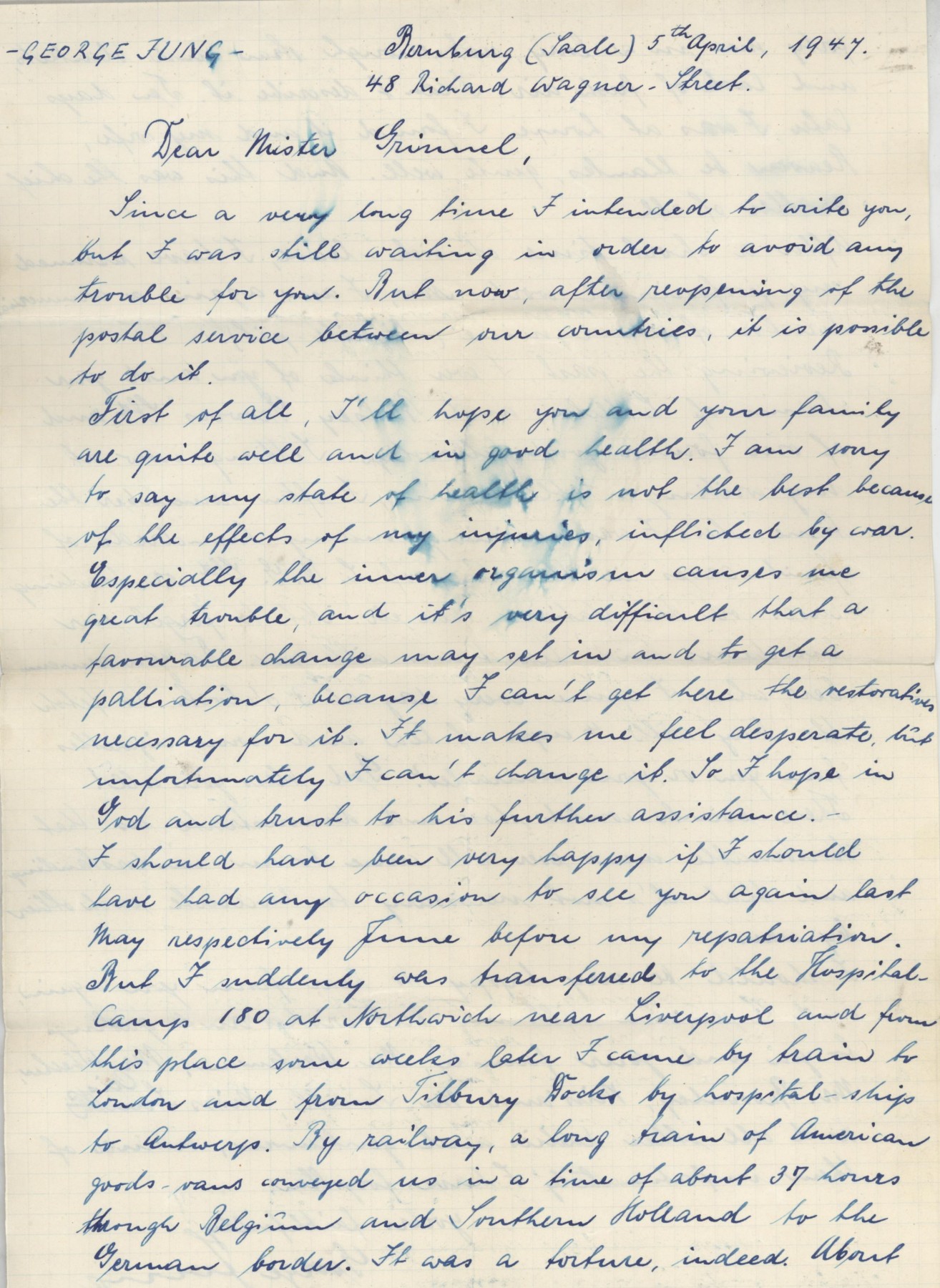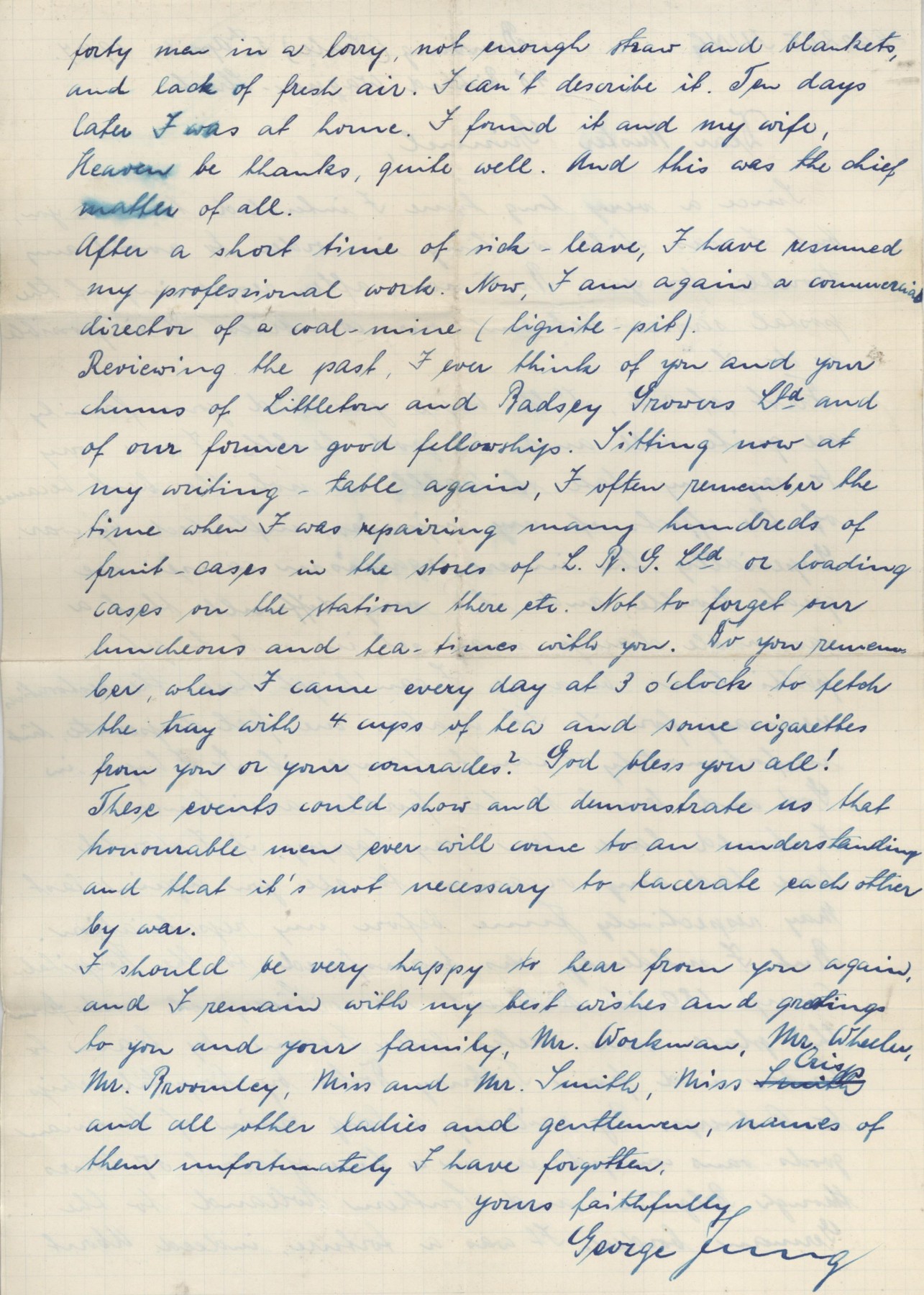 The German postal service
In his opening paragraph, George Jung refers to the reopening of the postal service. Until 1945, the Reichspost was the postal service in Germany. Deliveries were more and more affected by the advance of Allied troops from January 1945. The Reichspost finally ceased to function with the German surrender on 8th May. The administration of Germany was then taken over by the victorious Allies who asserted joint authority and sovereignty. The four powers divided Germany into four occupation zones for administrative purposes under the United States, United Kingdom, France and the Soviet Union, respectively. On the envelope in which the letter was sent, George Jung gave his address as being in the Russian zone. The Reichspost was initially replaced by Allied-controlled postal authorities that provided mail services in the occupation zones.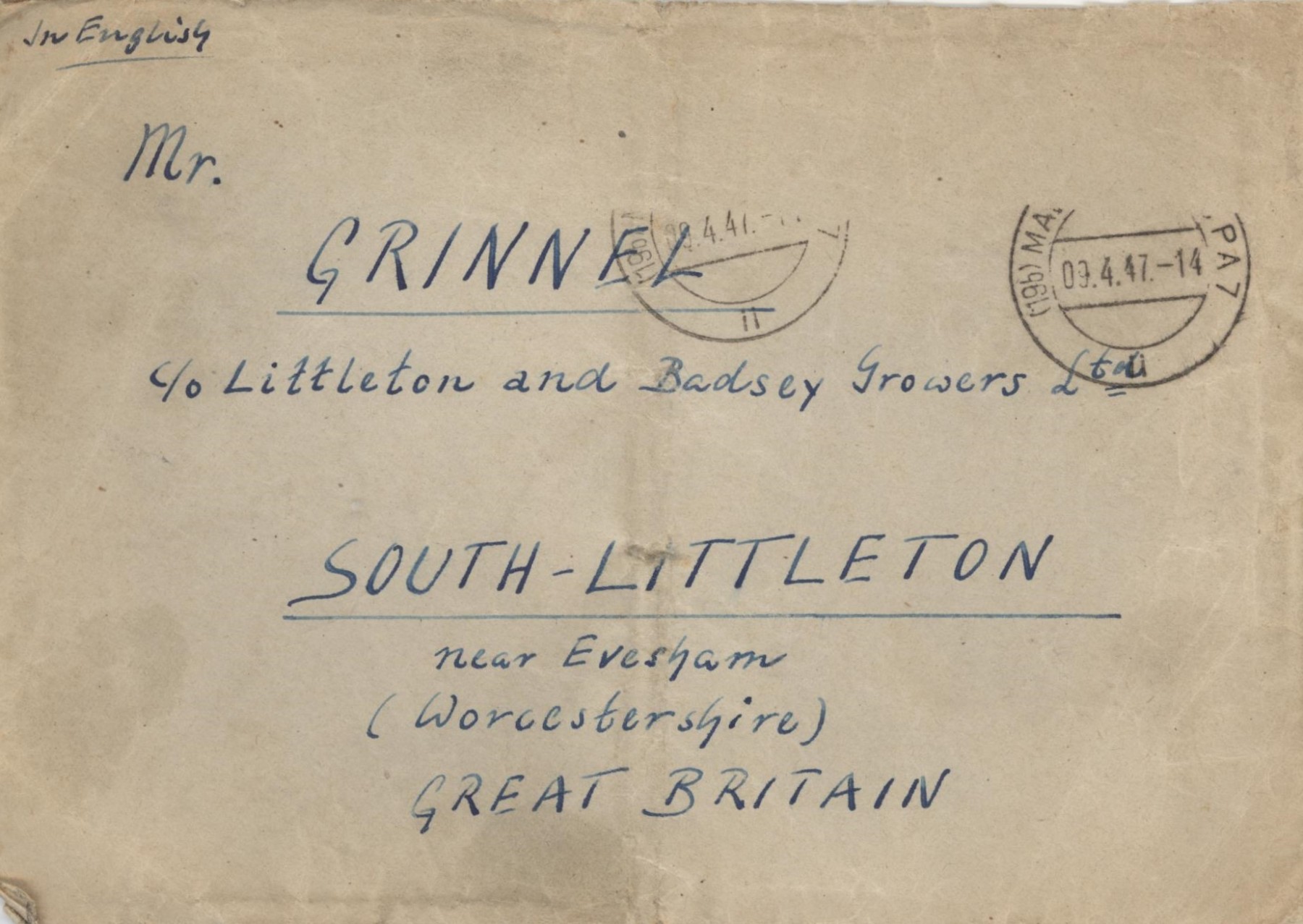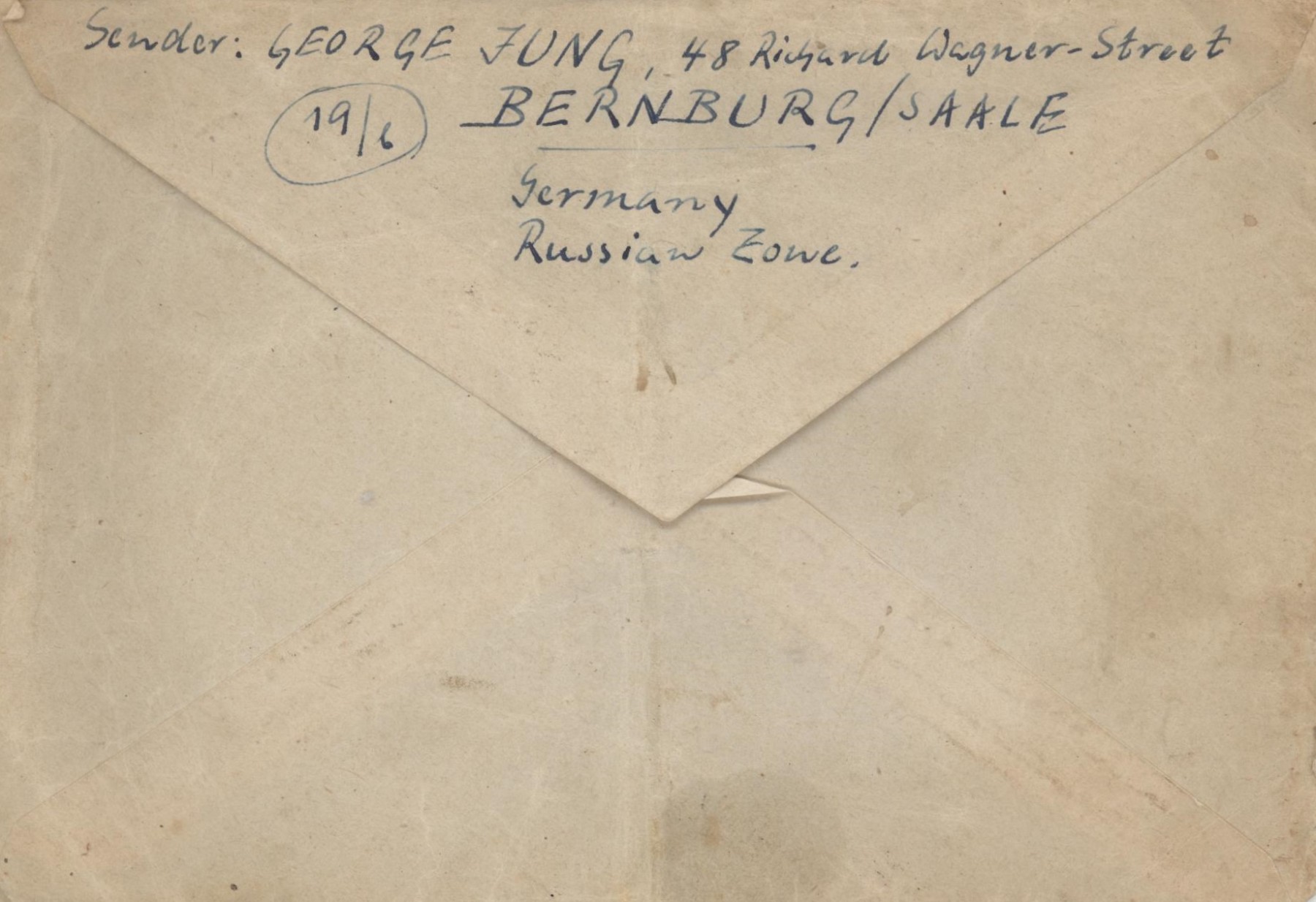 The recipient of the letter – Harold Grinnell
Harold Grinnell (1897-1962) was employed at Littleton & Badsey Growers and it was there that he met George Jung who was sent from the camp at South Littleton to work there.
Harold Grinnell was born at Bengeworth, Evesham, on 10th March 1897, the fourth of seven children of John Grinnell and his wife, Emily (née Conebeer).  Harold grew up at 17 Church Street, Evesham.  During the First World War, he served with the Labour Corps, being discharged on 19th September 1919.
A year later, on 4th September 1920, Harold married Badsey-born Annie Elizabeth Knight in St James' Church, Badsey.  They had six children:  Ronald John, Douglas Leslie, Denis Raymond, Ivy Doreen, Leslie John and Brian Keith.  Their first-born child died at a year old.  They lived for a short time at Wickhamford and then at Sharps Row, Badsey.  In 1933, when a new Council home became available, they moved to 2 Synehurst Crescent, where they were living at the time of the 1939 register.
Harold died at Badsey on 31st March 1962.  His widow, Annie, died at Badsey on 7th December 1966.  They are buried in the churchyard of St James, Badsey.
Who was George Jung?
The only details that we know about George Jung are those that we can glean from his letter.  We have no details of his military service or when he was taken prisoner.
Unlike many of the German POWs in the Vale of Evesham who did not return home until 1948, George Jung was repatriated to Germany in 1946.  This seems to have been because of injuries he sustained during the war.  He was removed suddenly from the camp at South Littleton in May or June 1946, without having a chance to say goodbye to his comrades at Littleton & Badsey Growers, and taken to a camp at Northwich near Liverpool (probably Marbury Hall Camp).  A few weeks later he was taken by train to London, by hospital ship from Tilbury Docks to Antwerp, then embarked on a gruelling 37-hour journey on a goods train through Belgium and Holland to the German border.  After ten days he arrived home in Bernburg.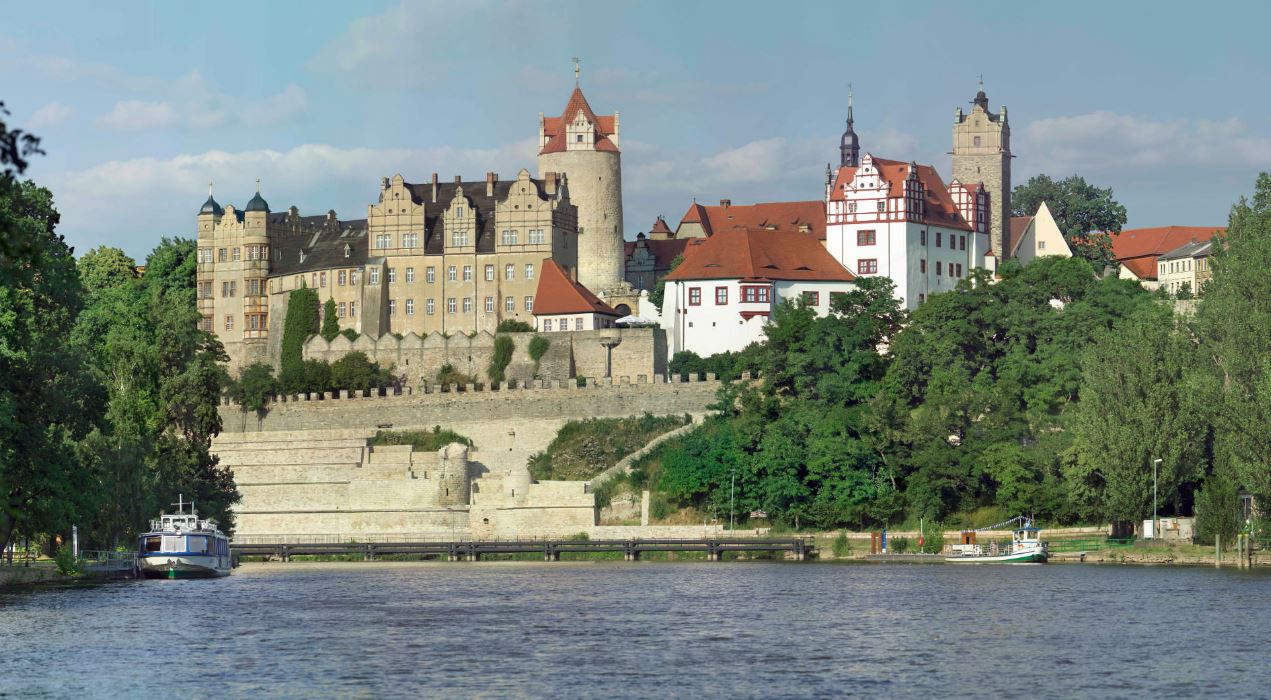 Home was 48 Richard Wagner Street, Bernburg (Saale), a town in Saxony-Anhalt, dominated by the huge Bernburg Castle.  Bernburg, on the River Saale, is north-west of Leipzig and south-west of Berlin.  George Jung described himself as Commercial Director of a lignite coal mine.  In the first half of the 20th century, after the United States and Britain, Germany was a leading world producer of coal.
If anyone is able to throw any light on George Jung's identity, we would love to hear from you; please email history@badsey.net.
Maureen Spinks, November 2020
Acknowledgements
We are extremely grateful to Les Grinnell for the donation of this letter.
See also: