In May 1945, the parishioners of Badsey, in common with people all over the country, celebrated the end of the war in Europe.  But the war was not at an end.  Fighting still continued in the Far East, and one Badsey man lost his life during this period.  Lance Sergeant Frederick Perkins died in Burma on 29th May 1945, aged 22.  
On 6th August 1945, the United States dropped an atomic bomb on Hiroshima; three days later, Nagasaki was bombed.  A little after noon (Japanese time) on 15th August 1945, Emperor Hirohito's announcement of Japan's acceptance of the terms of the Potsdam Declaration (a statement that called for the surrender of all Japanese armed forces) was broadcast to the Japanese people over the radio.  Thus 15th August marked the end of World War II and the date became known as VJ Day, or Victory over Japan Day. 
The peace had been anticipated and news soon filtered through to England.  The Evesham Standard, published three days later, reported that there was much merry-making in Evesham.
In Badsey, victory celebrations took place the following week, as reported in The Evesham Standard of 25th August.  A party took place on Mill Lane on Wednesday 22nd August.  The old barn (demolished in the 1970s) was decorated with flags and bunting and games and dancing were held until late in the evening. The party did not finally break up until the early hours of the morning.
We are fortunate that we have two photographs of the VJ party held in Mill Lane, which began with tea for the children.  We are grateful to the late Mrs Emmeline Hughes (née Sheward) for the loan of the photos. Mrs Hughes was born at No 1 Mill Cottages in 1935, and her mother before her had grown up there.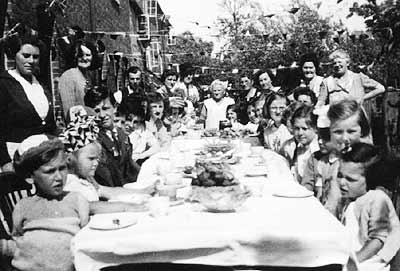 The next day, another party was held at Bowers Hill, the highlight being ice-cream provided by Ray Butler.
For one Badsey man, Philip Sparrow, who was a prisoner of the Japanese, the war did not return until his safe return to Badsey in October.   On his return home, he dedicated his life to the work of the Royal British Legion.
Maureen Spinks, August 2020