The Church of St John the Baptist in Wickhamford is believed to have been built in the 12th century.  The present south porch is from about 1730 and the tower was completed a little earlier in 1678.  The single bell, installed a few years after the tower was completed, is dated 1686.
This small church would have had a plainer appearance around the time of the Civil War and an impression, produced by Peter Stewart, of how it might have looked is given below right.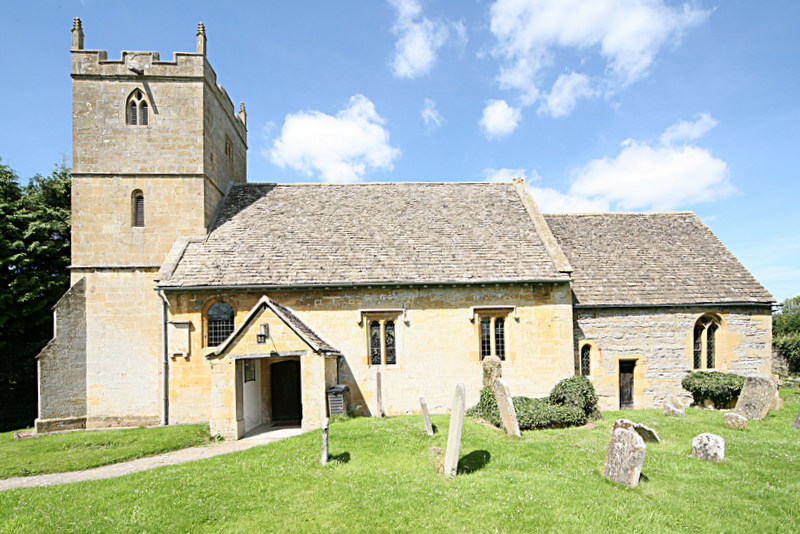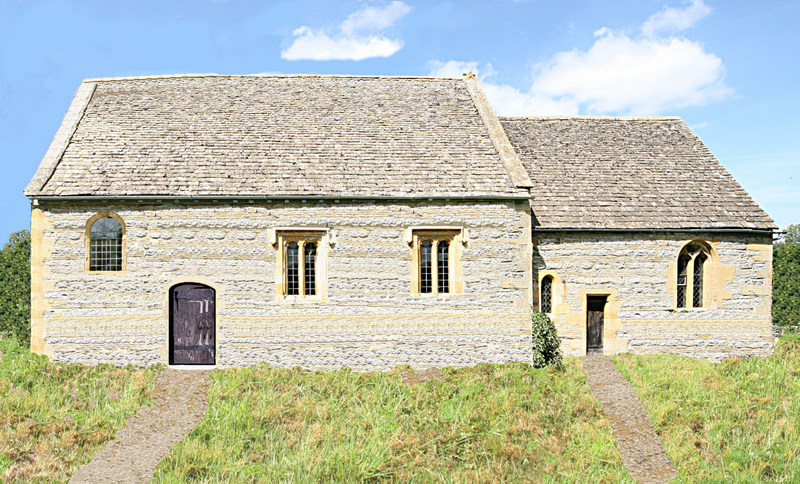 All of the gravestones in the churchyard date from after 1700, so these have been omitted from the picture.  The tower and porch had not yet been built.
Internally, the Sandys tombs would have been present, but their canopy would have been plainer.  (The present canopy details were added when the church was redecorated by Lord Sandys of Ombersley in the 1840s).   In the chancel, the floor tablet to Mary Sandys was installed in 1648 and the small wall painting of the Virgin and Child probably dates from the 13th century.
In the nave, all of the wooden furnishings – pews, box pews and pulpit – are 19th century additions from other churches, so the interior would have been much barer.  The only wall tablet from this period would have been the one to Jane Sponer, who died in 1584.  The Stuart Coat of Arms above the chancel arch, is dated 1661, so would have been newly painted.  The windows would have been of clear glass, the stained-glass ones being much later.
The west gallery, restored in 1949, was originally constructed from material brought from a London church in about 1841.  The entrance to the church through the chancel door was sealed in the 1890s and it remains blocked.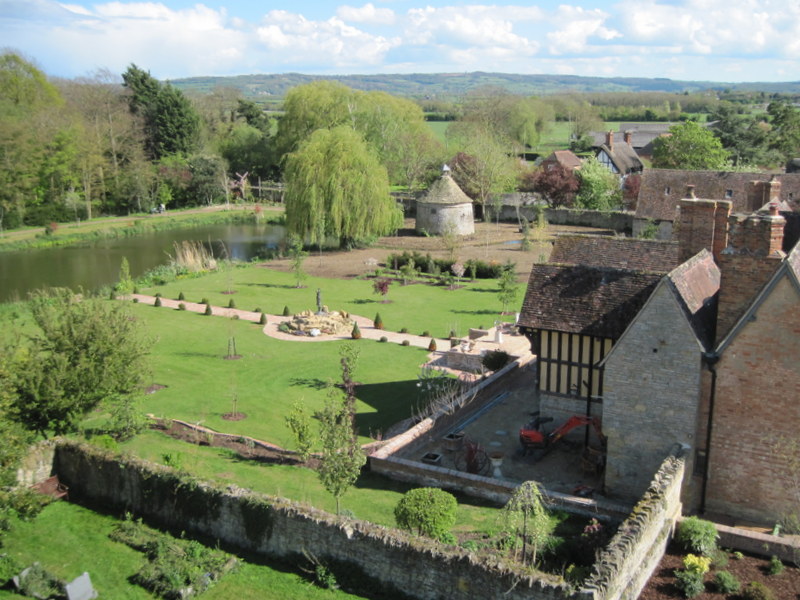 When the church was built, the site of the present Manor belonged to the Abbot of Evesham and a large stone tithe barn stood between that building and the church.  The remaining walls of the great barn can be seen in the photograph on the right, with one wall bounding the present churchyard.  It was demolished in the 1890s.
Under the church was a crypt, with the original entrance outside the north side of the nave.   When the church was heated by a coal-fired boiler, this was in the old crypt.  This was filled in after the Second World War, and the steps down to the door are now covered in earth and neither they nor the door can be seen. The churchyard had hundreds of burials from the 1300s to the 1700s, so plots would have been reused a number of times.  Whether bones found during grave digging were removed and placed in the crypt is not known.  
Tom Locke and Peter Stewart – May 2020