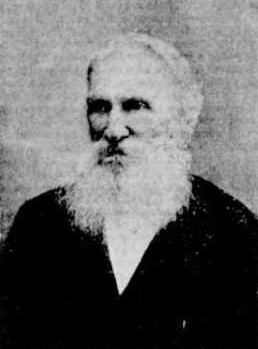 Edward John Bloxham (1822-1893) was born at Badsey Vicarage on 10th June 1822, the fourth of ten children of the Reverend Charles Bloxham and his wife, Mary Hope (née Ouchterlony).  He was baptized in St James' Church, Badsey, on 8th July 1822.  He was educated at King Edward VI Grammar School, Guildford, Surrey, which was also the alma mater of his brothers, father, grandfather and great-grandfather.  His mother died in 1836 when he was 14 years old. 
Edward emigrated to Australia in 1840, arriving in Sydney on the ship Moffatt.  He spent the first five years of his Australian life in managing portions of the Shoalhaven Estate (about 200 km south of Sydney).  In the late 1840s he lived at Deniliquin, close to the border with Victoria, where he set up a store and smithy.  In 1848, plans were being drawn up to lay out a town at Denilquin.  E J Bloxham wrote to the Government complaining about the site chose, alleging that the ground on the north bank was better adapted for building than that on the south side.  It was reported that Bloxham had one brother who kept an inn on the north side and another brother who had a store, and this fact probably caused him to favour the north side.  For the rest of his life, he was very largely connected with New South Wales and Victorian pastoral interests.
In 1850 he married Mary Frances Kenny (or Kennedy as it sometimes appears) at Warbreccan.  They had four sons and two daughters:  Charles Edward (1851-1853), Francis Edward (1855-1924), Mary Amy (1857-1858), Harry Osmond (1857), Horace Kennedy (1860-1928) and Ada Beatrice (1865).
They were living in Melbourne in 1851 when Charles was born but the following year they moved to New South Wales.  On 27th July 1852 Edward was admitted to the Goulburn Freemason's Lodge of Australia in New South Wales.  He was described as a grazier of Murray.  An electoral roll for 1856 shows that he had freehold property at Glen Kenny in the county of Argyle, New South Wales.  On 30th November 1858 he was admitted to Sandridge Marine Lodge of Masons.   He also lived at Cobar for a time.
Edward had offices in Kirk's Bazaar, Melbourne, in connection with stock and station business until 1860.  In 1863 and 1864 Melbourne street directories, he was described as a squatter of 2 Jolimont Square; this was also the occupation and address given at the time of his daughter Ada's baptism in 1867.  The term "squatter" does not have the connotations it has today.  In Australian history, a squatter was typically a man, either a free settler or ex-convict, who occupied a large tract of Crown land in order to graze livestock. Initially often having no legal rights to the land, they gained its usage by being the first (and often the only) settlers in the area.  By 1840 squatters were recognized as being amongst the wealthiest men, many of them from upper and middle-class English and Scottish families.
Edward then became involved in Darling River interests having, in 1860, fixed the present site of Bourke.  In a Public Service List for New South Wales, Edward John Bloxham was appointed one of five Sheep Directors for Fort Bourke district on 3rd June 1864 by the sheep owners for the district, and again on 10th March 1865.
An 1865 Return of Pastoral Rental for First & Second Class & Unsettled Districts listed Edward John as landowner of 11 pieces of land.
Whilst still married to Mary, Edward had a relationship with a widow, Kathleen Malvina Shaw (née Roe), by whom he had two daughters, Muriel Annette (1866-1915) and Lillian Hope (1868-1942), both born at Bathurst, New South Wales.  In the case of Muriel, the father's name was given as James Drax Bloxham; it seems that Edward used parts of his brothers' names (James Selwyn Bloxham who died in 1860 and Harry Drax Bloxham) when registering the birth.  In the case of Lillian, Edward certified the birth in his own name.  The couple never married; Kathleen died in Queensland in 1889 whilst Edward's wife did not die until 1907.
Edward died on 6th October 1893 at Bourke, New South Wales and was buried at Bourke Cemetery.  In a newspaper report of his death in The Town and Country Journal of 21st October 1893, Edward was described as the "Father of Bourke".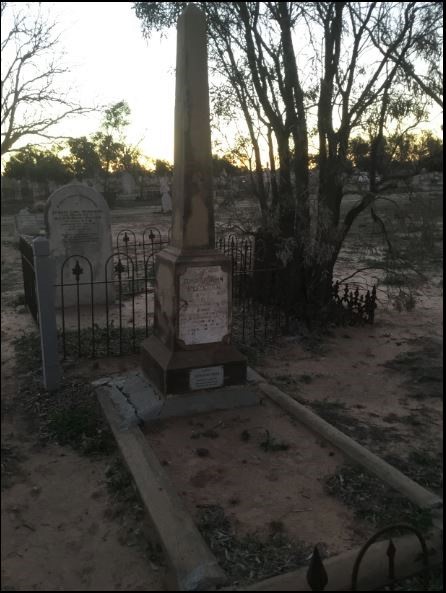 Edward John Bloxham is commemorated in a road named Bloxham Street in Bourke.  There also Bloxham Streets in Cobar and Louth.  Edward is also mentioned on page 3 in Deniliquin's 175th Anniversary, Souvenir Edition, McPherson Media Group, 15th December 2017.