On 5th November 1836, Mary Hope Bloxham, wife of the Curate, Charles Bloxham (who was de facto Vicar in the absence of the non-resident Vicar), was laid to rest in Badsey churchyard.  She was just 39 years old and the mother of ten children.  Her life as a Curate's wife in a Worcestershire village was a far cry from where she had grown up.
* * * * *
Family Background
Mary Bloxham was born Mary Hope Ouchterlony in Spanish Town, Jamaica, in 1797, the daughter of James Renny Ouchterlony, a planter, and his wife, Bridget Alithea (née Peat).  Spanish Town is the capital and the largest town in the parish of St Catherine.  It was the Spanish and British capital of Jamaica from 1534-1872.  
James and Bridget had married at Morant Bay, St Thomas in the East, Jamaica, on 17th May 1793.  Morant Bay is a town in south-eastern Jamaica and the capital of the parish of St Thomas, located about 25 miles east of Kingston (the capital of Jamaica since 1872).
Mary was the second-born child of James and Bridget.  An older sister, Eliza Jane Renny (1794-?), had been baptised at Morant Bay in 1794; Eliza died in childhood.  Three more children were born after Mary: Louisa Bridget (1798-1862), Caroline Ann (1799-?) and James (1803-?).  Caroline, who was born in London, and James, born in Jamaica, appear to have died in childhood.


Maternal Family
Mary's mother, Bridget, had been born in the parish of St Thomas in the East, Jamaica, in 1773, the daughter of William and Elizabeth Peat.  Mary never knew her maternal grandfather who was described thus at the time of his death in December 1792:  "Thursday morning died, at Marchwiel Hall, near Wrexham, where he was upon a visit, William Peat, Esq, a gentleman of considerable property in Jamaica" [The Chester Courant, 1st January 1793].  William had made his will at sea in 1791 whilst journeying to the UK on a ship called "William and Elizabeth".  He left all his real and personal estate to be divided equally between his wife, his three sons and two daughters.  His widow, Elizabeth (known as Eliza), died at Bath in August 1804.
Paternal Family
Ouchterlony was an ancient Scottish noble line disappearing into the historic mists of time in Angus, Scotland.  Mary's father, James, born in 1768, was originally from Montrose.  His father, Robert, was a merchant in Montrose.  Both he and his younger brother, Robert, born in 1775, emigrated to Jamaica, probably in the early 1790s.  They were most likely following in the footsteps of a relative, James Renny (or Rennie as the name sometimes appears), who, according to The Directory of Scottish Settlers in North America, 1625-1825, Vol III, had arrived in Jamaica in 1783.  James Renny, owner of plantations called Norris and Swamps in St David's parish, was unmarried.  In his will of 5th September 1793, he made various bequests to friends, his estate was left to his brother, and 100 guineas was bequeathed to James Ouchterlony, whom he described as his relation.  James and Robert's mother was born Ann Renny, so the connection was through the maternal side.  They were also cousins of Simon Taylor, the wealthiest planter on Jamaica, of Prospect Pen, Kingston.  There were many connections with Montrose on the island.  Montrose was a ship building port and a merchant trading port. It is possible that involvement of the merchant families of Montrose in Jamaica's sugar, cocoa and rum industries began this way. 
In naming his daughter, Mary Hope, James Ouchterlony was harking back to a distant ancestor, Sir Thomas Hope, Lord Craighall, the Lord Advocate of Scotland under James I and Charles I.  Lord Craighall's grandson, Sir Archibald Hope, Lord Rankeillor, had a daughter, Margaret, who married into one of the prominent families of Montrose living on the properties of Craig and Rossie.  So the name Hope was given to females for generations among her descendants in Montrose. 
James Ouchterlony's Estates
It is likely that Mary's father, James Ouchterlony, was able to become an estate owner around the turn of the 19th century.  Mary's mother had inherited a share of the estate of her father, William Peat, which would have helped James to buy his own estate.  In addition, James' relation, James Renny, died at St Thomas in the East on 22nd December 1798, and his will was proved in London on 20th March 1800.  James then received the 100 guineas bequeathed to him.  It is also possible that he received investment from his father, Robert Ouchterlony, as he was provided for in James' will.
Certainly by 1809 James Ouchterlony is listed as a plantation owner, and possibly earlier, but the records are not clear as to ownership.  The Centre for the Study of the Legacies of British Slavery, established at University College London, has details of his ownership.  From 1809, Sun Vale estate, situated in St David's Parish close to the Yallahs River, was registered to James Ouchterlony, with a total of 243 enslaved people.  By 1817 it was being described as Sun Vale and Cocoa Walk with 182 enslaved people.  From 1815, an estate called Ultimatum was also registered to James Ouchterlony.  In 1817, James Ouchterlony was in possession of the estate called Cottage in the parish of St David, as administrator of Patrick Lane deceased.
St David's parish is one of the historic parishes of Jamaica.  It was one of several parishes abolished as part of the 1867 "Law to Reduce the Number of Parishes".  It was merged with the bulk of St Thomas in the East parish to form St Thomas parish.
Life on the Plantation
It is difficult to know how privileged a life it was for Mary and her surviving sister, Louisa, growing up on a Jamaican plantation.  Plantation owners obviously had a much better life than the slaves who worked for them and, if successful in their estate management, they could live lives far superior to anything they could have expected back in Europe.  But with profits at only around 10-15% for sugar plantation owners, most, however, would have lived more modest lives, though the rum distilling was probably more profitable.
In the 1817 Jamaica Almanac, James Ouchterlony was listed as a Churchwarden for St David's parish.
But besides Mary and Louisa, whether they realised it or not, they had a half-sibling called Susan, born about 1808.  James Ouchterlony's will made in August 1813 (seven years before he died), reveals that he had had a relationship with one of his enslaved people, Juliana Delpratt:
And whereas a certain female sambo slave named Juliana Delpratt has been a very faithful and deserving servant ever since I purchased my present properties and was very attentive in making herself useful to her mistress when in this country, my executors to manumit [release from slavery] the said two slaves named James and Juliana and that they shall be at perfect liberty to do as they think proper until their manumissions are regularly executed.
The words "when in this country" are interesting.  It would appear from James' will that he and Bridget often spent time apart.
Juliana Delpratt had presumably previously worked at the nearby Mount Sinai plantation where the owners were firstly Samuel Delpratt, then his son, Joseph Delpratt (it was common for slaves to take the name of their master).  It was also commonplace for slave women to be routinely raped, but it would seem that James had a genuine affection for Juliana and for the child born of this union.  A codicil to James' will, dated 24th April 1819 made provision for Susan:
To a female child of colour, Susan Delpratt, late of Jamaica but now of England, under the protection of William Linwood of Billiter Square, London, £1000 sterling [at 2021 prices, this is just over £57,000].  The interest to be applied to her maintenance and education until age 21 or marriage, when she shall receive the whole sum.  William Linwood to be her guardian.  This to be revoked for the benefit of my residuary legatees should she return to Jamaica without the consent of her guardian.  To Juliana Delpratt, manumised by my said will, £15 Jamaican currency per annum for life.
William Linwood was a merchant and was involved as trustee with many plantations and made many compensation claims later.
The slave trade between Africa and the West Indies was made illegal in 1807 and the traffic in slaves between the islands became illegal in 1811. However, it took another 26 years to effect the emancipation of the enslaved, when in 1833 Parliament passed the Slavery Abolition Act that finally abolished slavery in Jamaica and the other West Indian colonies on 1st August 1834.
A Move to England and Marriage
At some point in the second decade of the 19th century, both Mary and Louisa moved to England, possibly for education.  It is likely that they attended a fashionable girls' school at 24 Camden Place, Bath, run by a Mrs Twiss, who was assisted in the management by her husband and her three daughters.  The reason for thinking this is that, in 1821, Louisa Ouchterlony married John Twiss who was the son of Mrs Twiss.  It is probable that Mrs Ouchterlony, who it seems often spent time outside of Jamaica, may have gone to England with them.
On 11th June 1816 Mary married Charles Bloxham at Lymington, Hampshire.  Her address at the time was given as Vicars Hill, Lymington.  This property was owned by her father, James.  He had been the attorney for the previous owner, Richard Meyler.  People travelled between Britain and the West Indies quite regularly by ship; many had their own trading vessels.  As Lymington was a sea-port, possibly James acquired a property at Vicars Hill near there as he went back and forth on business.
Mary and Charles' first son, Charles Robert Ouchterlony (1817-1855), was born at Lymington in April 1817 (he died unmarried in India in 1855 as an army surgeon).  
In May 1818, Charles was admitted into Holy Orders.  By January 1819, when their second child, Sophia Louisa (1819-1824) was baptized, Charles was working as Curate at Chute in Wiltshire.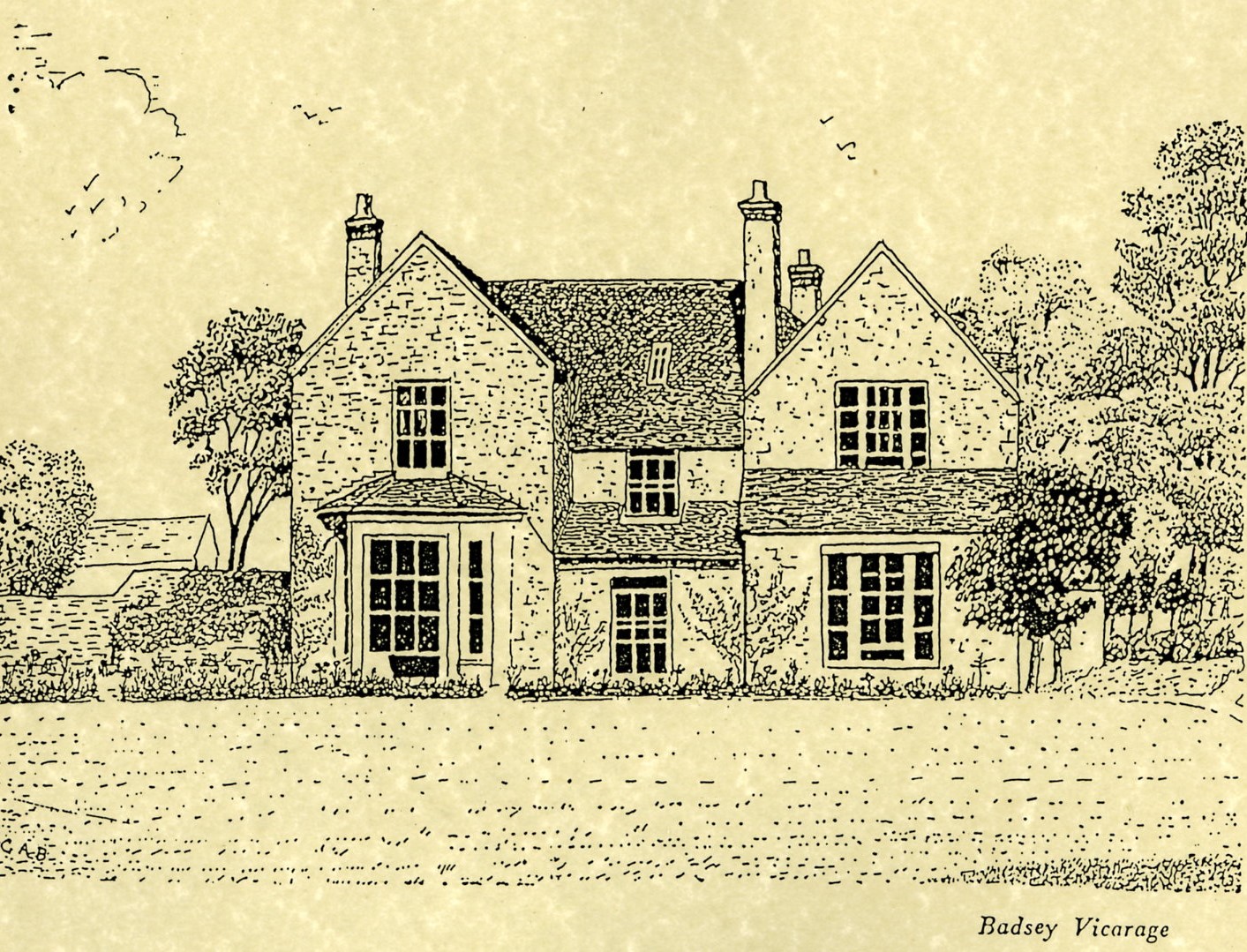 In 1820, the Bloxhams moved to Badsey, when Charles was installed as Curate for the parishes of Badsey and Wickhamford.  Charles was basically in charge of the two parishes as the Vicar, the Reverend Charles Phillott, who was also responsible for several other parishes, was non-resident and rarely visited.  This meant that the growing Bloxham family was able to move into Badsey Vicarage which had been rebuilt as a stone house at the end of the 18th century and was much more comfortable than the cottage that had been there previously.
The couple went on to have eight more children, all born at Badsey:  James Selwyn (1820-1864), Edward John (1822-1893), Harry Drax (1823-1860), Arthur (1825-1865), Horace Hope (1828-1892), Sophia Caroline (1829-1899), Amy Louisa (1831-?) and Mary Hope (1833-1873). 
On leaving Jamaica, Mary may not have seen her father again.  James Ouchterlony died in 1820 and according to his will, his body was buried:  "… at Cocoa Walk under the fustic tree to the south-east of the house and a stone with a plain inscription to be put over the grave which is to be enclosed with a parapet wall and iron railing."  "James Ouchterlony deceased" continued to be listed as the registered owner of Cocoa Walk, Ultimatum and an unnamed estate until 1832, which was the year presumably in which his estates were sold.
Mary's mother died in Jamaica on 12th November 1825.  Her death was announced in The Royal Gazette of Jamaica:  "In St David's, on the 12th inst, in the 52nd year of her age, Mrs Outchterlony, relict of the late James Ouchterlony, Esq, of Cocoa Walk estate, in that parish – a Lady, highly respected and esteemed."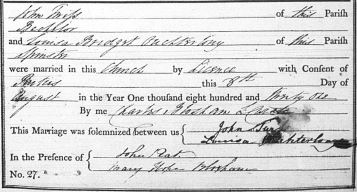 In 1821, both Mary's sister, Louisa, and her fiancé, John Twiss, were living in Badsey.  John was the son of Francis Twiss and his wife, Frances, known as Fanny (née Kemble).  It was Fanny Kemble who ran the school in Bath where it is thought the Ouchterlony sisters attended.  Fanny, who was the sister of the actress, Sarah Siddons, had also been on the stage until her marriage.  On 8th August 1821, Louisa and John were married by licence in St James' Church, Badsey.  The marriage ceremony was conducted by the Reverend Charles Bloxham.  Mary was a witness at the wedding, as was John Peat, the uncle of Mary and Louisa.  John Twiss was in the Royal Engineers and they then spent most of their married life living abroad.
As for Mary and Louisa's half-sibling, Susan Delpratt, she never had the chance to claim her whole inheritance.  She died, aged 15, at Smith Street, Chelsea, and was buried at St Luke, Chelsea, on 14th March 1823.  One wonders whether Mary, by now a married lady, ever met up with her half-sibling in England.  
An Untimely Death
Sadness came to the Vicarage on 31st October 1836 when Mary Hope Bloxham died, aged 39.  A report appeared in The Worcester Journal a few days later:
Oct 31st, at Badsey Vicarage, Mary Hope, the beloved wife of the Rev Charles Bloxham, to whom and his children the loss is irreparable; to all others who had the happiness of her acquaintance her loss will be long and deeply deplored; her amiability and sweetness of disposition can never be effaced from their recollection.
At the time of their mother's death, the oldest child was 19 and the youngest was three.  Mary's grieving family erected a tablet in her memory inside St James' Church.
After Mary's Death
It seems that Charles Bloxham may have had a breakdown after Mary's death.  One assumes that when Mary died, her trust fund moneys ceased and so he was placed in more straitened circumstances.
Reverend Bloxham conducted his last service at Badsey on 30th April 1839 and a new Curate moved into the Vicarage.  But the Bloxhams did not immediately move from Badsey.  Charles Bloxham and four of his youngest children (Arthur, Horace, Amy and Mary) lived with two servants elsewhere in the village at the time of the 1841 census.  Shortly after this, he took jobs in various churches all over the country, providing cover in the absence of the resident Vicar or Curate.  This itinerant lifestyle seems to have left him on hard times and, on more than one occasion he was charged with fraud, full details of which may be found in the article about Charles Bloxham.  
Meanwhile, five of his children sought new lives for themselves in Australia.  First to go was 18-year-old Edward in 1840, although his older brother, James, may have paved the way.  James, as a 15-year-old, had been indentured for four years in the Merchant Navy and spent much of the time on vessels carrying emigrants and other passengers to Australia.  Arthur, Harry and Sophia all then followed in the wake of their two older brothers.
Reverend Bloxham died at Malden Road, Camden Town, on 21st March 1860, aged 65.  
Relations with the Twiss family
In 1861, a year after Charles Bloxham's death, a summons was issued, described as "In the matter of the trusts of the settlement of Revd Charles Bloxham and Mary Hope Bloxham his wife, both deceased".  Colonel John Twiss was named as the defendant, perhaps implying that there were strained relations between the two families.  Mary had died in 1836 and Louisa Twiss could not have been happy with the way Charles Bloxham had conducted himself following the death of his wife.
At the time of the summons, five of Mary and Charles' eight surviving children were living in Australia.  This still left Horace, Amy and Mary still in the UK.  It is assumed that it was probably they who brought the summons.  Horace Hope Bloxham was a banker's clerk living in London, married to Emily, and had a growing family.  Amy Louisa Bloxham had married her first-cousin-once-removed, David Walker (his mother, Mary, was the sister of Amy's grandfather, James Ouchterlony), at Montrose, Scotland, in 1852.  Mary Hope Bloxham's whereabouts at the time of the 1861 census are unknown but, seven years later, she married Edward Darvall in Portsea, Hampshire.
The summons document, located at the National Archives, has not been seen, but possibly an amicable settlement was achieved.  The reasons for thinking this are that Horace Hope Bloxham gave his fifth child, Horace, the middle name of Twiss.  This was probably in remembrance of his aunt, Louisa Bridget Twiss, who died in August 1862.  In addition, Horace Hope Bloxham was the executor of John Twiss' will in 1866.  The other executor was Netterville John Barron, the husband of Horace's cousin, Louisa Bridget (née Twiss).
The Bloxham Legacy
Nearly 50 years after the death of Mary Hope Bloxham and 46 years after Charles Bloxham ceased being Curate at Badsey, one of their sons donated a picture, "Raising of the Widow's Son" by Otto Venius, to St James' Church, Badsey, on the occasion of it being reopened after restoration in 1885.  This was presumably Horace Hope Bloxham, by now a bank manager, and the only son left living in England.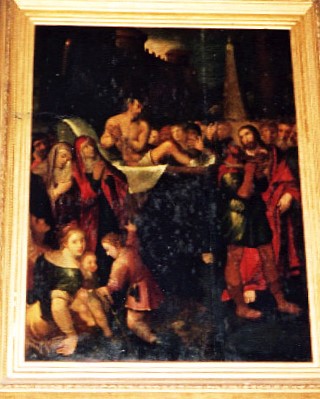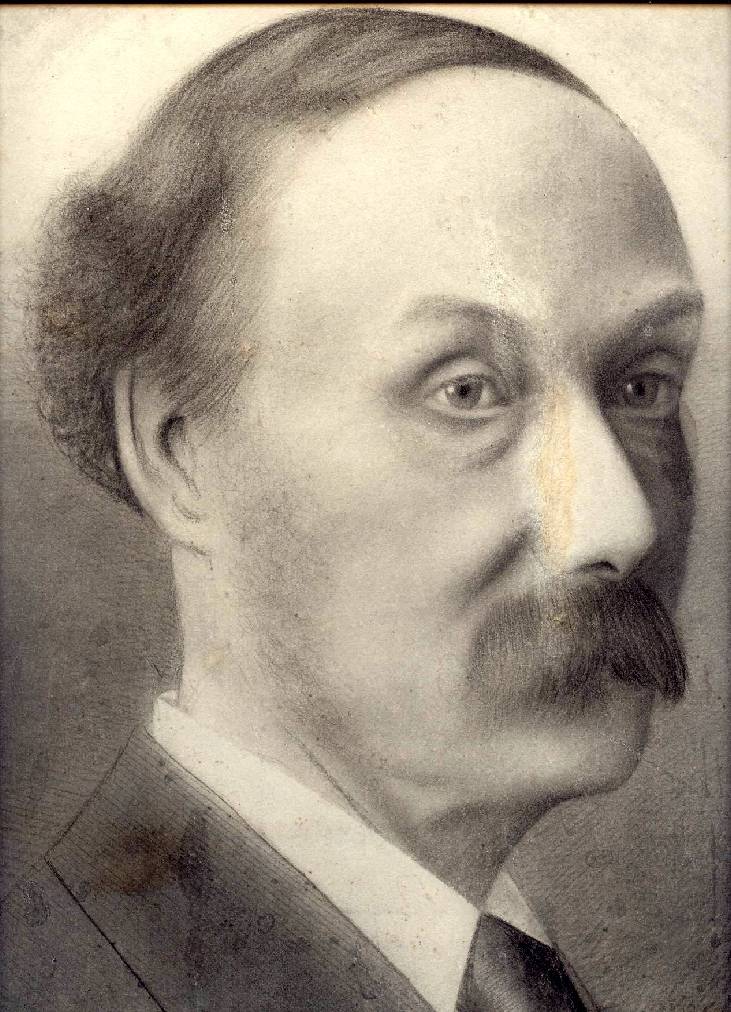 We continue to have emails and entries in our Visitors' Book from the Bloxhams'  descendants from all over the world, primarily from Australia.  Two hundred years on, their residency in Badsey has not been forgotten.
Maureen Spinks, November 2021
Acknowledgements
With thanks to Lyndall Keller, 3xgreat-grandaughter of Mary Hope Bloxham (née Ouchterlony) and the Reverend Charles Bloxham, for assistance with this article, particularly concerning Mary's family background.
Sources of Information
The Directory of Scottish Settlers in North America, 1625-1825, Vol III, by David Dobson, Baltimore Genealogical Publishing Co, 1985 – available on Ancestry
Badsey Parish Registers