Market gardening in the Vale of Evesham began in the mid-19th century and developed in the latter half of that century to be a common use of land in the area.  There were no residents recorded as market gardeners in Wickhamford or Badsey at the 1861 census, but ten years later nine heads of household in Badsey were listed as such. There was also just one in Wickhamford, George Edkins, who worked 11 acres of land in 1871.
Where was his market garden?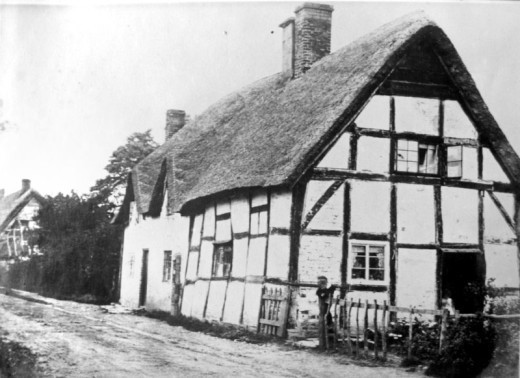 The agricultural land in Wickhamford, at that time, was divided between four farms – Manor Farm, The Elms, Pitchers Hill Farm and Field Farm.  George Edkins lived in a house near the junction of the present-day Manor Road and Golden Lane, where 52 and 54 Manor Road now stand.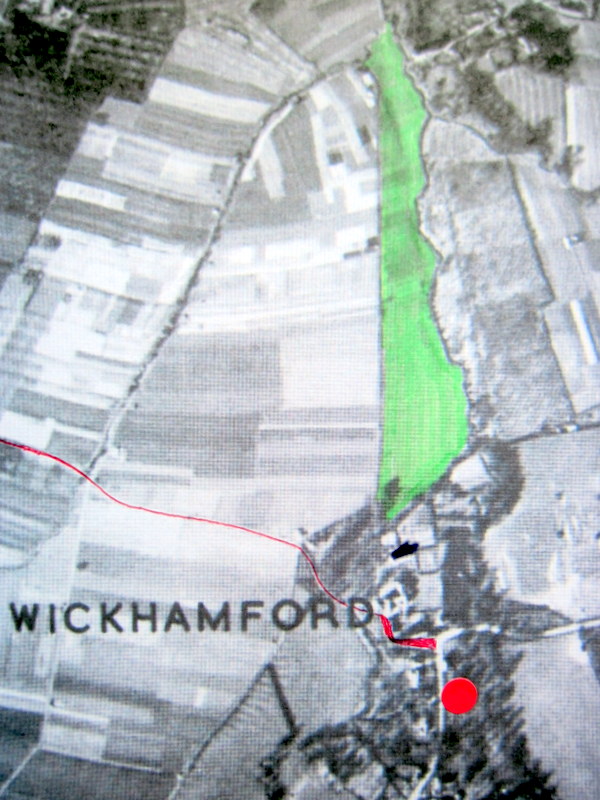 According to the Voters' Register of 1871, George Edkins had land on Manor Farm, with an annual rental of £12.  This farm consisted of 343 acres, so locating where George Edkins had his market garden is guesswork, but two possibilities can be considered.  The field between the footpath to Badsey from Wickhamford Manor and Badsey Brook was called Little Meadow Cow Ground and it was a little over 10 acres in area. Being next to the path with access to Wickhamford Lane to the South and the road over Knowle Hill to the North, moving market garden produce to Evesham market would be straightforward.  On the other side of Badsey Brook was Ox leazlow, which was slightly larger, and at the North end abutted Mill Lane in Badsey. 
What crops would George Edkins have grown on his Market Garden land?
Eleven acres would have been a large area for one man to cultivate, plant, tend and harvest vegetable crops in the 1870s. He may have hired other villagers from Wickhamford or Badsey to assist him in his work, but it is more likely that he only cultivated part of his land each year, leaving the rest as fallow.  He may have grown root crops, such as potatoes, carrots, onions or parsnips.  Leafy vegetables such as cabbage or lettuce may also have been grown.  It was possibly too early in the century for asparagus to have been grown?
George Edkins' background
He lived at the same location in Wickhamford for the 1861 census, when he was listed as an agricultural labourer. He had been born in Long Marston, Gloucestershire and was then aged 38.  His wife, Elizabeth, aged 41, had been born in Aston Somerville in the same county.  They married at Aston Somerville on 30th October 1847. In 1851, George and Elizabeth lived in Bengeworth, with their daughter, Emma, and he was working as a milk man.  His address was given as 1 Longdon Hill, Bengeworth.  This may have been a cottage at the Bengeworth end of Wickhamford Lane.  When J.P. Lord bought the Wickhamford Estate, in 1869, he demolished many old cottages in the village and built brick houses.  One from that era, built in 1872, stands at the end of Wickhamford Lane where it meets the Evesham to Broadway road.
During their marriage, George and Elizabeth had seven daughters and finally a son.  The daughters were: - Emma (b. 1848), Mary (b. 1852), Ellen (b. 1853), Betsy (b. 1855), Caroline (b. 1857), Jane (b. 1859) and Alice (b. 1862).  Perhaps to the joy of the couple, they finally had a son, Oliver, in 1864.  Their eldest two children were born in Bengeworth, the next three in Murcot, and the last three in Wickhamford, but they were not baptised in the parish church.
Emma Edkins married Thomas Jelfs in Badsey on 30th January 1869.  In the Marriage Register, George Edkins' occupation was given as 'Labourer'.  This might indicate that he took up market gardening between 1869 and 1871.
At the 1871 census, Betsy Edkins, was living at nearby Wickhamford Manor, as a servant in the household of Frederick Smith.  He had obviously completed the census return without making detailed enquiries about his servant, as put her place of birth as 'Birmingham'.
Post-1871 life of George Edkins 
None of the family was still in Wickhamford for the 1881 census.  At that time there was still only one market gardener recorded in the village – Richard Howes, who lived at Weathervane Cottage, Manor Road.  He may have taken over Edkins' land?
George Edkins, his wife and five youngest children, Betsy, Caroline, Jane, Alice and Oliver, emigrated to the United States in 1875.  They were following in the wake of their two eldest surviving daughters, Emma (by now married to Thomas Jelfs) and Ellen (Mary, the second daughter, had died in 1869).  So now the whole Edkins family was in America.  A number of families from the Wickhamford and Badsey area had already made the step in making a new life overseas (including their near neighbours, John and Mary Ann Sears, who had emigrated in 1872), settling in the state of Ohio. 

At the 1880 US census, the family were living in Bainbridge Township, Geauga County, Ohio, where George was a farmer.  Caroline had moved to Cuyahoga, Ohio, but three other children were living with their parents.  Also staying with them was a nine-year-old nephew of George and Elizabeth, Jesse Reynolds, who was actually their grandson.

Elizabeth Edkins died probably in the late 1880s and George remarried, in 1891, Anna Day, in Sangamon, Illinois.  He died in Sangamon on 17th February 1908 but was laid to rest in Restland Cemetery, Bainbridge, Ohio.
Tom Locke – January 2023
See also: