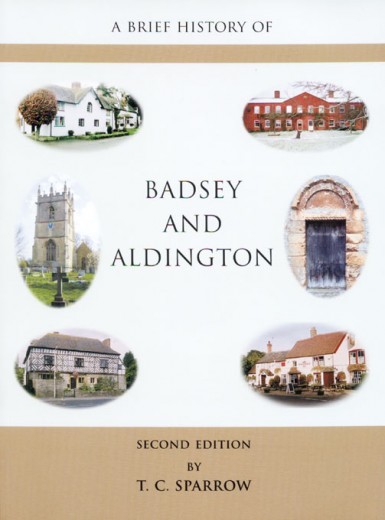 Written by T C Sparrow
144 pages. More than 100 photographs, maps and illustrations. Second edition rewritten with an extra chapter and appendices.
Published by the Badsey Society, 2002.
ISBN-10: 0-954746-91-0
ISBN-13: 978-0-954746-91-9
Price £6.
This readable book is everything a local history should be — rural characters spring to life from its scholarly pages and the passing events of two millennia in a peaceful corner of the Vale of Evesham are retailed with an abundance of illustrations, many now appearing for the first time. Anyone who has ever lived in, or known, Badsey and Aldington cannot afford to miss this unique chronicle of village life which, thankfully, has been recorded for posterity, with great dedication, by a lifelong inhabitant of Badsey.
Terry Sparrow, one of the original joint authors, has rewritten the book with the support of a number of people in the villages. The Countryside Service of Worcestershire County Council has kindly provided a grant towards the cost of publishing the book.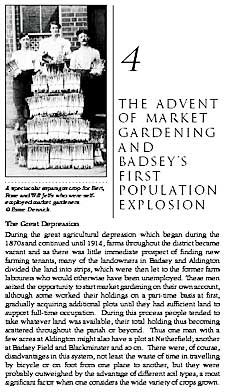 Contents
THE VILLAGES AND THE ABBEY: Foundation of Evesham Abbey • The Norman Conquest Berewic of Aldington • Badsey Church • The Church Tower Badsey's Vicars • Farming • The Seyne House • Registers and Accounts
THE VILLAGES IN EARLY MODERN BRITAIN 1540-1850: The Dissolution • The Advowson and the Parson • The Lord of the Manor The Churchwardens • The Constable • The Road Surveyor Overseers of the Poor • Population • The Wilsons • The Sewards The Manor House • Badsey Hall (The Stone House) Farmhouses and Cottages • The Corn Mill • The Silk Mill The Bread Charity • The Enclosure Act of 1812 • Badsey Church Absentee Vicars
THE MINISTRY OF THE REVEREND T.H.HUNT: Church Finance • The Vicarage and The Glebe • Social Occasions Churchyard Purchase • The Churchwardens and the Parish Clerk The Methodist Chapel • Church Restoration • The Yew Hedge A Village Cross
THE ADVENT OF MARKET GARDENING AND BADSEY'S FIRST POPULATION EXPLOSION: The Great Depression • The Railway • The Evesham Custom • Crops Marketing • Aldington Manor • The Birth of L.B.G. • A Farm Sale Population Explosion
BADSEY SCHOOLS: The Baptist School • Sunday Schools and Boarding Schools The National School • The Board School • The Council School
VILLAGES IN TRANSITION: The Coming of Democratic Local Government • Badsey Parish Council Reverend Gepp and Reverend Price • A Village Fire Brigade Baptists and Quakers • The Bells and Clock • The 1914-1918 War A Housing Shortage • The Parochial Church Council • Market Gardening The Nursing Association • The 1939-1945 War
SPORTS AND PASTIMES: The Wake • Outings and Concerts • The Flower Show The Asparagus Show • Badsey Rangers • Badsey "Rec" and Elsewhere Park Cricket • The Recreation Club • The Royal British Legion Other Social Activities
THE LAST HALF CENTURY: New Building • The Village Identity • The Churchyard • Village Hall Badsey Church • Pastoral Reorganisation • Market Gardening The 21st Century
APPENDICES The Cultivation and Marketing of Asparagus • Vicars of Badsey with Aldington • C Badsey School • The Parish Council • Badsey and Aldington Dialect • Weights and Measures