This article concerns William Smith, his two wives – Elizabeth Pope and Annie Sheward – and his 13 children born between 1901 and 1921.  William Smith lived almost all his life at Pitchers Hill Farm, Wickhamford.  He fathered eight children with Elizabeth and five with Annie.  After his death, Annie, was mother to two more children.
Smith Family background
William Smith was the ninth of ten children of Richard and Jecolia Ann Smith of Pitchers Hill Farm, Wickhamford. Like most of his siblings, he was born in Childswickham, but his father was the tenant at the farm by the time of the 1881 census.  Richard Smith died not many years later, in 1889. His name is recorded in the Wickhamford Burial Register on 6th May 1889.  Jecolia Ann Smith, farmer, was head of the household at the 1891 census.  
On 31st May 1891, William and two of his brothers (the three youngest children in the family), were baptised at the Church of St John the Baptist, Wickhamford.  The parents' names were given as Richard and Jecholiah (sic) Ann Smith, though no mention was made of the fact that Richard was deceased.  Jecolia Smith died in 1919, and was buried in Childswickham churchyard.  
William Smith, tenant of Pitchers Hill Farm
Despite having six older brothers (one of whom died in 1897), it was William Smith who took over the tenancy of Pitchers Hill Farm.
Nearly 30 years after the death of William's father, Richard, a letter from the Clerk of Accounts, Christ Church, Oxford, to Reverend W C Allsebrook, dated 3rd November 1917, concerning Tithe payments, mentioned that William Smith paid the Tithe from 1885 onwards and was still doing so in 1917.  "We commenced the collection direct from Christ Church in 1882, and the name appearing in our books at that time is Richard Smith.  In 1885 William Smith's name was substituted, and it is from him that Christ Church still collects."  This clearly could not have been the case as William was aged only eight at the time.  His mother, Jecolia, who had taken over the running of the farm on her husband's death, had retired by 1901 and William was now the farmer, so perhaps the date was more like 1895.  
At the time of the 1901 census, William Smith, was living in Wickham House (the farmhouse for Pitchers Hill Farm), next to the farm buildings, with his wife, Elizabeth (née Pope), whom he had married the previous year.  Elizabeth was a daughter of Edward Pope who had lived at Wickhamford Manor around 1880.   William Smith was described as a 'Farmer (employer)' and his older brother, Ralph, who also lived with them, was a 'Cattle Man on Farm (worker)'.
At that time, in April 1901, the couple had no children but, during the following 12 years, Elizabeth gave birth to four daughters and four sons.  The children were all baptised in the Church of St John the Baptist and all attended Badsey Infants School and Badsey Mixed School, details below:
| | | | | | | |
| --- | --- | --- | --- | --- | --- | --- |
|   | Name | Date of birth | Baptism in Wickhamford | Started Badsey infant school | Started Badsey mixed school | Left school |
| 1 | Florence | 4 Sept 1901 | 29 Sept 1901 | 24 Sept 1906 | 4 Aug 1908 | 29 May 1914 |
| 2 | Lilian | 6 April 1903 | 10 May 1903 | 27 April 1908 | 2 Aug 1910 | 9 July 1915 |
| 3 | William | 13 June 1904 | 24 Jul 1904 | 6 Sept 1909 | 28 Aug 1911 | 19 June 1917 |
| 4 | Joseph Richard | 13 Aug 1905 | 24 Sept 1905 | 5 Sept 1910 | 5 May 1913 | 31 Aug 1919 |
| 5 | Daisy Elizabeth | 13 Jan 1907 | 13 Feb 1907 | 6 May 1912 | 8 June 1914 | 31 Mar 1921 |
| 6 | Frank | 29 Aug 1908 | 25 Oct 1908 | 8 June 1914 | 22 Aug 1916 | 28 July 1922* |
| 7 | Dorothy | 10 Sept 1910 | 23 Oct 1910 | 7 Sept 1915 | 26 July 1918 | 28 July 1922* |
| 8 | Victor | 15 June 1912 | 28 July 1912 | 18 June 1917 | 1 July 1919 | 28 July 1922* |
*left district entered in school register
At the 1911 census, William and Elizabeth Smith were recorded as having had seven children, all of whom were still living.
1913 Valuation Survey
When this survey was undertaken, just before the Great War, Pitchers Hill Farm, together with the adjacent Wickham House, was valued at just under £4,000.  It was owned by the trustees of J P Lord and was a dairy farm of a little over 83 acres in size.  William Smith paid an annual rent of £123.  The particulars of the property, as recorded on 17th February 1913 were:
Brick and slate house, fair repair: 4 bedrooms, hall, drawing room, dining room, kitchen, pantry and servant's room, back kitchen and dairy, 2 rooms over wash-house. Brick and tile stabling for 3, pigsty, brick and tile nags' stable for 6, harness room, loft over, cow stall for 3, brick and tile barn and chaff-cutting room adjoining, timber and slate cow stable for 4, timber and slate brick foundation loose box, cow tier for 12 with feeding passage, calf pen, timber and tile open cart shed 6 bays, brick and slate open cart shed 3 bays, granary over, timber and iron open feeding shed 3 bays. Buildings in poor repair.
In this Valuation Survey there was no indication of the number of cows for milking.  When a Farm Survey was carried out in 1942 there were twenty such cows plus five in calf and 19 others, including a bull.  As the milking parlour and grazing area was much the same in 1913, it is reasonable to assume that William Smith's enterprise was of a similar size, with cows needing milking twice a day.
Family bereavement
It may be that the burden of giving birth to so many children at a rate of one every year and a half took its toll on Elizabeth's health.  Elizabeth Smith died of a heart condition, aged only 35, and was buried in Wickhamford churchyard on 12th April 1913.  The gravestone inscription is shown below, and it was probably once surmounted by a cross.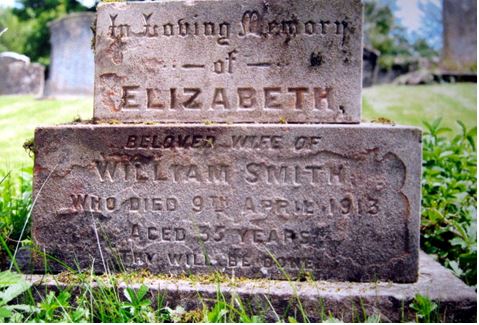 William Smith's second marriage
After Elizabeth's death, William remarried.  He wed Annie Sheward, a "21"-year-old spinster, in Wickhamford on 19th December 1914.  She was the daughter of George Sheward, a carpenter and came from the Broad Marston area, although she was living in Wickhamford at the time of her marriage.  (She was born on 28th October 1895, so was 19 years old, rather than the 21 given in the Marriage Register.)  She had probably been employed by William Smith to care for his young family, but their relationship became closer.  She gave birth to a son, Walter, on 26th March 1915, three months after their marriage.  She then had three daughters, Gladys, Joyce, and Ruby and another son, Austin, details below:
| | | | | | | |
| --- | --- | --- | --- | --- | --- | --- |
|   | Name | Date of birth | Baptism in Wickhamford | Started Badsey infant school | Started Badsey mixed school | Left school |
| 9 | Walter | 12 Apr 1915 | 18 July 1915 | 12 Apr 1920 | 3 Apr 1922 | 28 July 1922* |
| 10 | Gladys | 18 June 1916 | 6 Aug 1916 | 21 June 1921 | - | 28 July 1922* |
| 11 | Joyce | 26 Sept 1917 | 25 Nov 1917 | - | - | - |
| 12 | Ruby | 23 Feb 1920 | 2 May 1920 | - | - | - |
| 13 | Austin | 27 Jun 1921 | 7 Aug 1921 | - | - | - |
 *left district entered in school register 
Ownership of Pitcher's Hill Farm
At some point between 1913 (when the Valuation Survey was taken) and 1921, William Smith bought Pitchers Hill Farm from the trustees of John Pickup Lord.  This comprised nearly 90 acres of farm house, buildings, meadow and pasture land.
Possibly the stresses of becoming an owner led William to an early death.  William Smith survived his first wife by only eight years and died in 1921, aged 42, following a heart attack.  He was buried on 6th October, presumably in the same grave as his wife, but there is no inscription for him on her gravestone.  He left an estate of £3,856 7s 5d. and Probate was granted to Wilson Crump, a farmer in Childswickham.
After William Smith's death
Four months after William Smith's death, Pitcher's Hill Farm was put up for auction at The King's Head Hotel, Evesham, on 6th February 1922.
The Badsey School Registers show that William Smith's widow, Annie, left the district with at least the five school-age children and the three younger ones, around the end of July 1922.  There are no records of any of William Smith's 13 children marrying in Wickhamford, so their connection with the village ceased at that point.
Annie had two further children born in the Evesham district:  Donald (1925-1999) and Gerald (1930-1949).  At the time of the 1939 register, when living at Knapp Farm, Bledington, Gloucestershire, the Smith household comprised eight people.  The last record is as yet undisclosed.  Annie may have had yet one more child or it may have been a young child staying with the Smith family. The second option is more likely as there are no further Smith births registered in the Evesham District, where the mother's maiden name was recorded as Sheward.
Mrs Annie Smith put Knapp Farm up for auction on 22nd May 1944.  The land around the buildings consisted of a little over 26 acres and included a young plum orchard. She moved with some of her family to Blenheim Farm, Cow Honeybourne. 
Annie died at the General Hospital, Stratford-upon-Avon on 28th November 1948, aged 53. 
William Smith's children
Florence Smith (1901-1969) married Frank Sheward in the Pershore District in 1926.  In 1939 they were living in Mickleton and were probably childless at that time. She died in late 1969 in the Stratford-upon-Avon area.
Lilian Smith (1903-1993) – a woman of this name married William Harper in Warwick in 1933.  In the 1939 Register they were living in Leamington Spa and her date of birth was given as 6th April 1903 which was the date of birth given in the Badsey School registers.  A Lilian Harper with the date of birth 6th April 1903 died in the Cheltenham area in 1993.
William Smith (1904-?) married Iris Victoria Stanford in 1936 in the Alcester district.  By 1939 he was a 'Farm labourer, cowman' at Dean Green, Ullenhall, Stratford upon Avon. It would seem as if his upbringing on a dairy farm influenced his later life.  Iris died in the Birmingham area in 1971.  William's death date is unknown.
Joseph Richard Smith (1905-1979) was a dairy farmer at Knapp Farm, Bledington, Gloucestershire, at the time of the 1939 Register, living with his widowed step-mother, younger brothers Frank and Victor, and half-siblings, Ruby, Donald and Gerald.  Like his older brother, William, growing up on a dairy farm obviously influenced his future career.  He died in the Evesham district in 1979.
Daisy Elizabeth Smith (1907-1987) married George William Diston at Snowshill, Gloucestershire in 1931 and by 1939 they were still living in that village, where he was a kitchen gardener. They do not appear to have had any children.  Daisy died in the Cheltenham area in 1987. 
Frank Smith (1908-2003) was living at Knapp Farm, Bledington, Gloucestershire, at the time of the 1939 Register, with his widowed step-mother, brothers Joseph and Victor, and half-siblings, Ruby, Donald and Gerald.  Frank was described as assisting on the farm.  He married Lily Davis, in 1945, and eventually returned to Wickhamford and lived with his wife and three children on Pitchers Hill.  
Dorothy Smith (1910-1997) appears to have been living on Parabola Road, Cheltenham, in 1939, working as a general domestic.  Her date of birth was given as 10th September 1911 (rather than 1910) but, at the time of the death of Dorothy Smith in Cheltenham in 1997, her date of birth was given as 1910.
Victor Smith (1912-1989), was living at Knapp Farm, Bledington, Gloucestershire, at the time of the 1939 Register, with his widowed step-mother, brothers Joseph and Frank, and half-siblings, Ruby, Donald and Gerald.  He was working as a bricklayer.  He died in the Evesham area in 1989.  
Walter Smith (1915-1975) married Sylvia Emilie Hill at St Michael's Church, Broadway, on 14th October 1933.  His step-brother, Frank, was his best man and his sister, Ruby, was a bridesmaid.  At this time Annie Smith's family were living at Weston Subedge.  In a report of the wedding, in The Evesham Standard, Walter was said to be a playing member of Willersey Football Club.  Walter died in the Worcester area in 1975.
Gladys Smith (1916-2004), who worked as a domestic servant, married Arthur Henry Mayo on 19th September 1936 at Weston sub Edge.  Gladys died in the Cheltenham area in 2004.
Joyce Smith (1917-1989) married a market gardener, Thomas William Hayes, at Weston sub Edge on 26th December 1936.  In 1939 they were living in Weston Road, Bretforton with a new-born son, Graham.  Joyce died in the Evesham area in 1989.
Ruby Smith (1920-?) was still living with her widowed mother and half-brothers at Knapp Farm, Bledington, at the time of the 1939 Register.  She married Alfred J Newman, in August 1940, in Weston Subedge. She was given away by her brother, Joseph Richard Smith.  Ruby's date of death is unknown.
Austin Smith (1921-1949) was just three months old when his father died.  Austin died tragically at Blenheim Farm, Cow Honeybourne, on 31st December 1949, aged 28 years.  He suffered from epilepsy and was found dead in his bed by his step-brother, Joseph Richard; the coroner's verdict was asphyxiation due to convulsions.  Austin had been discharged from the Army in 1945 and worked on the farm, doing as much as his condition allowed.
Of Annie Smith's two other children by an unknown partner, at the time of the 1939 Register, Donald was 'seeking work' and Gerald was still at school.  Donald married Marie Lloyd at Cow Honeybourne in early 1949 and was described as a son of the "late Mrs A. Smith".  Gerald died on 25th April 1949, probably of tuberculosis, at The King Edward VII Memorial Sanatorium, Hatton, Warwickshire.  He was only 18 years old and his home address was still Blenheim Farm.
Tom Locke – October 2021