Lancelot Henry Frederick WALTON (1902-1998)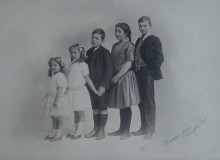 The Walton children c1911: Myfanwy, Miriel, Lance, Eleanor, Edwin (by kind permission of Jenny Gosney and Richard Walton).
Biographical Details
Lancelot Henry Frederick Walton (1902-1998), known as Lance, was the great-nephew of Eugénie Sladden, being the grandson of her sister, Mary Anna Robinson.
Lance was born at Pembridge House, Strawberry Hill, Twickenham, on 15th March 1902, the third of five children of Charles Henry and Fanny Walton. He is mentioned in eight letters written by his grandmother, Mary Anna (Polly) Robinson, to her sister, Eugénie.
Lance was educated at Oundle and then undertook medical training at St Thomas' Hospital, London, becoming an orthopaedic surgeon. He developed a special understanding of muscular problems thourgh his work with polio victims.
Lance married Hilda Betty Drew (known as Dawn) on 10th April 1931 at St Matthias, Richmond, and had two sons and two daughters. They lived at Walton-on-Thames where he had consulting rooms adjoining the family home.
In retirement, Lance and Dawn moved to Alderney in the Channel Islands where Lance died on 15th October 1998. Lance's obituary appeared in The Times on 11th November 1998.
Letters mentioning this person: