Worcestershire - Evesham: Greenhill School
Greenhill School was a school located in the Greenhill district of Evesham, which operated from 1911-2008 and was started by May Sladden.
After returning from a year-long trip to New Zealand, arriving back in England in October 1906, May Sladden worked as a governess for a time before returning to live at Seward House, Badsey, in mid 1910.  Together with Marjory Slater of Greenhill, they opened a school at Almswood, Evesham (present-day 95 High Street).  A report in The Evesham Standard of 1st April 1911 gave details of a children's fairy play:
A large number of residents of Evesham and district accepted the invitation of Miss Slater and Miss Sladden to witness an entertainment by the children attending their school at Almswood.  The entertainment was given in the old Grammar School on Greenhill on Wednesday afternoon, and gave the greatest pleasure to those present.
The play was presumably held at the old Grammar School as the premises at Almswood were not big enough.  It was soon after this that May and Marjory made the decision to move their school to the old Grammar School.  In a letter to her sister, Juliet, on 1st July 1911, May wrote:   
We do not break up till July 28th.  You know I expect that next term we are going to move up to the old Grammar School.  I think we shall very likely have about 25 pupils.
The Grammar School had recently relocated to new premises on Victoria Avenue and had let out the house (known as Lanesfield), buildings and grounds to Thomas Horsfield, a retired chartered accountant, who had moved to Evesham a short while earlier.  Thomas Horsfield then leased a building to May and Marjory for their school.  In a letter of 8th October, May wrote:
School goes on as usual, we all feel happier in our new premises.  The agreement with Mr Horsfield is not quite done with, but I hope will be signed in a day or two.  We have put it into the hands of Mr Sharp, a young solicitor who is in Mr Tom Cox's office.  The others laugh at me "interviewing my solicitor". 
Much of September 1911 was spent getting the new school location ready, as detailed in a letter of 10th September from May to Kathleen.  May's brother, George, was enlisted to help make an inventory of furniture.  By early October 1911, the school, which was to be called Greenhill School because of its location on Greenhill, was up and running.  May Openshaw, whose family lived at Bowers Hill, Badsey, was recruited as an assistant teacher.  By March 1912 they had 30 pupils.
In July 1915, an advertisement appeared in The Evesham Standard stating that Lanesfield, comprising house, buildings and grounds in the occupation of Mr T Horsfield, was to let.  As a result of this, Marjory Slater wrote to Mr Cox, the solicitor, saying that they would like to rent the school from the Governors.  As May said in a letter:
"… and now we must wait till the matter is brought up at the next Governors' meeting.  I can't help thinking they won't let the house very easily and may be glad to let the school, but I hope they won't increase our rent."
The school continued to do well and to expand.   It had begun as a kindergarten but then, when more room became available, boarding facilities were added.  In 1917, May Sladden's cousin, Marian Sladden, moved to Worcestershire and became Joint Principal of Greenhill School with May and Marjory. Marian's mother and sister also moved to Evesham; they had a house at Bengeworth.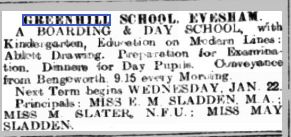 According to a news article in The Evesham Standard of 4th September 1959 when Greenhill School had a new owner, May Sladden had resigned in 1923.  It is thought that Marian Sladden may also have left then.
Greenhill School closed for good in July 2008 after nearly a hundred-year history.
 
Letters mentioning this place: