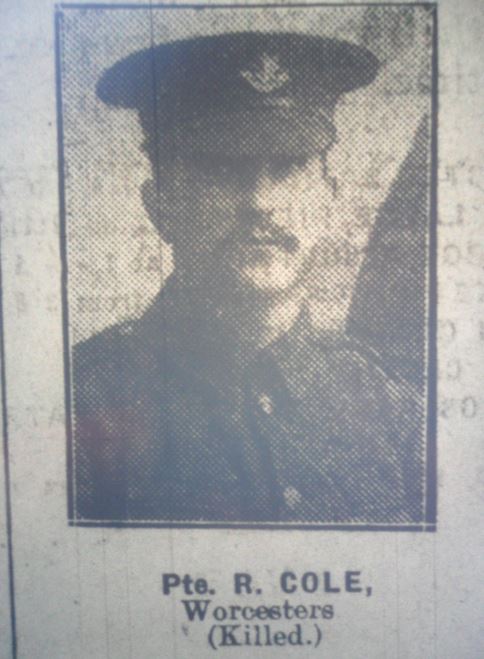 Richard Frederick Cole moved from Evesham to Badsey probably in 1909 on marriage.  Private Cole is recorded on the war memorial in St James' Church, Badsey.  His name is also listed on the Evesham War Memorial, and the Menin Gate Memorial, Ypres, Belgium.
* * * * *
Richard Frederick Cole was born in Evesham in 1888, the third of six children of William and Louisa Cole.  His siblings were:  Horace W (c1885), Emily B (c1887), Lily May (1891), Clara (c1893), Gertrude (c1896) and Hilda (1901).  In 1891 they lived in Welford; William was a market gardener.  In 1901, they lived at 10 Avon Street, Evesham; William was a builder's labourer.
In 1909, Richard married Hilote Mary Knight in the Evesham area.  Hilote had grown up in Badsey and the couple settled in Badsey in a terraced house which had been built just three years earlier; this was 12 Cotswold View (the present-day No 56 Willersey Road).  They had two children:  Kathleen Hilda (1910) and William John (1913).  Richard's parents had, by this time, moved to Poole in Dorset with their three youngest children, as William had got a job there as foreman gardener.
Richard enlisted at Evesham with the Worcestershire Regiment in 1915 and went to France in April 1915.  The Parish Magazine of October 1916 notes that Richard received a parcel sent abroad from Badsey Soldiers' Fund (this was money raised by a Whist Drive and a Children's Entertainment).
Richard died on 7th June 1917, aged 28, in the Ypres Salient.  His name is recorded on the Menin Gate Memorial, Ypres, Belgium, which would tend to imply that his body was never found.  However, a "Concentration of Graves (Exhumation and Reburials)" document dated 29th October 1919, published on the Commonwealth War Graves website, reveals that Richard's body was found at map reference N26.D.5.2 and was buried in Grave 40 at Wulverghem-Lindenhoek Road Military Cemetery.   
The Parish Magazine of July 1917 reveals that a memorial service was held at Badsey on 27th June.
Richard's widow, Hilote, married a second time, to George Redgewell, by whom she had two sons:  Bernard (1925-2003) and Norman (1928-1928).