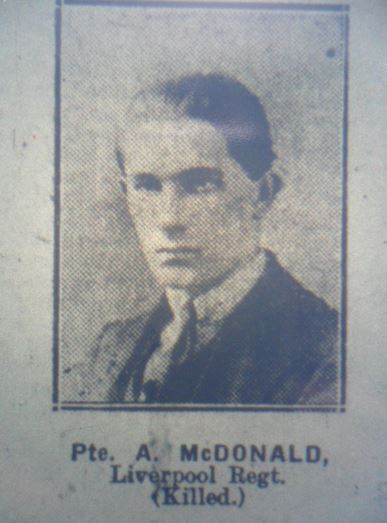 Arthur Henry Logan McDonald was the grandson of the Head Teacher of Badsey School, John Henry McDonald.  Although born in Kent, Arthur spent most of his childhood years living in Badsey, looked after by his grandparents and maiden aunts.  Private McDonald is recorded on the war memorials in St James' Church, Badsey, Badsey School, and on the Tyne Cot Memorial, Belgium.
* * * * *
Arthur Henry Logan McDonald was born on 17th May 1898 at Chatham in Kent, the elder son of Henry and Mary Grace McDonald.  He had a younger brother, John Christopher F, born the following year at Strood in Kent.  At the time of the 1901 census, Arthur was living with his grandparents, John and Margaret McDonald, in Badsey, whilst his brother was at home with their parents in Milton, Kent.
John Henry McDonald, a Liverpudlian by birth, had moved to Badsey in October 1894 to take charge of the school, assisted by his eldest daughter, Margaret Anne McDonald.  Arthur appears to have been largely brought up in Badsey by his grandparents and aunts.  Margaret and Elizabeth McDonald never married.  Whilst Margaret taught at the school, Elizabeth looked after the house and undertook much of the childcare.
Arthur started school at Evesham National School, but then enrolled at Badsey in February 1904, aged 5¾.  He left in August 1904, the reason being "left the village", presumably to return to the parental home.  However, he was back again the following year when he re-enrolled in April 1905.
The household at the School House at the time of the 1911 census comprised John and Margaret McDonald, their two unmarried daughters, Margaret and Elizabeth, their son, Douglas, and 12-year-old Arthur; Jean, their other daughter, was away from home.  Arthur's parents were in Liverpool where his father, Henry, was working as a carpenter's labourer at the docks.  Henry was living at 9 Bowring Street, Dingle, Liverpool, with Arthur's brother, John, whilst Mary Grace was a patient in the Hospital for Women, Shaw Street, Liverpool.
 In July 1911, Arthur's grandmother, Margaret McDonald, died.  Two months after that, Arthur left school in September 1911 when he was awarded his Labour Certificate.  The normal school-leaving age was 14, but children who passed an examination showing proficiency at Standard V were allowed to leave early; Arthur received a Merit Certificate.  The notes in the school register say that he left the district to become a stationer's apprentice.  It is likely that this was in Liverpool where his parents were living.
In May 1913, Arthur's grandfather, John Henry McDonald, died.  Frank Amos, who was soon to marry Arthur's Aunt Jean, became the new Head Teacher.
When of age, Arthur enlisted with the King's Liverpool Regiment, though he later transferred to the Machine Gun Corps.  The August 1916 Parish Magazine noted that "Cpl McDonald has been wounded, his wounds of a very severe character, but he is now in England, and we are glad to know, going on well."  The following month's magazine said that he was still far from convalescent.  The news was no better by February 1917:  "Cpl McDonald is, we are sorry to learn, quite incapacitated and is making little, if any, progress.  We trust the next news of him may be better."
Sadly, the news was not better.  At some stage, Arthur was obviously deemed fit to return to the front, for the next news we hear of him was of his death in France on 16th August 1917, followed by a Memorial Service at Badsey on 19th September.  The Parish Magazine of October 1917 reported as follows:
Pte McDonald, who was a grandson of our late schoolmaster, was well-known in Badsey, where he spent his boyhood, and was one of whom those who knew him have none but the happiest memories.  Enlisting in the King's Liverpool Regiment he was subsequently transferred to the Machine Gun Corps and was carrying his gun when he fell.  His last words were, "Take the gun, Corporal, I'm hit," from which it would appear that his death was happily almost instantaneous.  In the course of a letter to Private McDonald's mother his Company Commander says:  "You may be very proud of your son.  No man has behaved more heroically since the beginning of the war than he did on the day he met his death."
Arthur's body was never identified, so he is commemorated on the Tyne Cot Memorial to the Missing, Zonnebeke, West Vlaanderen, Belgium, along with nearly 35,000 other officers and men.
Arthur's grandparents, John and Margaret McDonald, pre-deceased him and did not live to see the horrors of the First World War.  It is not known when Arthur's parents died, but his brother, John, lived to 91, dying in Surrey in 1991.  In Badsey, Arthur's doting aunts were left to mourn him.  According to Arthur's cousin, Jean-Margaret Amos, who was not born until two years after his death, their Aunt Elizabeth in particular never really got over Arthur's death.