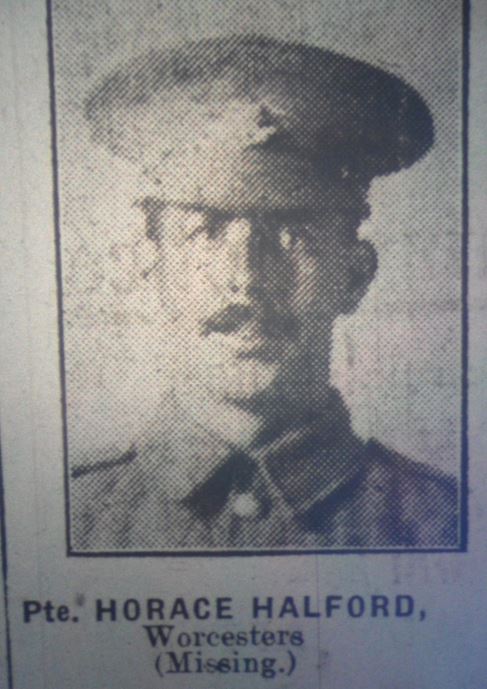 Horace Halford had connections with both Badsey and Wickhamford.  In 1894, he moved with his family from Offenham to Wickhamford and attended Badsey School; in the first decade of the 20th century, he moved to Bowers Hill, Badsey.  Lance Corporal Halford is recorded on the war memorial in St James' Church, Badsey, Badsey School and on the Arras Memorial, France.
* * * * *
Horace Albert Halford was born at Offenham on 11th March 1887, the seventh of ten children of Samuel and Rebecca Halford.  Horace had five older brothers (Ralph, Alfred, Frank, Charles and Allen), an older sister (Hilda), two younger brothers (Walter and Harry) and a younger sister (Rose).
In November 1894, the Halfords moved to a house at Pitchers Hill, Wickhamford, and three of the children, including Horace, enrolled at Badsey Board School, as it was then called.  Horace's father and his older brothers were all agricultural labourers.
Horace's parents remained living at Wickhamford until their deaths in 1914 and 1915 respectively but, between 1901 and 1911, Horace moved to Badsey.  This may have been in 1910 when he married Alice Hughes, who was some 22 years his senior.  At the time of the 1911 census, Horace and Alice were living at Bowers Hill Cottage where he was working as a market gardener on his own account.
Horace enlisted with the Worcestershire Regiment, (No. 15044), probably in 1914.  He first went overseas in 1915, arriving in France on 7th March.  A report in the April 1915 Parish Magazine said that he had been wounded, but no particulars were available.
The July 1917 Parish Magazine announced that Corporal Halford had been officially reported missing.  It was not until nearly a year later that a memorial service was held at Wickhamford on 1st April 1918 for Horace who had been missing since May 20th 1917, and who was now assumed to have been killed in action on that date.
Despite the fact that the family presumably had more ties in Wickhamford than Badsey as it was at St John the Baptist Church, Wickhamford, that the Memorial Service was held, it is in Badsey Church that Horace Halford is honoured, rather than Wickhamford.  Possibly it was because his parents were no longer around to make a case for his name to be included on the Wickhamford Memorial.
It is not known what happened to Horace's widow, Alice.  Most of Horace's siblings remained living in the Evesham area.