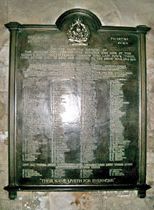 Two men from Badsey/Wickhamford are listed on the Worcestershire Hussars war memorial in Worcester Cathedral:  Corporal Douglas James Powell, who lived in Badsey for a year or two prior to the war, and Second Lieutenant George Mason, who was born in Badsey and spent his childhood in Badsey and Wickhamford.
The memorial, listing over 200 names, has the following words at the top:  TO THE GLORIOUS MEMORY OF THE OFFICERS, NON-COMMISSIONED OFFICERS AND MEN OF THE QUEEN'S OWN WORCESTERSHIRE HUSSARS WHO LAID DOWN THEIR LIVES AT THE CALL OF KING AND COUNTRY IN THE GREAT WAR 1914-1918
Douglas Powell had joined the Hussars on the outbreak of war.  He died at the Battle of Qatia on 23rd April 1916, a day of deep and tragic significance for the Worcestershire Yeomanry when over 80 men died, either on that day or later of wounds.  The names on the memorial are in order of rank.  D J POWELL is listed under Corporal in the first column of four names.  On 23rd April 2016, a hundred years to the day after Douglas lost his life, a special Poppy Memorial Sculpture to the Worcestershire Yeomanry was unveiled in Cripplegate Park, Worcester.
George Mason had joined the Hussars on the outbreak of war but transferred to the Worcestershire Regiment in 1916.  His name is one of 19 which appears at the bottom of the memorial under the heading:  AND ALL THOSE, ONCE WORCESTERSHIRE YEOMEN, WHO LOST THEIR LIVES SERVING WITH OTHER UNITS