Vincent Colley moved from Peopleton to Bowers Hill, Badsey, in 1903 and then to Wickhamford in 1904.  He emigrated to Canada in 1911.  Private Colley's name is recorded on the war memorials in St John the Baptist's Church, Wickhamford, in Wickhamford Memorial Hall, at Badsey Council School, the Minnedosa Memorial, Manitoba, Canada and on the Ypres (Menin Gate) Memorial, Belgium.
* * * * *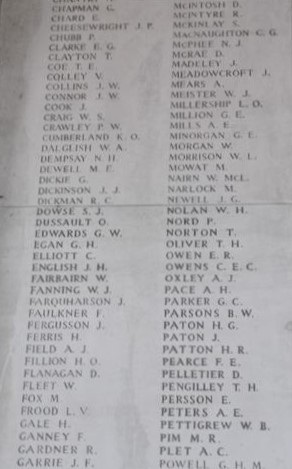 Private Vincent Colley joined the Canadian Army, East Ontario Regiment (No 81167), 32nd Battalion, Canadian Infantry, on 12 Dec 1914.  He was 5ft 7in and a fireman and enlisted in Winnepeg, Manitoba.  He sailed from Halifax, Nova Scotia, aboard the SS Vaderland, on 23rd February 1915 and was transferred to the 2nd Battalion, Eastern Ontario Regiment on 16th May 1915.  He was killed in action in France on 12 June 1916 and is commemorated in Panel 10-26-28 at the Menin Gate, Ypres, as his body was not recovered.
The medal records show that he was entitled to the 1914/15 Star. The son of Jesse and Olive Colley, born on 18th January 1893, he was living in the village in Manor Road at the 1911 census, when he was a carter working in market gardening.  He emigrated to Canada soon after the census.  Vincent's younger brother, Jesse Colley, who remained living in Wickhamford, also served during the war.
There was a Memorial Service for Pte V Colley at Wickhamford on July 7 1916.