Frank Cox moved from Ebrington to Badsey in 1901 and then to Wickhamford in 1904.  Gunner Cox's name is recorded on the war memorials in St John the Baptist's Church, Wickhamford, in Wickhamford Memorial Hall and at Badsey Council School.
* * * * *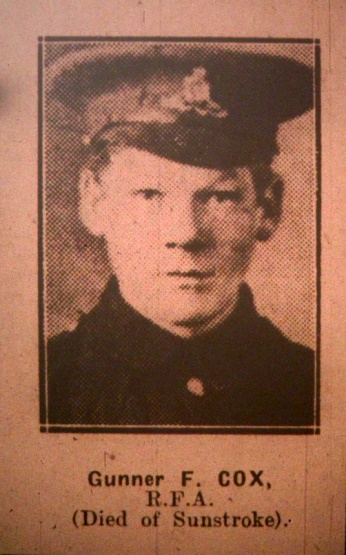 Gunner Frank Cox joined the Royal Field Artillery (No 58028) and died due to heatstroke in Salonika, Greece, on 13th July 1916, whilst in C Company, 100th Brigade.  He is buried in the Salonika (Lembet Road) Military Cemetery (Grave ref. 245).
Frank was the son of William and Alice Cox, living on Pitchers Hill at the 1911 census. An Evesham Journal report said that he worked as a 'boots' at the Rose and Crown Hotel, High Street, Evesham and joined up at Christmas, 1914.  He lied about his age when enlisting, and died just short of his 18th birthday.  He was one of six brothers who served in the war, the others all surviving:  Charles William, James Thomas, George Frederick, John Henry and Albert.
His service record no longer survives but his medal record does.  This shows that he went to France on 7 September 1915 and his next of kin were entitled to his Victory and British War Medals and the 1914/15 Star.
There was a Memorial Service for Gunner F Cox at Wickhamford on Aug. 4th 1916.