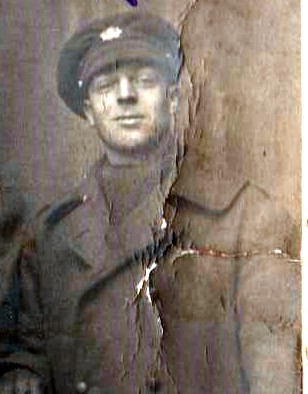 Private Norris Haines (1889-1974) was born in Aldington, the eldest of four children of William and Harriet Haines.  His father died in 1898 and his mother married again in 1901 to Allan Heath.  Norris married Florence Jane Harris on 13th April 1910 at Badsey and was living in Badsey at the time of the 1911 census with his wife and baby daughter.  He was working as a chauffeur, employed by George Lees-Milne at Wickhamford Manor. 
Norris served in the Army Service Corps (No M2/57421) in France, arriving there on 14th March 1915; he later served in northern Italy.  The Badsey Parish Magazine (November 1916) records that he received a parcel from the Badsey Soldiers Fund from money raised by a whist drive in February 1915.
He lived in Badsey when he enlisted but his wife and children moved to Wickhamford during the war.  The postcard below, dated 23rd July 1917, was sent from France to Mrs Haines in Wickhamford:  "My Dear Wife and Children, Just a card hoping this will find you quite well.  I have not heard from you today, expect I shall get a letter tomorrow.  Am quite well myself.  With Best Love from Norris xxxx".  The field censor passed the card but obscured the location printed below the picture of a ruined church.  Someone, presumably, Florence, has tried to decipher the crossed-out word.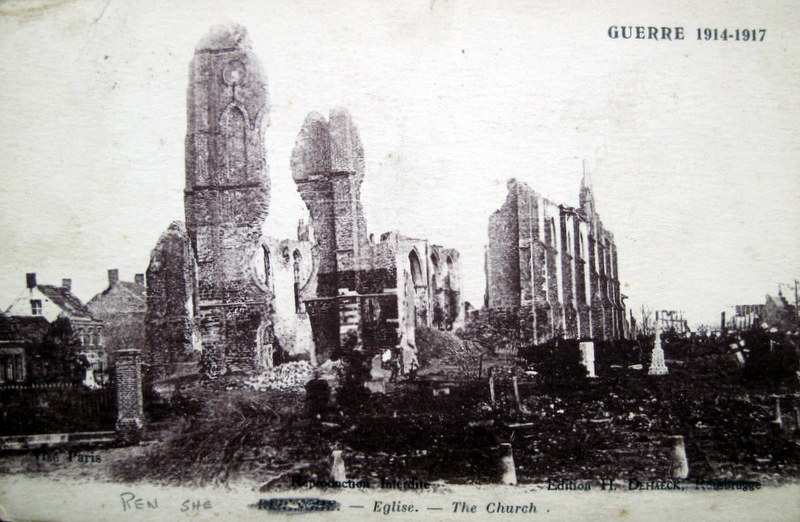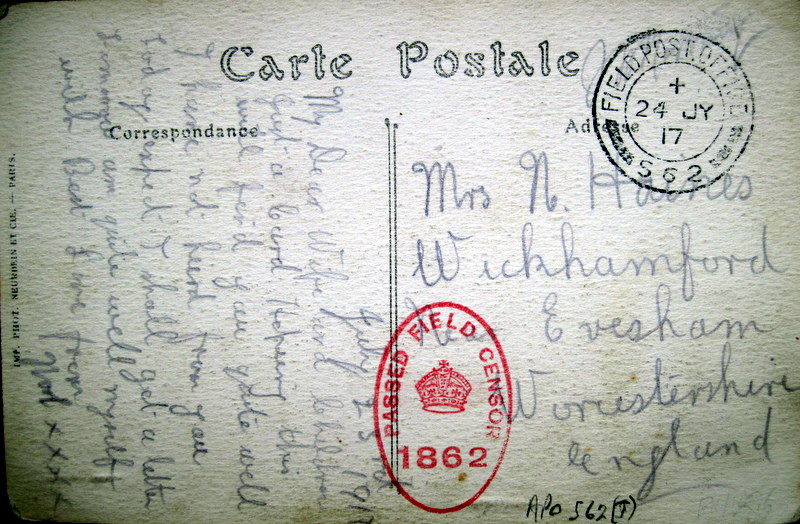 Norris was discharged from the Army on 31st March 1919.  (Only his medal record survives in the archives – 1914/15 Star, Victory and British War medals.)
Norris had three children in total:  Hilda Doris (1910-1993), Margaret Helen (1912-?) and John Thomas William (1920-1987).  His youngest child, John Haines, whilst a pupil at Badsey Council School, wrote a letter in 1933 describing living in a market gardening community.
Norris remained living in Wickhamford for the rest of his life, continuing to work for Mr & Mrs  Lees-Milne at Wickhamford Manor and, after that was sold in 1947, for the same employer at Hody's Place.  He later worked for their son, Richard Lees-Milne and lived opposite Hody's Place in Whytebury Cottage, Manor Road.
See also:  Norris Haines – Chauffeur and Gardener at Wickhamford Manor