Annie Bell and William Marsh were, as far as we know, the last couple to emigrate from the Badsey area to Ohio in the latter part of the 19th century. This is the story of their journey through life together. How their story fits into the wider historical context is the subject of another article.
* * * * *
Early Life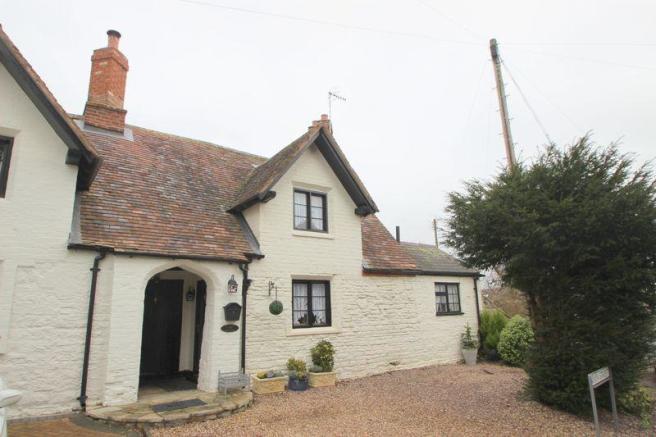 Annie Bell was the second of four children born to William Bell and his wife, Sarah Harris. William was the farm bailiff to Arthur Herbert Savory at Aldington Manor, and the family lived at Corner Cottage, Main Street, Aldington, as did their descendants until 2005. William and Sarah's first son, Henry died in infancy in 1861, and Annie was born in 1866.  She was baptised at St James' Church, Badsey, on 25 March 1866.  Annie had two younger brothers, Henry William Bell, born in 1871, and Alfred Bell, born in 1876, both of whom became market gardeners, Henry in Aldington, and Alfred in Badsey. At the time of the 1881 census, Annie was living at home with her parents and working as a domestic servant, probably at Aldington Manor. 
William Marsh was the sixth of nine children born to John Marsh and Harriett Harris on 17 January 1862. John was born in Cutsdean.  At the time of the 1851 census, John Marsh was a shoemaker and the family were living at 34 Port Street in Bengeworth, Evesham. For some reason the shoemaker's business did not work out, and by the1861 census we find John working as a labourer and living in a much smaller house at 116 The Leys with their five children. William was born the following year. By 1871 John had changed his occupation again and become a railway signalman, and the family were residing in a small cottage at 244 The Leys with their 8 surviving children. John died in 1877, and by 1881 Harriet is described in the census as a toy shop keeper, and only 19 year old William, a wheelwright's apprentice and his youngest brother John remained at home. The remainder of the family had left home in search of work, spread far and wide by the expanding railway system. The 1881 census finds Thomas working as a carpenter in Westbury-on-Trym, George as a railway porter in Birmingham, Caleb as a labourer in Shoreditch, London and in the 1891 census John is a railway porter in Lenton, Nottingham. The three girls, Emma, Annie and Alice all went into domestic service in London. Emma died in Deptford, and the other two, Annie and Alice, emigrated with William and Annie in 1885.
William seeks work in America
By 1883, William had completed his apprenticeship, and, as a result of the changes in agriculture that led to the Great Agricultural Depression in the UK, which led to enormous changes in farming practices both nationally and locally, emigrated to America for the first time. Around 40 people had emigrated from Badsey, Aldington and Wickhamford during the previous 15 years, and they doubtless had written home to tell of the success they had found. In addition, enticements to emigrate were everywhere; in newspaper advertisements, articles and reports of talks given by the local MP Sir Richard Temple. William and Annie must have been acquainted by then, but William made his first trip across the Atlantic alone, sailing from Rotterdam on the S.S Maas. He probably bought his ticket from an agent in Worcester, of which there were several.
William's journey would have begun with a trip by rail from Evesham – either to Hull via Birmingham and York, or to Harwich via London, just as passengers do today – and thence across the North Sea. Once in Rotterdam, along with 355 other steerage passengers, William boarded the Maas along with 13 other English citizens, 145 Dutch, 125 Germans, and 24 Scandinavians, plus 43 other Europeans for the journey across the Atlantic. The majority of the passengers were farmers and skilled tradesmen like William, headed for the mid – western states such as Ohio, where the dairy farms were expanding, and where market gardening was on the increase. The Maas landed at Castle Garden, New York, the predecessor of Ellis Island, on 23 April 1883.
William must have been happy with what he found in Ohio, because two years later he returned to Aldington to marry his sweetheart. We don't know which route he took on his return to England, as unfortunately there are no surviving records of his journey, but he was only home long enough to marry Annie.
Marriage followed by emigration to America
William and Annie were married on 23 April 1885 in the church of St John the Baptist, Wickhamford. The address for both Annie and William was given as Aldington, probably because William was staying there prior to their marriage. The reason they were married at Wickhamford rather than Annie's home parish of Badsey was because St James' church, Badsey had closed its doors at the end of March for a six – month refurbishment. Arthur Herbert Savory, Annie's employer, and his daughter Cynthia were two of the witnesses at the wedding. Other witnesses were Annie Beard, Hamilla M. Hunt, the vicar's wife, Alice Marsh, William's sister, and Alfred Bell, Annie's brother. The wedding gains a mention in "Grain and Chaff from an English Manor" written by Arthur H. Savory in 1920:
"I was invited to the wedding feast of my bailiff's daughter, and being, I suppose, regarded as the principal guest, was, according to custom, requested to carve the excellent leg of mutton which formed the piece de resistance."
As I said earlier, William and Annie were very quickly en route for America after the wedding, accompanied by William's sisters Annie and Alice who had left their jobs in domestic service in London to join them. They landed at Castle Island, New York on 16 May 1885 after a journey lasing 10 days, so they must have left Aldington on 5 May at the latest, so no more than 10 days after their wedding.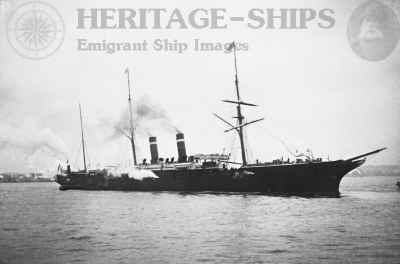 This time the party travelled from Liverpool on the City of Richmond, a much larger vessel of the Inman Line, one of the top three English passenger lines.  The vessel was carrying 1324 passengers, 1208 in steerage, 69 in intermediate accommodation, and 48 in cabins. As you would expect, with the vessel leaving from Liverpool and calling at Queenstown (now known as Cobh) in Ireland on the way, the passenger list comprised 189 British, 666 Irish and 302 Scandinavian passengers, the remainder being American and European. The ship's manifest lists William as a labourer from Worcester and Annie as a spinster, probably a clerical error, as are William's sisters. They were in the after steerage, some of the worst accommodation on the ship, and had no luggage listed, although Annie Marsh did have two pieces. Was this because William was returning, I wonder?  
Settling in Ohio
Having been processed through Castle Island, Annie and William would most likely have travelled to Ohio by rail. The first route to Ohio had opened on 24 January 1853, and by the 1880s three more companies were operating routes into the mid – west. The rail journey was relatively quick – 1 – 2 days, and the cost of a one-way ticket somewhere in the order of £3. They all probably travelled together to Cleveland, but ultimately the party went their separate ways. William and Annie went to Troy, Geauga County, Alice Marsh settled in Painsville, and Annie Marsh remained in Cleveland itself.
The flood of emigrants from Europe to America was fuelled by poor economic conditions at home and the inducement of the promise of plenty of work and cheap land as the American government opened up territories to settlers. It was a time of economic growth in the mid – west, and farming, market gardening and industry were all expanding in Ohio. 
What happened to our party of intrepid travellers once they reached Ohio? We can follow the paper trail of official documentation and censuses to find out. Taking each family in turn...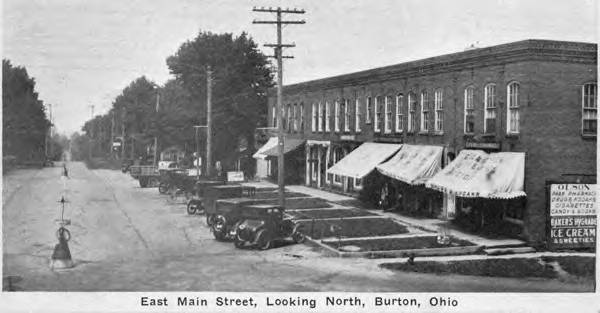 William and Annie's paper trail showed that they moved around a fair bit before finally settling in Burton, Geauga County. William filed for naturalisation in Chardon, the county town of Geauga in 1888. It is reasonable to assume that he and Annie had returned to the area where William had been working prior to their marriage, particularly as Troy Township is only 6 miles from Auburn, where the rest of the Badsey emigrants had settled ten years earlier. Eva Bell Marsh, their only daughter, was born on 22 December 1889 in Troy. The surrounding district is a rural farming area about 40 miles inland from Cleveland with no significantly sized settlements, and is home to the second largest Amish population in Ohio and the fourth largest nationwide. William was working as a farm labourer. 
I can find no record of the family in the 1890 census, but in 1900 we find the family living at 86 Ansel Avenue, Cleveland, and William is working as an insurance agent, and he owned his house on a mortgage. Ansel Avenue was in the city centre near to Rockefeller Park. It was one of the area's earliest roads and in one of the most sought after neighbourhoods. William appears to have been a resourceful and ambitious character to have taken the opportunity to earn more money in the town to support his family and his aspirations.
The 1910 census finds the family living in the dairy area of Willoughby, Lake County, about 20 miles north – west of Cleveland, and William is once again working as a farm labourer, but is still listed as owning his own house. Their neighbours are predominantly American or of American descent. 
By 1920, the family have moved again, and have moved up in the world. They are now living in Parkman Road in the centre of Burton, Geauga County, just 10 miles from Auburn. William is now described as a farmer working on his own account, and he owns the farm mortgage – free. All his hard work has paid off. Annie, as in previous censuses, is described as not working, and their daughter Eva is now married and living on the farm next door. Their other neighbours are from all over Europe as well as America, as this is the area that many German and Dutch dairy farmers settled in. By 1930, William has retired, and they are living in a rented property at 59 Parkman Road, Burton. They are still next door to Eva and her husband George, who is described as a farm operator. Burton, being one of the earliest settlements in Ohio, is laid out in the manner of a New England village, which in turn mirrors the layout of the English villages that many of the settlers came from – a central village green with a church nearby, and streets laid out in a grid pattern surrounding it. 
This was the time of the Great Depression in America, and this had an enormous effect on the people of Ohio. By 1932, more than 40% of factory workers and 67% of construction workers were unemployed. Many of Ohio's city residents moved to the countryside, where they hoped to grow enough food to feed their families. From 1929 to 1932 about 400,000 American farmers lost their land when banks foreclosed on their loans. William and Annie were fortunate in that they had owned their farm outright, and had recently retired, so were not directly affected, and it would appear that Eva and George were in a similar position. Indeed in the 1930 census they are prosperous enough to have a live – in servant.
William Marsh died on 3 December 1938 in Burton. From his death certificate, he died of prostate cancer at the age of 76 years, 10 months and 16 days. The informant was his daughter Eva Gorton. He was buried in Maple Grove Cemetery. Annie continued to live in the same house, as verified by the 1940 census. She died in December 1945 and was also buried in Maple Grove Cemetery.
Eva Bell Marsh
Now let us turn to William and Annie's daughter, Eva Bell Marsh. According to her birth records, she was born in Troy Township, Geauga, but the record of her marriage on 14 November 1907 to George Henry Gorton gives her birthplace as Maple Grove, Ohio. Eva was 18. The marriage was solemnized at Chandler Avenue church by the Rev. C.H. Limmon. George is described on the marriage license as a farmer, aged 30, born and living in Burton. He was born on 16 September 1877. Like Eva, he was the son of English immigrants from Shipton Oliffe, near Andoversford, Gloucestershire.  His father, Thomas Gorton, was a police constable before he emigrated, He and his wife Jemimah (nee Hope) had 7 children between 1859 and 1871, 3 of whom died before they emigrated to Ohio in 1872. Two more children, Victoria and George were born in Ohio. In the 1880 US census, Thomas is described as a farm labourer, but by 1900 he was a farmer in his own right, another example of how the American Dream came true for those immigrants who were prepared to work hard and seize their opportunity.
George and Eva went on to have 6 children, of which 5 survived. They were:
Dorothy Evelyn Gorton        b. 8 August 1908         became a teacher
Elinor Pauline Gorton          b. 17 May 1909             became a nurse
Stillborn daughter                 b. 30 December 1910
Edna Louise Gorton              b. 6 September 1912    educated to College level
Thomas William Gorton      b. 26 February 1916     Lewis machine operator
Marion Gorton                       b. 23 April 1920            educated to 8th grade level
None of the children followed their parents into farming. All of them led unremarkable, comfortable American family lives. The only hint of excitement is that the eldest daughter, Dorothy, and youngest daughter, Marion married the same man, Vee Cocchia, an Italian American bellhop. Of all the daughters, only one has a living relative, a grandson born in 1972. Thomas, the only son, only had one daughter, Jacquelyn, who died in 1949 aged 4, so the direct family line has fizzled out. 
Annie and Alice Marsh
What happened to William's sisters Annie and Alice once they arrived in Ohio?  The first time we find Annie Marsh in official records is her marriage to Edward Llewellyn on 31 December 1892 in Brooklyn Village, Cuyahoga, and a suburb of Cleveland. It is reasonable to assume that she remained in Cleveland and did not travel further afield like her siblings. Having said that, Cuyahoga was a farming and market gardening area at that time, so the whole party may have stayed there for a short time before William and Annie and Alice moved on.  There is little detail on the record about the couple other than Edward was over the age of 21, and Annie was over 18, and that they were married by Chas. L. Selzer, the Mayor of Brooklyn Village, so a civil ceremony. Their son George was born on 25 February 1893. Bearing in mind that Edward, Annie and George Llewellyn are very common names; it proved difficult to track them down. Annie and George appear next in the 1910 census living in a rented house in Woodland Avenue, Brooklyn Village, Cleveland.  Annie is a widow, working as a pastry cook in a Cleveland restaurant, and 18 –year old George is living with her. Interestingly, the census tells us that she had 4 children, of which 2 are still alive, but so far it has been impossible to find them because of the number of Edward Llewellyns living in Ohio at that time. The only death record for an Edward Llewellyn gives his death date as August 8 1908, which fits in with the census data. It has not been possible to find a record of Annie's death. 
Alice Marsh, on the other hand, is much easier to track down, and has her own interesting story to tell. The first official record for her is her marriage to Chauncey B. Talcott on 18 March 1890 in Burton, Ohio. The marriage license contains some interesting details. In the affidavit, it states that Chauncey was of the age of twenty years (the one being crossed out) and has the consent of his father Earl Talcott. Alice was 24. Chauncey was from a well – connected Ohio family who owned extensive land and businesses in and around Burton. The first written record for Chauncey is in the 1880 census for Perry, Ohio, when he was only 11 years of age, but had a 25 acre farm in his name valued at $2,000, equivalent to $51,000 today. This was a typical homestead of the time, growing Indian corn, potatoes, apples and wood for sale. Although he was from a farming family, Chauncey appears in the 1894 Cleveland city directory as a carpenter, so he and Alice must have lived in Cleveland when they were first married. By the 1900 census they had moved 28 miles up the coast to 522 Liberty Street, Painsville, Ohio, and Chauncey was working as a school janitor. Chauncey died in 1903, leaving Alice with 4 young sons to bring up:
Roy Eugene Talcott        b. 5 March 1891       Painsville, Ohio
Edwin Burdett Talcott   b. 7 October 1892    Burton, Ohio
Leon Marsh Talcott        b. 20 March 1895    Burton, Ohio
Dale Hamilton Talcott   b. 9 April 1900         Painsville, Ohio  
Alice remained in Painesville after Chauncey's death. In the 1910 census she is listed as working in a laundry. In 1920 she was not working, but in 1930 she was working as a housekeeper, so still in domestic service. She died on 3 January 1948 in Painesville and is buried in Evergreen Cemetery. 
Roy and Edwin went to work in the car plants of Detroit during the depression, but returned to their roots for the rest of their lives. Leon became an engineer and remained in Painesville apart from his military service, and Dale became a welder, returning to Painesville after a spell working in Cleveland. 
All four sons went on to marry and have children and have surviving descendants alive today.  Whilst looking into their family trees, I discovered that Roy Eugene's daughter, the wonderfully named Huldah Belle Talcott, married a man called Arthur Alvin Noyes in New York in 1930. That got me thinking, as I immediately recognised the surname Noyes. Having researched his ancestry, I discovered that Arthur was descended from the Reverend James Noyes, born in Cholderton, Wiltshire on 22 October 1608, one of the founding fathers of Newbury, Massachusetts, who died there on 22 October 1656. He was a Puritan, educated at Oxford who emigrated on the ship Mary and John on 26 March 1634. He is an ancestor of Lizzie Noyes, one of the founding members of the Badsey Society. What an amazing coincidence!
In conclusion, the small party of hopeful emigrants who left Aldington in the spring of 1885 did achieve the American Dream that they had sought after through their hard work and persistence, and their children carried on the family name and ideals to become worthy citizens of America.
Shirley Tutton, January 2021
See also: