Edward Pethard was a wheelwright and carpenter who spent his entire working life in Wickhamford.
Edward Pethard began his working life as a wheelwright, working for his father, George Pethard, at premises attached to The Sandys Arms. He later used the skills he had learnt as a wheelwright to work as a self-employed estate carpenter spending much of his time working on the Wickhamford Estate.  This consisted of the Pitchers Hill Estate and Elms and Whitfurrows, owned at the time by the trustees of the late John Pickup Lord. He also worked for other landowners, the local farmers and market gardeners.
We have a fair understanding of the work that Edward Pethard undertook due to the survival of his Account Book for the years 1923-1929.  This gives us an interesting insight of his work in and around Wickhamford during this period.
A large portion of his work was making, repairing, hanging and painting gates. Other work involved repairing fences, pig sties, doors, and cupboards. He put up shelves and erected a coal house. He made notice boards, furnace lids, calf troughs and milking stools and coolers for keeping asparagus fresh. He made and repaired many wheelbarrows, an important item of a market gardener's equipment. He made new handles for tools including billhooks, hand saws, chisels, axes and market gardening equipment. He also sharpened tools.
During the summer he made and repaired ladders. They were for fruit picking and were made in the Evesham style of being wider at the bottom than the top.  He made them in different lengths starting with the shortest at 15 rungs going up to a 40 rung ladder he made for J. E Cull of Badsey. One must feel some sympathy for the person who had to move the ladder around the orchard as it would have been very heavy. The lighter aluminium ladders had not yet come on the scene.
One of Edward's customers was Samuel Wallace Smedley, for whom he made wheelbarrows in 1924 and 1925, and who was a pioneer of the canning of fruit and vegetables and who built Smedley's Canning factory in Worcester Road, Evesham, that stood on the site where Tesco is now situated.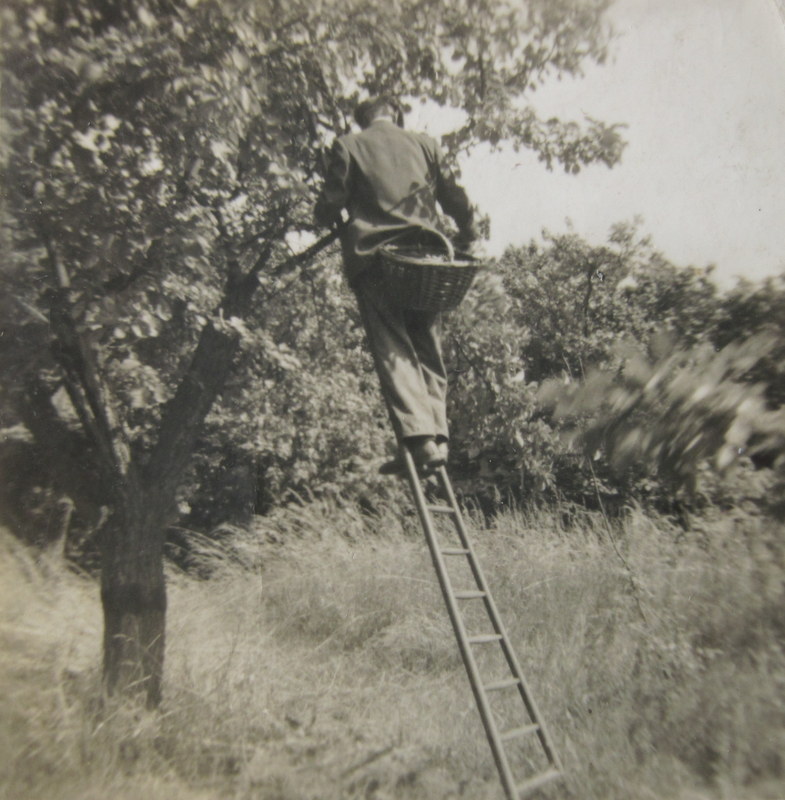 Edward Pethard's nephew, John Pethard, who was born in 1930 (the son of his half-brother, Vernon Pethard), enjoyed visiting as a young boy Edward's workshop that was in the garden of 'Rosebank'.  John remembers seeing his Uncle Edward making the Evesham design ladders. There was always a deep layer of wood shavings on the floor.
Two elm coffins are mentioned in the account book. One made 11th June 1924 for Mrs Bayliss whose husband Frederick, aged 55, was buried in Wickhamford on 18th June 1924, the other for Mrs Taylor whose husband Robert, aged 79, was buried in Wickhamford 16th August 1928.
Much of Edward's work was done in Wickhamford, but he also worked in Badsey - he probably rarely ventured any further than two miles from Wickhamford to work.  
Edward Pethard's Family Life
Edward John Pethard was born in Wickhamford on 27th December, 1867, the third son and youngest of four surviving children of George Pethard and his first wife Mary Ann (née Slatter). He was baptised on the 8th February 1868 and a month later his mother died and she was buried in Wickhamford on 6th March, 1868. George Pethard was a wheelwright working from premises at The Sandys Arms which his father John Pethard had taken on as the licensee around 1840.  He was also running a wheelwright's business from a workshop attached to the inn.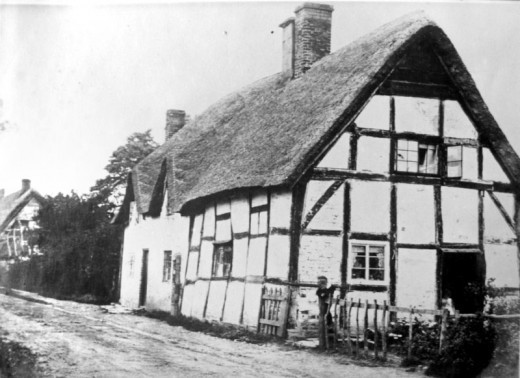 Life for George must have been hard after losing his wife and it appears he was finding it impossible to care for his four children. For the 1871 census, he was living at The Sandy Arms with his widowed mother Amelia. His son, Frederick George, aged 10, was living in Cheltenham with Sarah, sister of his late wife and her husband William Beasley. Edgar, aged 6, was boarding with the Hall family in Manor Road, Wickhamford.  In the other half of the semi-detached thatched cottage, Edward, aged 3, was boarding with George Edkins, his wife Elizabeth and their four children at a cottage in Manor Road, Wickhamford.  This house has since been demolished and replaced with the houses now known as 'Woodpecker Cottage' and 'Whytebury'. The whereabouts of his daughter Sarah Ann, baptised in 1861, are unknown.
However, by 1881, George and his three children are reunited and living at The Sandys Arms with his widowed mother, Amelia, and his new wife Hannah (née Byrd), whose father was the licensee of The Fleece Inn, Bretforton.  Edward was still at school, but would have left soon after, as the school leaving age at the time was 12 years of age. On leaving school, it is presumed Edward started working with his father learning the art of a wheelwright.  His brother, George Frederick (baptised Frederick George), is also shown as a wheelwright on the 1881 census, so he was presumably working for his father.
On the 1891 census, Edward was still working as a wheelwright and living at the Sandys Arms with his father, stepmother Hannah and four half-siblings, the children of George and Hannah. His brother, George Frederick, was now married and living in Chipping Campden and working as a wheelwright. His sister, Sarah Ann, had married Frederick William Bott on 2nd June 1886 and had moved away from Wickhamford.
Edward married Annie Georgina Smith of Murcot in October 1894.  On the 1901 census, Edward was living at what is now 44 Pitchers Hill with his wife and two young daughters, Violet aged 5, and Priscilla Marjorie, aged 1. He was described as a 'wheelwright (worker)', so presumably still working for his father in the workshop at the Sandys Arms. 
On the 1911 census, Edward and his wife and their two older daughters plus Nancy Kathleen, who was born on 8th July, 1903, had moved to what is now 20 Pitchers Hill.  Also living at the property was Amelia Pethard, his father's sister who appeared to be the owner of the property.  The 1924 electoral roll shows he was still living at the property.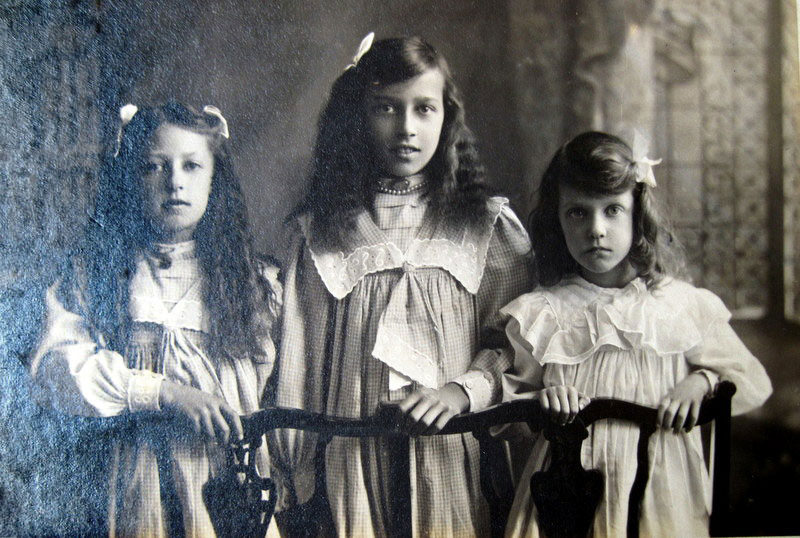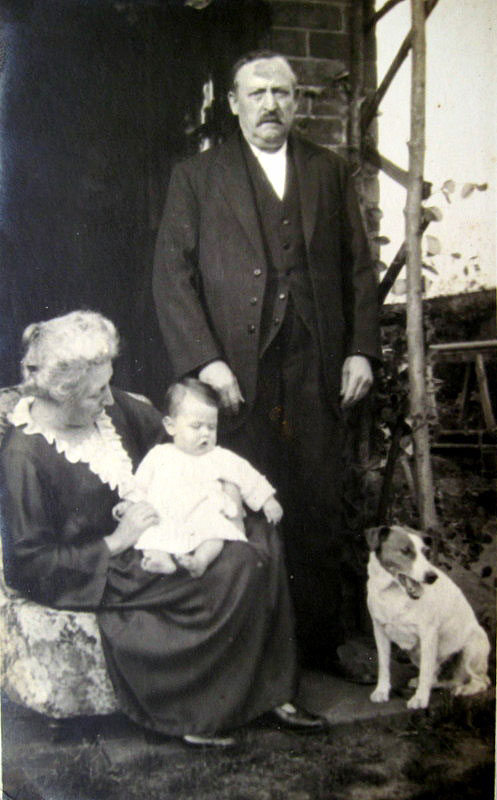 At some stage Edward moved with his wife to 'Rosebank', that is now 16 Pitchers Hill.  Robert Taylor was the owner and was living at the property when he died in 1928. His wife Sarah Kate died in 1942. She must have moved from the property prior to her death as Edward was living in the property in the 1939 Register, by which time he was described as a retired wheelwright.
Edward was still living at 'Rosebank' with his wife, daughters Nancy and Violet and her husband Cecil Ward when he died in 1946. He was buried in Wickhamford churchyard on 1st November.  His wife, Annie, died in 1955 and was buried on 30th May, in Wickhamford.
Val Harman, May 2020
See also:  Pethard family - a top ten name in 19th & 20th century Badsey and Wickhamford