Charles Henry WALTON (1871-1945)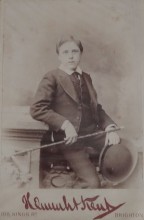 Charles Henry Walton as a teenager (photos above and below by kind permission of Jenny Gosney and Richard Walton).
Biographical Details
Charles Henry Walton (1871-1945), known as Charlie, was the husband of Eugénie Sladden's niece, Fanny, and son-in-law of her sister, Mary Anna Robinson. Charlie is mentioned in most of the letters written by his mother-in-law.
Charlie was born at Richmond on 7th April 1871, the eldest of eight children of Edwin Henry and Margarett Walton. He was baptized on 26th May 1871 at St Peter's, Petersham, Surrey. Charlie was educated at Radley and then became an articled clerk to a solicitor, possibly working for Frederick Dalgarno Robinson who was to be his future father-in-law.
On 31st March 1898, Charlie married Fanny Robinson at St Matthias, Richmond. The story that has been passed down in the family is that, on the announcement of their impending marriage, Charlie's father asked him what they would like for a wedding present, wondering if they would like a house. "No thank you," Charlie replied, "I think I can manage that, but I would love a really good violin." So that was his wedding present.
Charlie and Fanny moved to Pembridge House, 10 Strawberry Hill, Twickenham, which was built for them on their marriage. All of their five children were born at Pembridge House: Francis Edwin (1899-1969), Eleanor Mary (1900-1985), Lancelot Henry Frederick (1902-1998), Miriel Margaret (1906-1989) and Phyllis Myfanwy (1907-1971).
Charlie died at Pembridge House on 18th November 1945. As a postscript to the violin story, after his death, his son, Lance, inherited the violin, which was thought to be by one of the great makers, but not quite a Stradivarius. It was sold at auction at Christie's. Unfortunately, it was not by a named maker and sold for 95 Guineas - a poor exchange for a house!!
Letters mentioning this person: