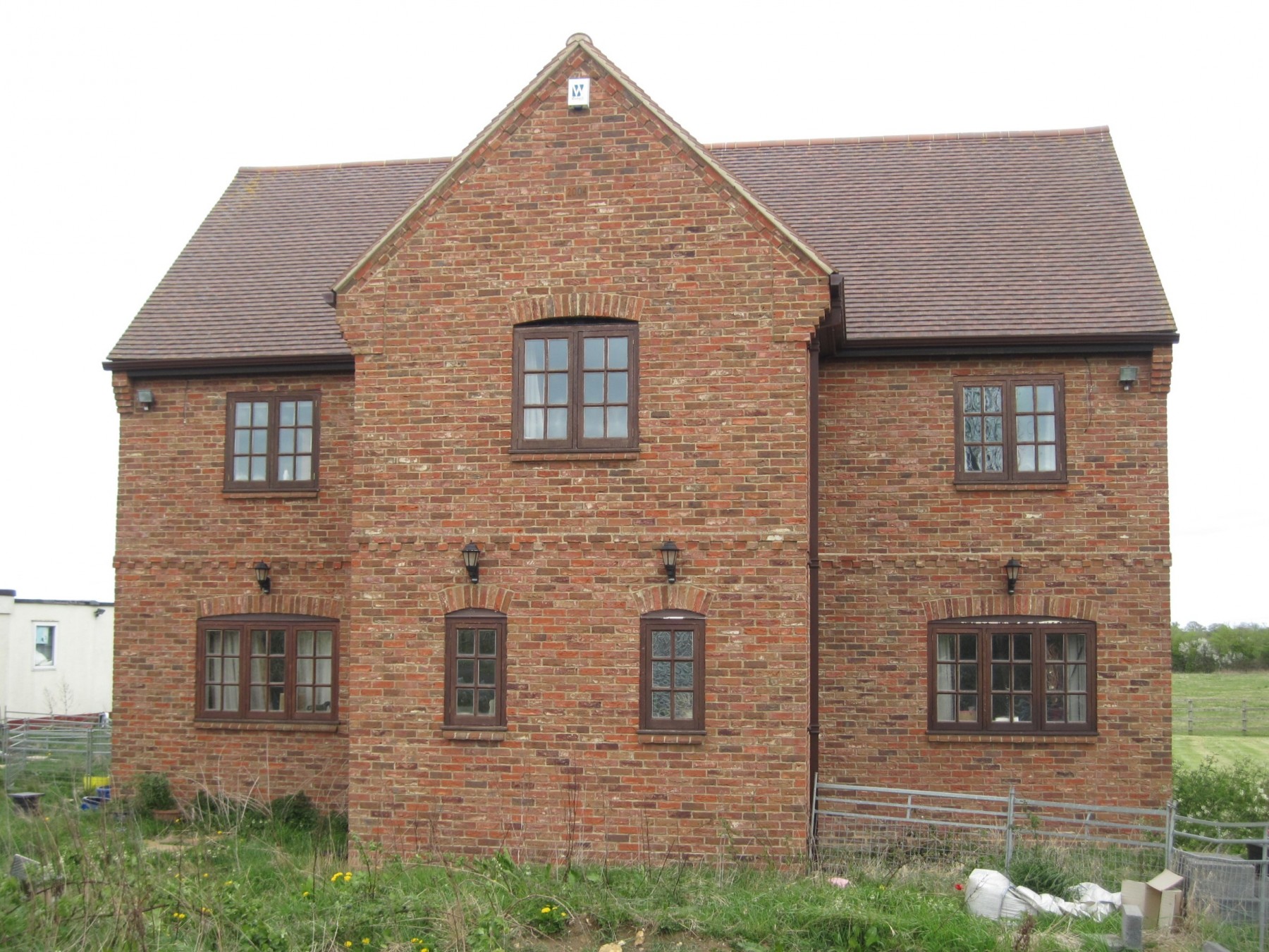 Whitfurrows Farm is situated at the Eastern edge of the parish of Wickhamford.  Today the house and outbuildings are connected to the main A44 by a farm road that joins the main road near the Murcot Turn.   In the 19th century and first part of the 20th, access to the farm was by a track from Manor Road.  This now follows the route - Manor Close, the 'Burnt Road' bridleway for a short distance before turning right and then left to go past Coombefield Plantation and the Dogs' Trust boundary.  At this point, Whitfurrows is clearly visible but there is no longer a public path to get to the farm.  The name may be a derivation of the term 'wet furrows' to indicate that the adjacent fields were poorly drained.
Occupancy
The Tithe map of fields in Wickhamford from 1842 has two parts of fields of approximately 12 and 10 acres called 'Wet Furrows'.  The tenant was John Taylor of Elm Farm, who also was the tenant for nine other fields in the vicinity.  They were mainly arable or pasture.
The earliest records of house occupancy are the 1841 census.  The place was recorded as 'Whitfurrows Farm' and it was lived in by John Hall, his wife Elizabeth and a son, Charles.  John and Charles had been born in Wickhamford; the parish registers show that John was born in 1806 and Charles in 1834.  Elizabeth was born in Cropthorne.  
Members of the Hall family continued to rent Whitfurrows for over thirty more years.  The same three people were there in 1851 and both men were agricultural labourers.  By 1861, John was there as a widower, and Thomas Hall was the tenant.  His family included his wife, Elizabeth, a gloveress, and three children.  They were still there in 1871.  The name of the property varied in the census records.  It was Whitfurrows Farm in 1841; Whit Furrow in 1851; White Furrows Cottage in 1861 and Whitfurrows Farm again in 1871.
The elder Elizabeth Hall had died in 1858 and was buried in Wickhamford churchyard on 4th February at the age of 52.   Thomas Hall was buried there on 20th January 1885.  His age in both the church register and the National Death Register is given as seventy, but he was actually 78.
 'Whit Furrows Cottage' was unoccupied for the 1881 census.  There was possibly an outbuilding at Whitfurrows at that time as the family of Charles and Susanna Hardiman were living in the 'Cider Mill Shed' at that end of the village.  They had seven children and a boarder, Reubin Finch.
'Whitfurrows Cottage' was occupied by Job Bennett, a 62-year-old widower, in 1891, with four of his children.  He was an agricultural labourer, as was his son, William, aged 21.  Job had been born in Littleton and his children in Stanton and Winchcombe.  They had moved on by 1901, when James Willoughby, aged 58, his wife and two children were recorded at 'Whitfurrows Cottage' (see Newspaper reports below).  He was born in Bourton-on-the-Water and the others in Badsey.
In the 1911 census, yet another family, by the name of Warman, were living at 'Whitfurrows'.  The census gives more details than were previously taken and show that Herbert (42) and Rose (41) had been married 13 years and that they had seven children in that time. All were living at home.  He was listed as a Labourer on Farm and most of the family had been born in Catshill, Worcestershire.  For the first time in the records, an indication of the size of the cottage can be seen – it had five main rooms.   The form was complete by the Warman's 14-year-old daughter, Nellie, which may indicate that both of her parents were illiterate.
Valuation Survey 1913
When a National Valuation Survey was undertaken in the period 1910-1915, Whitfurrows was assessed on 12th February 1913.  The house was described as a cottage on Whitfurrows Farm and the occupier was Benjamin Carter.  He was the farmer at Field Farm at the other end of the village, so had expanded his acreage to take on Whitfurrows as well.  The owners of the property were the Trustees of the Estate of J P Lord (see below).
The acreage of the land was 58 acres, 1 rood and 38 perches.  There was a brick and tile cottage which was let to J.Wheatley.  It consisted of three bedrooms, a front room, passage, kitchen, wash-house and pantry and it had tap water.  Regarding the state of the cottage, it was recorded that the front of the house was newer than the back.
The outbuildings comprised, a cow shed, a stable for 4 horses with a loft, a granary with loft, other large sheds and an iron forge.  There were two pastures, one 'rough' and one 'fair', plus an arable field let out to allotments.  This would have been market gardening plots.  Also mentioned were a pig sty and a wood & iron shed. 
The 1930s to 1950s
A Gloucestershire Echo item from 29th November 1937, mentions Reginald Jackson Taylor of Whitfurrows.  He was being charged with obstruction of a footpath with his car and was fined 10/-, but no other link to the farm has been found for this man.
When the 1939 Register was drawn up, Jesse Wheatley, a market gardener on his 'own account' was living at 'Whitfurrows Cottage', with is wife, Amy.  They were also there on the 1924 Electoral Roll and 1939 Electoral Roll.  Both had been born in the 1860s.  Jesse died soon after and was buried in Wickhamford churchyard on 4th February 1940, aged 75.
The cottage was then rented by Albert and Agnes Webb.    Their son, Albert Webb junior married Dorothy Simms on 21st June 1941 and a large family group photograph was taken outside of the building. 
 
Ownership of Whifurrows
The whole of the village of Wickhamford was the property of the Sandys family for a number of centuries but, after 1869, was owned by John Pickup Lord.   The village land was divided almost equally between the four farms – Manor Farm, Field Farm, Pitchers Hill Farm and The Elms Farm.  Whitfurrows was part of The Elms Farm.   Whitfurrows was part of the sale of the J P Lord holding that were put up for auction in 1930.
In the auction details, Lot 73, was described as a valuable market garden and pasture holding, known as 'Mere Dean', Whitfurrows' and 'The Furrows', containing 47 acres, 2 roods and 5 perches, together with the brick-build and tiled 6-roomed cottage and garden with farm buildings.   These comprised, barn, stable, loose box, granary & implement shed, two yards with four sheds and loose box.  
Jesse Wheatley rented the cottage and garden.   The other land was let to 'Messrs T J Moisey,  W G Snell's representatives, Jesse Wheatley and H W J & S Figgitt'.
The Whitfurrows Lot did not sell at the auction and was eventually sold to Christ Church College, Oxford, along with many other parts of Wickhamford, on 11th January 1950.   A map of the college holdings in the village in 2016 no longer shows Whitfurrows as part of its property, so it must have been sold off in the intervening period.
Newspaper reports
In 1895, the Worcester Journal of 9th March, reported a case of trespass. The Rev C.W.Corry of Bengeworth rented land in Wickhamford, for shooting, called 'Wet Furrows', with a coppice adjoining, owned by Charles Byrd.  Henry Brooks, John Staite and James Huxley, labourers of Wickhamford, were charged with trespassing in search of game.  They were spotted by Ann, wife of James Willoughby, using a ferret to hunt for rabbits in the coppice.  The case was proven and the defendants were all fined 5/- plus 8/- costs.
The Evesham Standard, of 16th January 1937, reported on a local enquiry into a Wickhamford right-of-way dispute.  This concerned a path near Mr J Colley's house to Whitfurrows. (He was sub-postmaster in Wickhamford when the Post Office was at 10 Manor Road).  Mr J Mason was of the opinion that the path was a right of way and an accommodation road to Whitfurrows, although he had heard it said that there was a footpath past Whitfurrows to Collin Lane. Under questioning he said that he had not heard of anyone using this path beyond Whitfurrows.  Mr F Halford said that he had walked that part with Mr Days and Mr Todhunter, of Gorse Farm and Abbey Farm, regularly with no one turning them back. Mr Binyon of the District Council said that a schedule of sale of 1869 showed no footpath beyond Whitfurrows.  The Chairman of the Committee, in conclusion, said that it was up to the tenants to decide on this matter amongst themselves!
Recent developments at Whitfurrows
The buildings described above were demolished in the early 21st century and the present house built in 2004.
Tom Locke – August 2020