On 12th August 1916, The Evesham Journal reported that William and Alice Cox of Pitchers Hill, Wickhamford, had six sons serving their country:  Private Charles William Cox, Sergeant James Thomas Cox, Private George Frederick Cox, Corporal John Henry Cox, Bombadier Albert Cox and Gunner Frank Cox.  Private Charles William Cox (1885-1966) was the first-born son of William and Alice and had been born at Ebrington, Gloucestershire.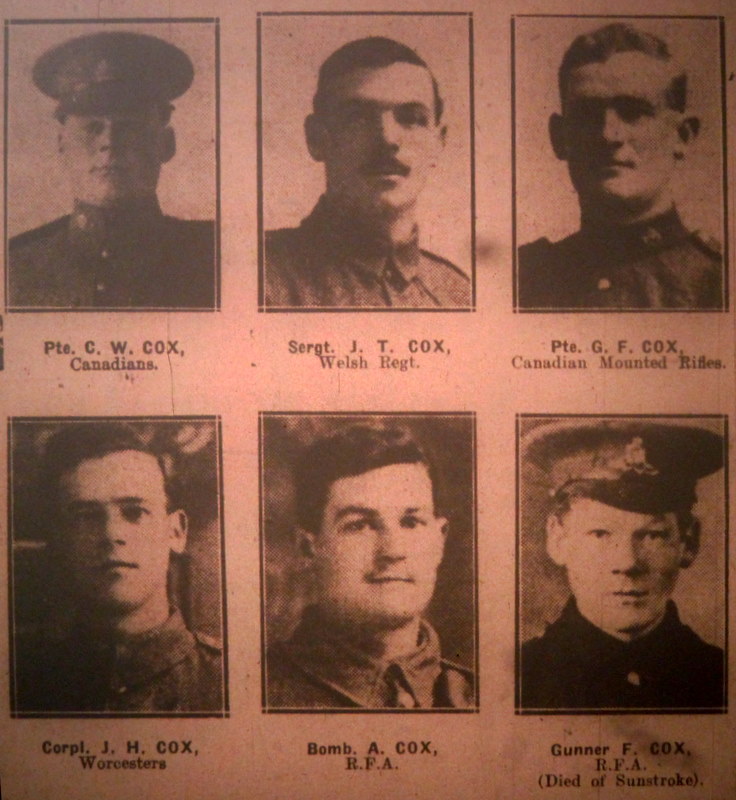 Charles was still living with his family at Ebrington at the time of the 1901 census but, a week or two later, they moved to Belmont Terrace, Badsey.  In about 1903 the Cox family moved to Wickhamford.   This was the year in which Charles married Sarah Bennett.  It is assumed that Charles and Sarah moved to Wickhamford with the rest of the family, as a daughter, Inez Rose (known as Rose), who was born on 2nd March 1904, was baptized at Wickhamford on 25th September 1904.
On 29th March 1906, Charles, Sarah and Rose set sail from Liverpool bound for a new life in Canada.
Charles joined the Canadian Army in 1916 and saw active service in France.  Charles and his brother, George, were released from service in the Canadian Army following their father's death. This was Canadian Government policy, as the family had no breadwinner.
Charles, in his later life, was a visitor to Wickhamford on several occasions, and is remembered for wearing a Stetson and smoking a large cigar around the village!  He died at Calgary, Alberta, on 2nd June 1966, his wife having died four years earlier.