On 12th August 1916, The Evesham Journal reported that William and Alice Cox of Pitchers Hill, Wickhamford, had six sons serving their country:  Private Charles William Cox, Sergeant James Thomas Cox, Private George Frederick Cox, Corporal John Henry Cox, Bombadier Albert Cox and Gunner Frank Cox.  Sergeant James Thomas Cox (1888-1966) was the third son of William and Alice and had been born at Ebrington.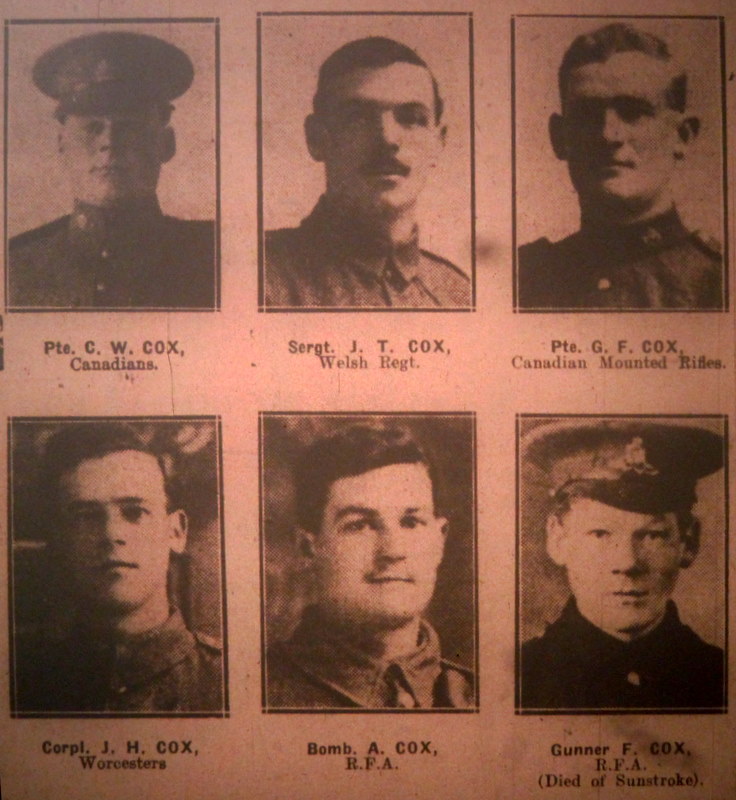 James was listed amongst the Wickhamford men enlisting in the Evesham Journal of 3rd October 1914, when he joined the 2nd Battalion, Welsh Regt (No 8623).  He had originally enlisted in the Army on 4th March 1905 in the Welsh Regiment and had seen service in South Africa (1907-09) and Egypt (1909-11).  He left the Army as was put on the Reserve list on 8th December 1911.  He was recalled and signed on again on 5th August 1914, the day after War was declared.
James went to France on 13th August 1914 with the British Expeditionary Force and was wounded in the left knee at the Battle of Ainse, on 16th September 1914. He was probably the first man with Wickhamford connections to have seen action.
The October 1914 edition of the Badsey Parish Newsletter reported that he was at his home in Bengeworth recovering from his wounds. The December 1914 issue of the Magazine carried the following disturbing report:
"We are sure all our readers sympathise with Private J T Cox and his family in his being the subject of such a cruel slander as that contained in the anonymous letter referred to in the Evesham Standard of November 28. For a soldier to be stabbed in the back by one of those in defence of whose homes he has risked his life and received honourable wounds reveals a baseness of character well-nigh inconceivable. It is a pity the authorship of the letter in question cannot be traced, though it would tax the ingenuity of man to devise a suitable punishment for the writer."
A shoemaker in 1914, James had married Amy Brown in Evesham in 1912 and they had three children by the end of the War. 
After the War, he stayed in the Army, transferring to the Royal Sussex Regt (No 713146) on 27th October 1919.  He finally left the Army, at his own request, on 10th April 1923 having completed 18 years and 40 days on active service or in the Reserves.