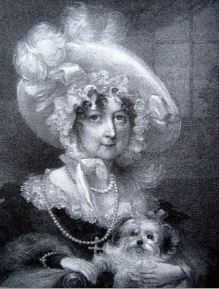 The Marchioness of who?  That was the reaction of members of The Badsey Society way back in 2005 when they came across a reference to the Marchioness of Downshire in some Badsey and Aldington Enclosure Awards.  Books had been written about Badsey's history, much research had been done, but never before had we heard of anyone by the name of the Marchioness of Downshire.
As part of The Badsey Society's Enclosure Map project we had begun transcribing the Badsey and Aldington Award Schedules.  We kept seeing references to "the most Honourable Mary Dowager Marchioness of Downshire".  Did it really say Downshire (the writing was not always easy to read)?  Was there such a place?  Should it be Devonshire?  Rather confusingly, the Aldington Schedules, dated 1808, referred to her as "the most honourable the Marchioness of Downshire and Baroness Sandys", whereas the Badsey Schedules, dated 1815, referred to her simply has "the Marchioness of Downshire" or "the most Honourable Mary, the Dowager Marchioness of Downshire".  
For some time we thought that the Marchioness and the Baroness were two separate people, but after a bit of research, we found out that they were one and the same person, and that the name Downshire comes from County Down in Ireland.  At that time, the village of Wickhamford was not included in our sphere of research, so we were not able to benefit from all the work on the Sandys family that has been done in recent years by Tom Locke.  But we were at least aware of The Sandys Arms (then still a pub) at Wickhamford and the Sandys memorial in Wickhamford Church.
The Marchioness had come to our attention as the lessee of nearly 50 acres of land in Badsey and Aldington from Christ Church at the time of Enclosure, but it was only when we found out that she was also Baroness Sandys, that we realised that she also owned nearly all of the neighbouring village of Wickhamford.  
So who was the Marchioness of Downshire and Baroness Sandys?  Read on to find out her story.
* * * * *
Family Background
The Marchioness of Downshire and Baroness Sandys (1764-1836) was born Mary Sandys on 19th February 1764 at Easthampstead Park, Berkshire, the second of three children of Colonel Martin Sandys and his wife, Mary (née Trumbull).  She was baptised a month later in the Church of St Michael & St Mary Magdalene.  Mary had an older brother, William, and younger brother, Edwin.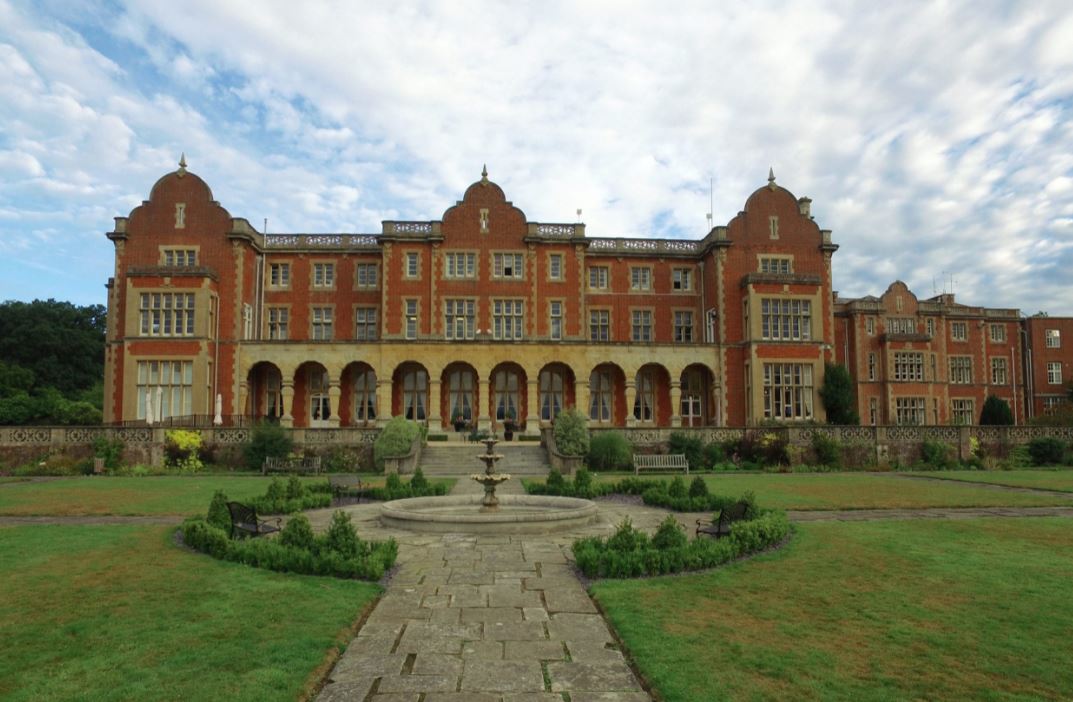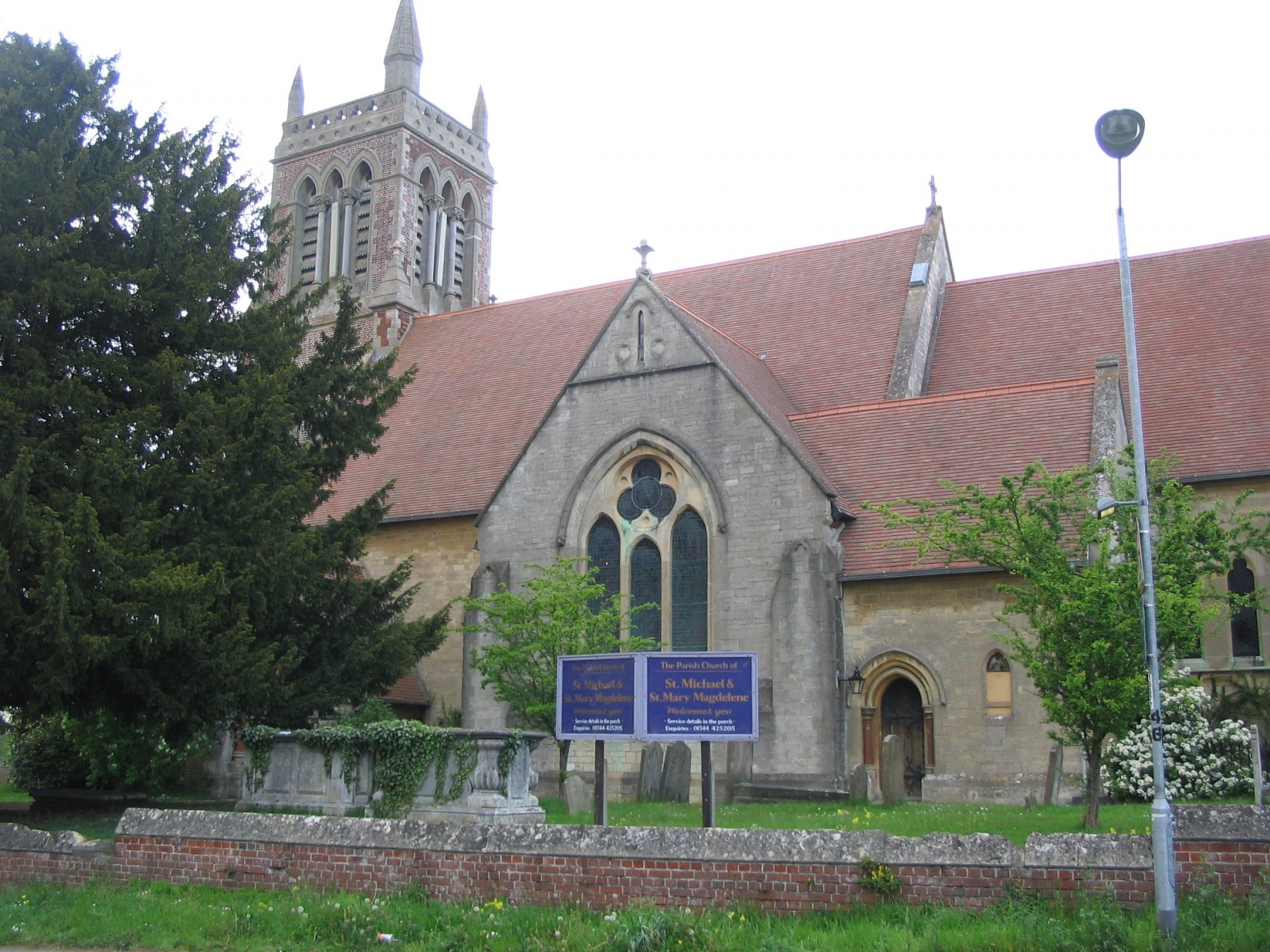 Easthampstead Park was the family seat of Mary's mother's family, the Trumbulls. In the Middle Ages, Easthampstead Park was part of Windsor Great Forest and reserved for royal hunting. Charles I gave it to William Trumbull (?-1635), a diplomat, the Royal Lodge being incorporated in a newly-built mansion (William Trumbull was Mary's 3xgreat-grandfather). Monuments to some of Mary's Trumbull ancestors are to be found in the Lady Chapel in Easthampstead Church.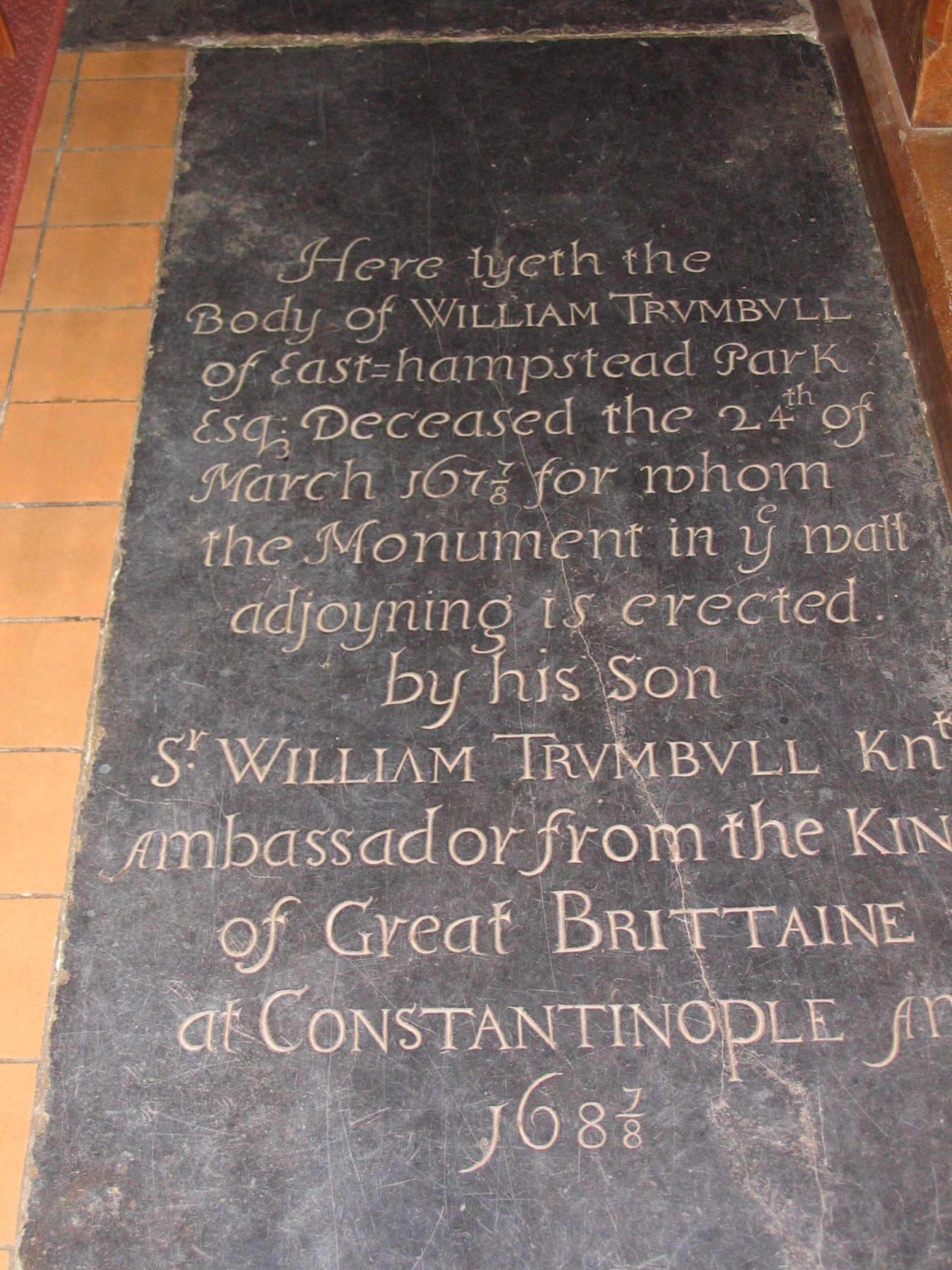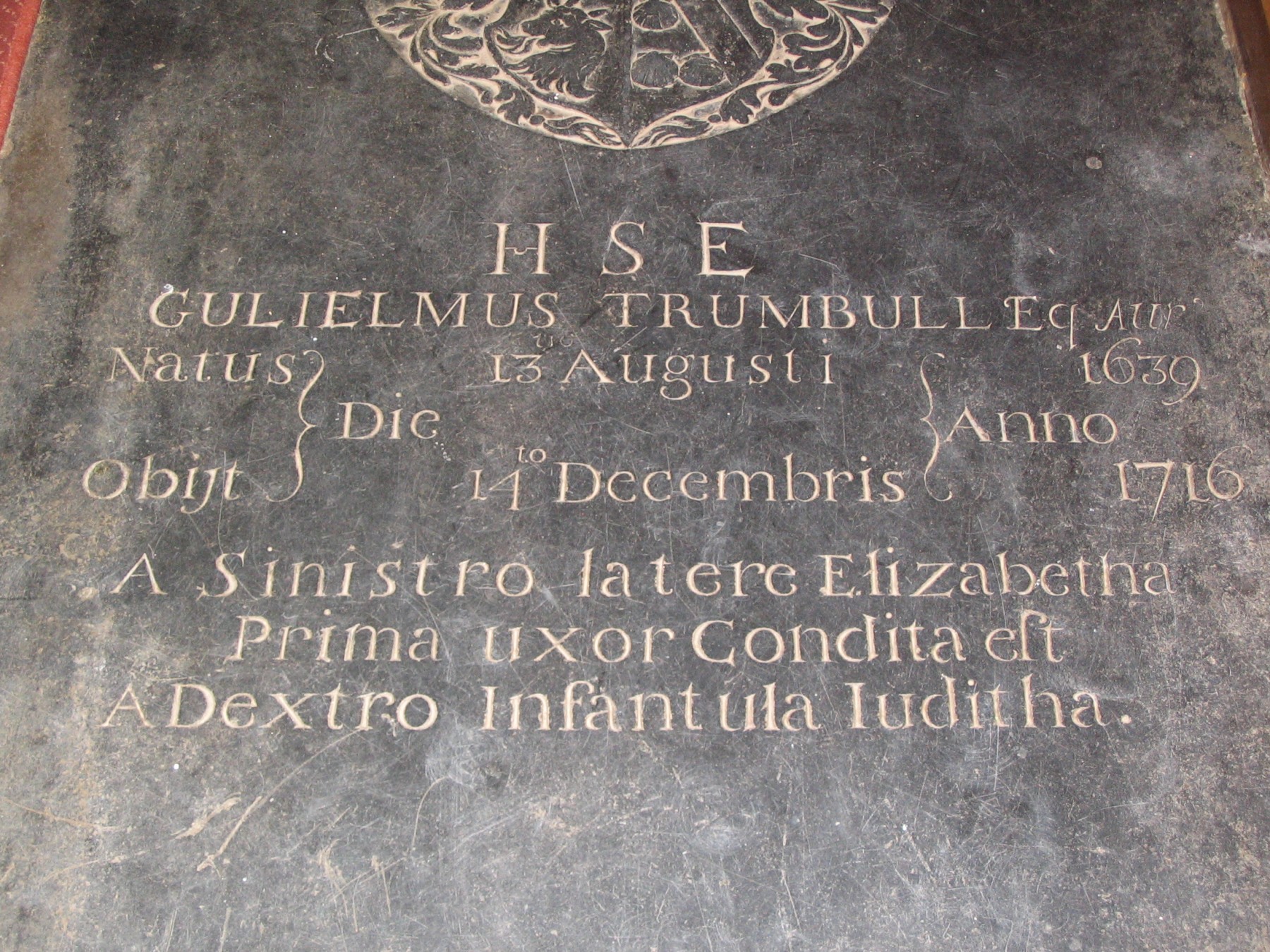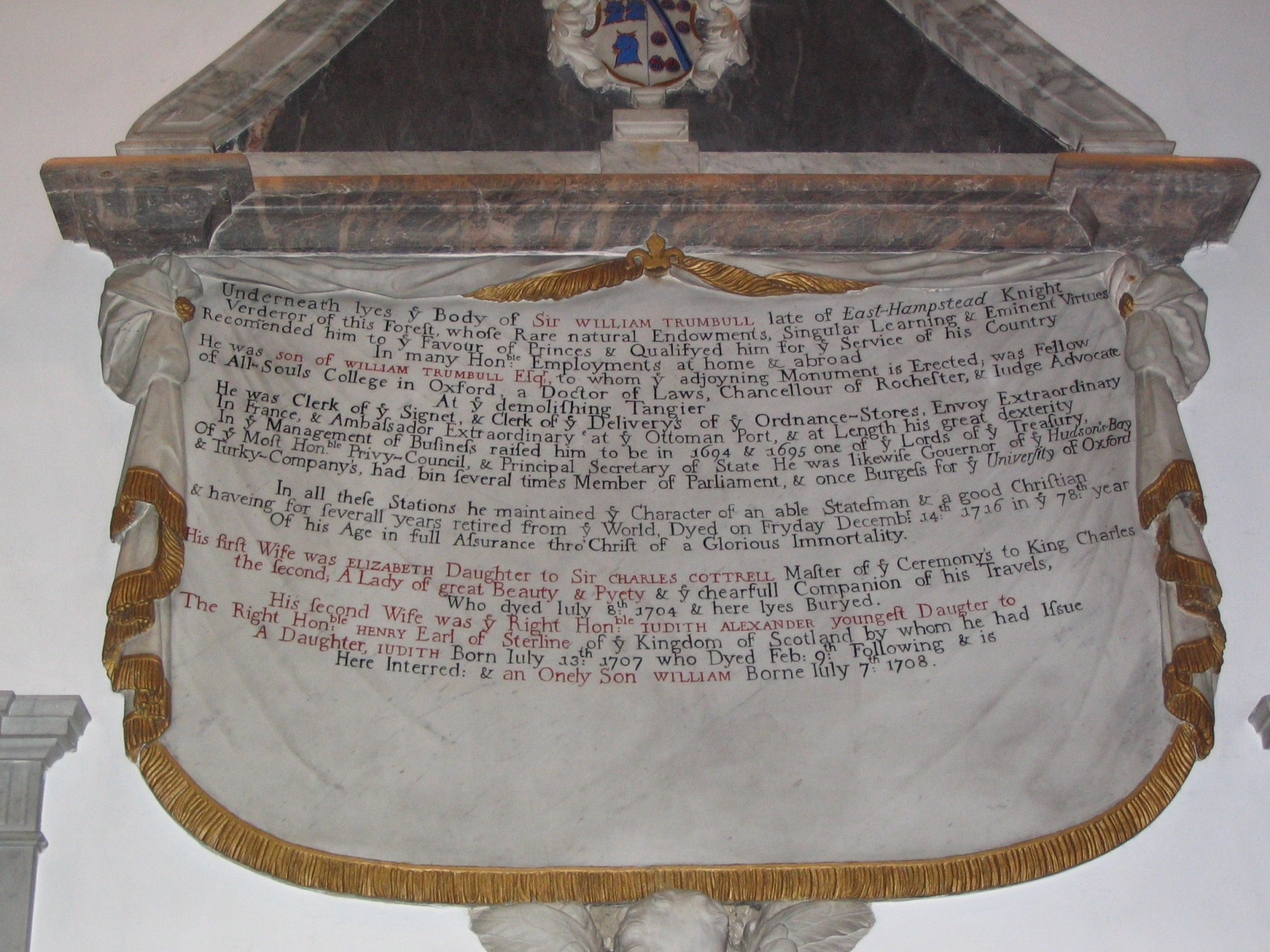 On her father's side, Mary was descended from the Sandys family who had estates at Ombersley and Wickhamford in Worcestershire.  Her father, Martin Sandys, was born at Ombersley in 1729.  He was an equerry to King George III's uncle, the Duke of Cumberland.  Her 6xgreat-grandfather, Samuel Sandys (1559-1623) had acquired the lease of the royal manor of Ombersley in 1582, subsequently buying it in 1614.  He purchased the manor of Wickhamford in 1594 where he died in 1623.  His eldest son, Edwin, died three weeks later.  Father and son, and their wives, are cast in alabaster effigy in their funerary monument in the Church of St John the Baptist, Wickhamford.  Edwin's son, Samuel, spent time at Wickhamford whilst he was Governor of Evesham but, although both his first and second wife were buried at Wickhamford, Samuel was buried at Ombersley.  From then on, the Sandys never lived at Wickhamford, preferring to live at Ombersley.  
Mary was just four years old when her father died.  Within another year, her mother had also died.  The orphaned Mary and her two brothers were taken under the wing of their godmother and great-aunt, Mary Bertie (née Blundell, wife of Lord Robert Bertie), who had no children of her own.  Mary Bertie was the sister of Mary Sandys' grandmother, Chetwynd Blundell, who had married William Trumbull in 1833.  The Blundell sisters were the daughters of Montague Blundell, 1st Viscount Blundell.  Viscount Blundell had no surviving sons and all his titles died with him.  He had secured permission of the House of Lords in 1742 to pass his estates to his daughter, Mary, then married to Robert Raymond.  Mary Sandys' mother, Mary Trumbull, had also been orphaned as a minor and had Mary Blundell (Lady Raymond as she then was) as a guardian, as specified in the will of William Trumbull.
Martin Davis in his biography, Mary Marchioness of Downshire & Baroness Sandys 1764-1836, tells us that Mary Sandys  could read and write French fluently but, other than that, nothing is known of her education.  The Berties, with whom Mary lived, had three residences:  Chislehurst in Kent, a London house in Mortimer Street and a former convent in Roehampton, Surrey.  Following Lord Robert Bertie's death in 1782, his widow and her great-niece lived on at Roehampton.
Mary's older brother, William, died in his mid-teens and her younger brother, Edwin, died aged 20.  Thus, by 1785, aged 21, Mary had inherited the entirety of her mother's estate.  Not only did this include Easthampstead Park, but also vast estates in Ireland totalling some 19,000 acres.  The Irish estates at Edenderry and Dundrum were through her maternal grandmother, Chetwynd Blundell.  Inheriting all these and, in due course the Sandys properties, made Mary one of the foremost heiresses of her time.
Marriage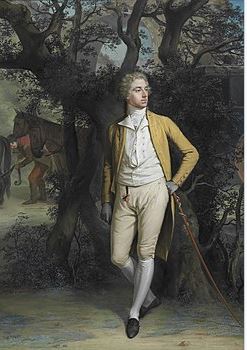 On 29th June 1786 at St Mary's Church, Marylebone Road, London, Mary married Arthur Hill (1753-1801), Viscount Kilwarlin and Viscount Fairford, the only son of an Irish nobleman and major landowner, Wills Hill, Earl of Hillsborough.  Both Arthur's father and Mary's paternal grandfather, Samuel Sandys, sat as MPs in the House of Commons, and both men had held the post of First Lord of Trade in the 1860s.  
  
Mary was 22 at the time of her marriage and Arthur 11 years older.  By his marriage, Arthur became one of the richest men in England and Ireland.  In a letter written shortly before the marriage, Wills wrote of his future daughter-in-law: 
Kil has made his proposals which are accepted, for a Lady Kilwarlin. Miss Sandys, Lord Sandys' niece, is the lady who does him the honour to give him her hand in a few weeks. She is a genteel, agreeable little girl, not a beauty but as nearly being so as a wise man would choose his wife to be; of a cheerful, sweet disposition and a very proper age for him… Her fortune is more than he wants or wished for, though it will do him no harm.   
At the time of his marriage, Arthur was already the father of three children:  William Arthur Dore Hill (or Dorehill as he became known) whose mother was Sarah Dore, and two daughters by Elizabeth Russell, all of whom he supported financially.  Arthur Hill's relationship with Sarah Dore featured in the BBC drama series, "Garrow's Law", albeit with some straying from the historical truth.
Mary paid her first visit to Ireland a month after the wedding but, not being a good sailor, preferred to remain living in England. 
Arthur and Mary had five sons and two daughters, all born at Hanover Square, London:  Arthur Blundell Sandys Trumbull (1788-1845), Arthur Moyses William (1792-1860), Charlotte (1794-1821), Mary (1796-1830), Arthur Marcus Cecil (1798-1863), Arthur Augustus Edwin (1800-1831) and George Augusta (1801-1879).  HRH Princess Augusta Sophia and King George III himself asked to be allowed to stand as godparents to the youngest child which accounts for his unusual combination of Christian names.
In 1789, George III created Wills Hill a Marquis with the title of Downshire.  Following his father's elevation to the Marquisate, Arthur became Earl of Hillsborough, with Mary becoming the Countess.  On the death of his father in 1793, Arthur became the 2nd Marquis of Downshire and inherited the family estates in County Down, Ireland (some 74,000 acres), but also considerable debts.  Mary was now known as the Marchioness of Downshire.  
Arthur had a dual career in the military and politics.  He was commissioned a captain in the Hertfordshire Militia in 1775, and a lieutenant-colonel in the regiment in 1787, not resigning his commission until 1794. The year previously, at a time when the French threatened invasion, he became Colonel of the Royal Downshires.  He was MP for Down in the Dublin parliament at the time of his marriage in 1786.  From his early 20s, he sat as an MP in the Westminster as well as the Dublin parliament.  He topped the poll in the 1790 election for County Down, but at an enormous financial cost.  Despite his wife's fortune and his own, his debts rose to an alarming level.
The 1798 rebellion in Ireland gave rise to a conviction in government circles that Acts of Union were needed, to bring the kingdoms together. Though Arthur (and his father before him) once supported a move to this end, he now vigorously exerted himself against the Union.  He was punished by the Government for his opposition by being dismissed from the Governorship of Down and the colonelcy of the Downshire Militia, and struck off the roll of the Privy Council in February 1800.
The 2nd Marquis died on 7th September 1801 at Hillsborough Castle, County Down, three months before the birth of his last child.  Hillsborough Castle was a Georgian country house rather than a true castle.  It had been designed by Arthur's father near the end of his life and completed some four years after his death.  Newspaper reports of the time said of Arthur's death:
This melancholy event was occasioned by a severe attack of the gout in his stomach.  His Lordship had had a slight fit in his hands and feet and seemed to be recovering when one of the unexpected changes of that uncertain disorder directed its violence towards the stomach and produced almost instant death.
It has been conjectured that Arthur may have committed suicide, brought on by the humiliation of being stripped of all honours and managing his debts.  He was buried in the Downshire family vault in Hillsborough Church.
Following Arthur's death, Mary determined to salvage his reputation.  She circulated a 44-page defence of his conduct.  According to the historian, A P W Malcolmson, Arthur's income at his death was £40,000 a year, and his debts exceeded £300,000.  
Barony of Sandys
Another factor that may have been contributory to Arthur's death, whether by his own hand or not, was that Mary was, at the time, was caught up in a legal wrangle concerning her entitlement to the Sandys estate.
Mary's father, Martin, had been one of ten children of Samuel Sandys (1695-1770), 1st Baron Sandys of Ombersley, and his wife, Laetitia (née Tipping).  The barony had been created in 1743 for Samuel who had been MP for Worcester 1718-1743 and Chancellor of the Exchequer 1742-1743.  Of the seven sons, six (including Martin) had died in childhood or early adulthood.  This just left Edwin, the eldest son (1726-1797), who had become 2nd Baron Sandys in 1770 following the death of his father.  The title became extinct on Edwin's death.
Edwin was married to Anna Maria Colebrooke but they had no children.  By a will made in 1790 and republished in 1792, he had provided for his widow to have the use of his estate for the remainder of her lifetime, but upon her death for it to pass outright to Mary.  As Edwin became increasingly incapacitated, Anna Maria tried to get Edwin to change his will so that she might inherit capital as well as income.  After Edwin's death, there followed nearly ten years of acrimonious litigation.
It was only in November 1806 that the matter was concluded with the death of Anna Maria, Lady Sandys, widow of Edwin Sandys.  Various newspapers reported as follows:
By the death of Lady Sandys, which happened on the 1st inst. at Ombersley Court Worcestershire all the large possessions of her husband the late Lord Sandys Baron of Ombersley have devolved upon his niece the Marchioness of Downshire who is the sole heiress, lineal descendant, and only remaining branch of his Lordship's family, as well as of those of the last Earl of Stirling, The Lord Viscount Blundell, the celebrated statesman and scholar Sir William Trumbull, and other ancient families. 
In the meantime, in June 1802, the Barony of Sandys had been revived in favour of Mary when she was created 1st Baroness Sandys of Ombersley of the second creation.  The title was created with remainder to her younger sons successively, and failing them to her eldest son.  The London Gazette of 12th June 1802 published the following notice:
Whitehall, June 15 1802
The King has been pleased to grant the Dignity of a Baroness of the United Kingdom of Great Britain and Ireland to the Most Honourable Mary Marchioness of Downshire, Widow of the Most Honourable Arthur late Marquis of Downshire, for and during her natural Life, by the Name, Style, and Title of Lady Sandys, Baroness of Ombersley, in the County of Worcester, and from and immediately after her Decease, the Dignity of a Baron of the said United Kingdom to the Right Honourable Arthur Moyses William Hill (commonly called Lord Arthur Moyses Will Hill, Second Son of the said Arthur late Marquis of Downshire by the said Mary his Wife, and the Heirs Male of his Body lawfully begotten, and in default of such Issue to the Right Honourable Arthur Marcus Cecil Hill (commonly called Lord Arthur Marcus Cecil Hill), Third Son of the said Arthur, late Marquis of Downshire, and the Heirs Male of his Body lawfully begotten; and in default of such Issue to the Right Honourable Arthur Augustus Edwin Hill (commonly called Lord Arthur Augustus Edwin Hill, Fourth Son of the said Arthur, late Marquis of Downshire, and the Heirs Male of his Body lawfully begotten; and in default of such Issue to the Right Honourable George Augusta Hill (commonly called Lord George Augusta Hill), Fifth Son of the said Arthur, late Marquis of Downshire, and the Heirs Male of his Body lawfully begotten; and in default of such Issue to the Most Honourable Arthur Blundell Sandys Trumbull Marquis of Downshire, Eldest Son of the said Arthur, late Marquis of Downshire, and the Heirs Male of his Body lawfully begotten.
In 1802, the History of Parliament records:
The Marquis's death and the emergence of Lady Downshire as head of the family until their son came of age no doubt temporarily stemmed the flow of family passions. Of perhaps more significance were the soothing noises made by Castlereagh and the direct efforts of the prime minister [Addington] who eventually secured for Lady Downshire an English peerage, with reversion to her younger son… The result was that she agreed not to oppose Castlereagh. 
The newspaper report of November 1806 which reported the death of Anna Maria, Lady Sandys, went on to say:
Soon after the decease of the late much lamented truly noble and patriotic Marquis of Downshire, whose memory will long be dear to Ireland, his Majesty was pleased to revive the title of Sandys, by creating the Marchioness of Downshire, Baroness of Sandys, in her own right, with remainder to her Ladyship's second son, Lord Arthur Hill, and her three other younger sons, and their issue successively.  The Marchioness may, therefore, now be considered one of the richest, as she was before, one of the most distinguished ornaments of her sex in the Empire.
Mary was now aged 42 and able to take possession of her contested birthright.  
Mary's Worcestershire estates – Ombersley and Wickhamford
Mary's principal residences were in London and Surrey, though she visited Ombersley from time to time, but never Wickhamford, as far as we know.  Her eldest son, Arthur Blundell Sandys Trumbull, was only 12 when he became the 3rd Marquis, which meant that Mary had to take complete charge of the family's business affairs.
Mary's daughters, the Ladies Charlotte and Mary Hill, kept extensive Journals, ranging over the period 1812-1824.  During this time they record only five visits to Ombersley, amounting in total to 74 days.  On 24th October 1814 the girls, then aged 20 and 18, wrote:
Arrived at Ombersley at three. Cold and miserable & bad fires … Mama finds the house so cold comfortless & dismal (being quite unfinished) that she means only to stay as short a time as possible & merely to give directions & settle business with Mr Handley [the steward] who comes here on Friday …  Ombersley is a fine place, & we shall be glad to come here when it is fine warm weather, & the house in a more comfortable state than it is at present. Different ideas, with total wretchedness of the place, made Mama very low… Such an immense House! Certainly, it is beautiful but us three little mice (as Mama says) are quite lost in it. Unpacked the things & endeavoured to settle ourselves in a room upstairs which is intended for Mama's sitting-room. Dined at half past Six. Sorry to say the Hock is not at all good here, very unfortunate!
Even though not a frequent visitor, after settling the legal wrangle and having become Baroness Sandys, Mary began extensive restoration and improvement of Ombersley Court.  She also decided to replace the old medieval church with a Gothic Revivalist structure.  By an 1814 Act of Parliament, permission was granted for the demolition of the old church and the construction of a new one, on condition that it could seat everyone in the parish (820 people).  In 1816 the old church spire was taken down and in 1825 the remainder of the building was removed.  The chancel of the old church was adapted to become the Sandys family mausoleum.  The new St Andrew's Church was completed in 1828.
Mary also began to take a tough stand on trespassers.  A notice in The Worcester Journal of 19th September 1811 stated:
Manors of Ombersley and Wickhamford

The game and fish of these manors (to which the right of Free Warren is attached), having for some years past, contrary to, and in defiance of, frequent notices and warnings previously given, being much destroyed by unqualified persons, poachers and others, who have trespassed thereon contrary to law:  Notice is hereby given that all unqualified persons, hereafter found trespassing upon the said Manors will be prosecuted; and it is particularly sequested that gentlemen who are not authorized, will desist from sporting thereon.  All stray dogs found hunting upon the Manors will be shot by the gamekeepers.

T HANDLEY, Steward to the Marchioness of Downshire, Lady of these Manors
Clerkenwell, London, Aug 31 1811
The same notice appeared 18 years later in The Worcester Journal of 27th August 1829 and again on 2nd September 1830.  T Handley was still her ladyship's steward.
It is not known whether Mary came to Ombersley after Charlotte's death in September 1821.  In August 1832, William Baron Lyttelton, a Worcestershire landowner, wrote:  
Is there no Chance of your ever re-visiting Ombersley? And none, therefore, of our ever having the Honest Pleasure of seeing you here? – I wish it might be so…
Land Holdings in Badsey and Aldington
At the time of the Aldington and Badsey Enclosures in 1808 and 1815 respectively, the Marchioness of Downshire was named as leasing land from the Dean and Chapter of Christ Church, Oxford, and was allotted land in lieu of tithes.
In Aldington, the Marchioness of Downshire was allotted 9 acres 2 roods 14 perches in one allotment in lieu of the tithe of hay.  [This was land adjoining the Bretforton Road.  It appears to have been sold to Thomas Byrd, a major landowner, who owned the neighbouring field; Briarlea Residential Home now occupies part of the land.]
In Badsey, the Marchioness was allotted two allotments, respectively 33 acres 1 rood 26 perches and 2 acres 2 roods 2 perches in the south of the parish, in lieu of the tithe of hay.  She then exchanged the latter allotment for an old enclosure called Old Leys, amounting to 6 acres 3roods 30 perches which was adjacent to the 33-acre field.
A Merry Widow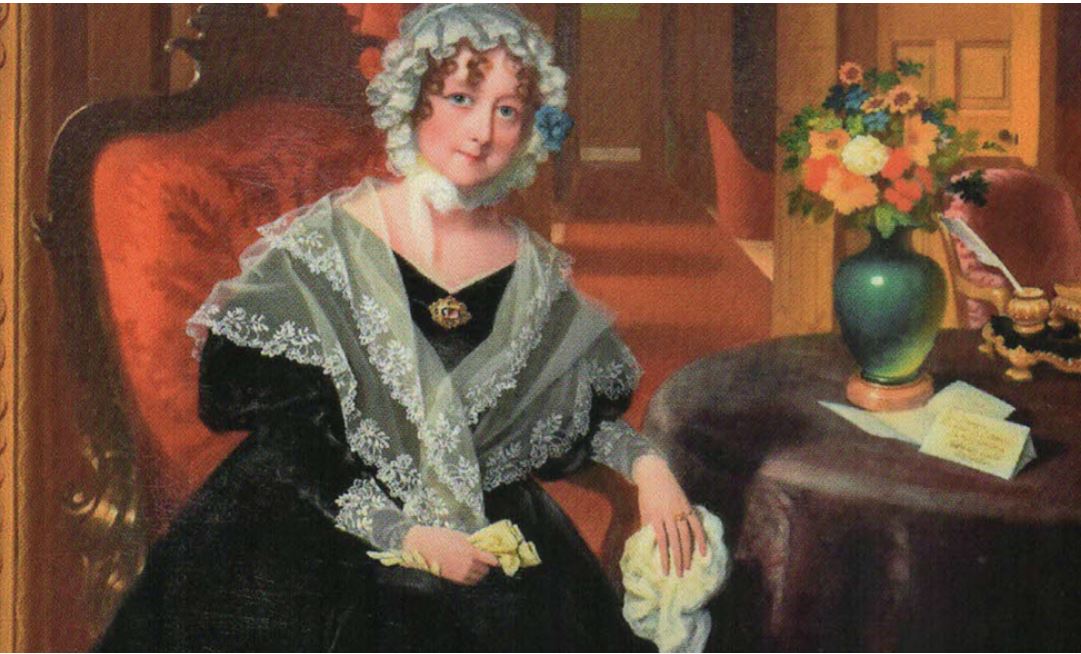 In September 1807, less than a year after Anna Maria Sandys' death, Mary entertained the Prince of Wales and his brother, the Duke of Sussex, for four nights at Ombersley Court during their tour of the midland counties. The visit was masterminded by Thomas Handley, the steward, who described Ombersley Court as "this long neglected Residence of one Branch of her Family".  Newspaper reports of the time contained comments such as:  
… arrived in the evening to dinner at Ombersley Court, a seat of the Marchioness of Downshire, about five miles from this city, where they were received with every testimony of respect, and met by many of the nobility and gentry of the country.  In front of the mansion the initials GP with the Crown, and appropriate decorations, were tastefully displayed in variegated lamps; the bells rang and the village of Ombersley was also illuminated, which produced a brilliant and pleasing effect.
The next day:
The Worcester Volunteers, consisting of about 800 very fine young men, under the command of Colonel Smith, had marched to Ombersley in the forenoon, and were inspected by the Prince on the grounds between the house and the village …  The volunteers were regaled by the Marchioness from the Mansion, and afterwards her Ladyship's Tenantry in the neighbourhood, who had been invited in honour of her illustrious guests, had a hot dinner provided in a truly hospitable old English style, of which about 300 partook, in covered booths prepared for the purpose.  The Royal Visitors and company went to visit the festive scene … and all the persons invited, as well as a numerous assemblage of spectators, were made happy by the entertainment of the Noble Hostess … The band of the Worcester regiment continued playing till a late hour … In the evening the Marchioness had a large party to dinner.
On the following day, Mary accompanied the Princes to Worcester, again returning to Ombersley Court for dinner:
The illustrious visitors again dined with a large party of nobility and gentry at Ombersley Court which, during their Royal Highnesses stay there, has continued every night to be illuminated, as upon the evening of their arrival.
In London, Mary was a well-known Society hostess.  The Journals of the Ladies Charlotte and Mary Hill give us some flavour of the hectic social whirl.  In July 1814, Mary was in residence with her daughters at 21 Hanover Square, Mayfair.  The house was an imposing one and a fashionable address for Whig families.  The daughters record attendance at 15 evening parties (five of them balls), five visits to the opera and four dinner parties at home.
The night of Friday 1st July 1814 was a special occasion, as it was the night of the Wattier's Club masquerade, taking place at Nearby Burlington House to honour the victorious Duke of Wellington, 2nd cousin of Mary's late husband.  After more than five years' campaigning, the Duke had been back in England barely a week and everyone wanted to see him
In her obituary in The Worcester Herald, Mary was described as "for several years one of the leading belles of the Court of George III".
Final Years
Mary closed down her Hanover Square house in September 1821, letting out the house firstly to Earl Grey and later to French ambassador Talleyrand.  Mary then spent time in Brighton, Paris and elsewhere, but mainly at Roehampton.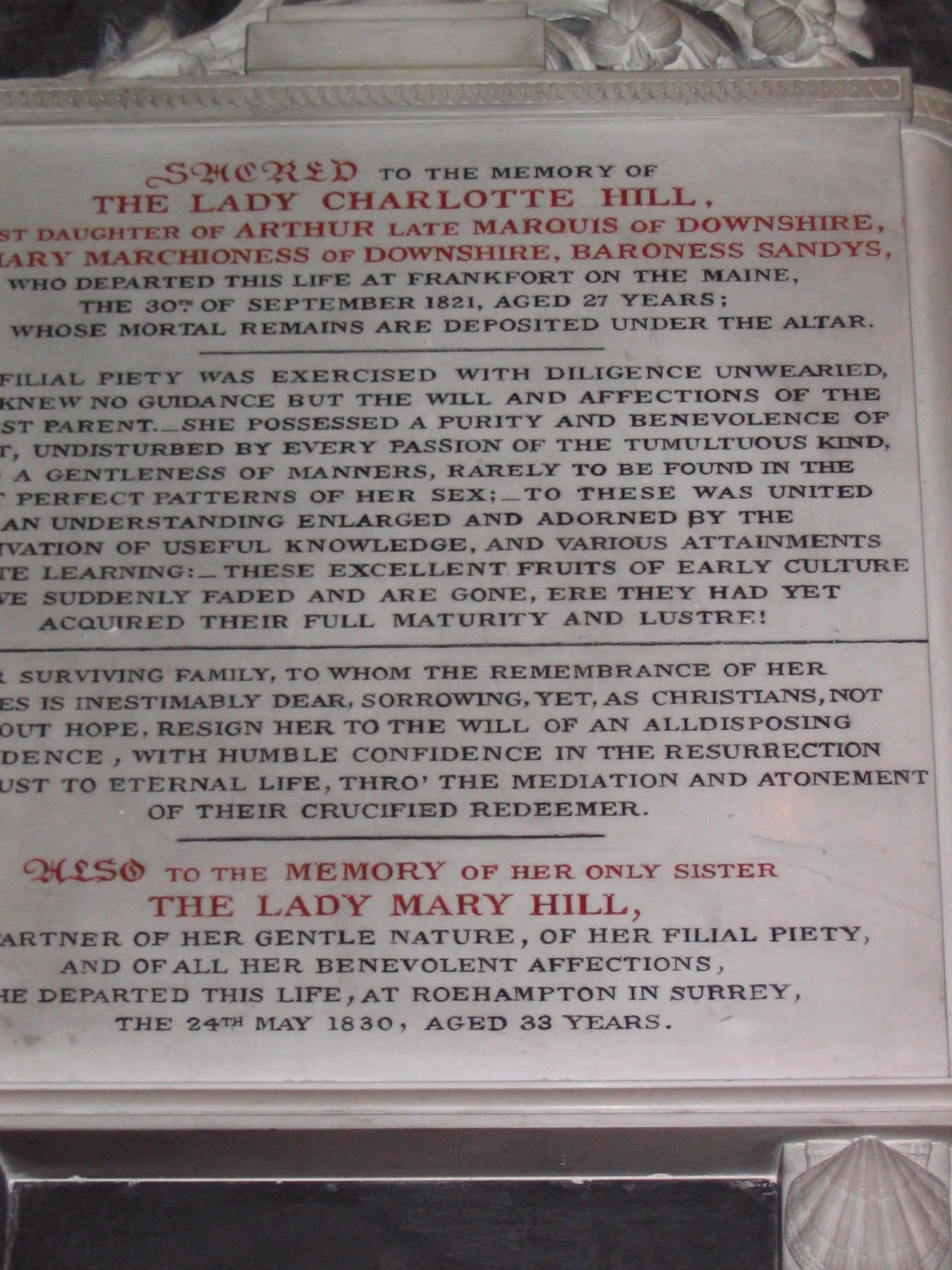 Three of Mary's children pre-deceased her.  Charlotte died at Frankfort on the Mein in 1821, Mary died at Roehampton in 1830, and Arthur Augustus Edwin died at Roehampton in 1831.  All three were buried with their mother in the family vault in Easthampstead Church.
The newspapers of the time, as was the custom, announced Mary's arrival and departure at various places, such as this notice in The Morning Herald of 17th February 1836:
The Dowager Marchioness of Downshire, who was once the belle of fashionable society, and was the favourite toast among the vivants of Carlton House [the town residence of King George IV], has arrived at her villa at Roehampton from a tour. 
Mary died "after a long and protracted illness" at Downshire House, Roehampton, Surrey, on 1st August 1836 and was interred in the Trumbull family vault at Easthampstead.  The funeral was reported in The Bucks Herald of 13th August 1836, which reveals that it was a very grand occasion:
FUNERAL OF THE MARCHIONESS OF DOWNSHIRE

At an early hour on Tuesday morning the remains of the late Dowager Marchioness of Downshire were removed from her residence at Roehampton, Surrey, for interment in the vault belonging to the family in the parish church of Easthampstead where the last sad obsequies were performed at five o'clock.  The procession consisted of two mates on horseback, eight porters on horseback, a state plume of feathers, two mutes on horseback, a gentleman on horseback bearing the coronet on a crimson velvet cushion, the horse covered with black velvet, emblazoned with escutcheons of the family arms, the hearse drawn by six horses richly caparisoned with velvet and feathers.  On the sides of the hearse were the armorial bearings, and on the velvets the crest of the family.  Six morning-coaches, each drawn by six horses similarly caparisoned, followed by the private carriages of the deceased marchioness, the marquis, and other members of the family, and about 40 carriages belonging to the principal of the nobility, etc.  Among them were those of his Royal Highness the Duke of Sussex, drawn by six horses, the servants in state liveries; the Dukes of Wellington and Richmond; Marquisses Londonderry, Salisbury and Westminster; Lords Coventry, Maryborough, Cowley, Westmorland, Harrowby, Lyndhurst, Ellenborough, Chesterfield, etc.  At Richmond the carriages left the procession, which crossing the bridge, proceeded through Twickenham, Staines, Egham and Sunninghill to its destination.
According to The Worcester Herald of 27th August 1836:
The late Marchioness of Downshire, Baroness Sandys, who died on the 1st instant at her Villa at Roehampton, sincerely lamented by all who knew her most amiable disposition, had been gradually declining in health for some years, and had long retired from the world.  Her Ladyship was in her 73rd year, and in early life was a bright ornament and example in her elevated station – and in retirement continued to be the highly valued friend of all who could appreciate her exalted virtues, and a liberal benefactress to very many who now deplore her loss.
A tablet to Mary was erected in Easthampstead Church: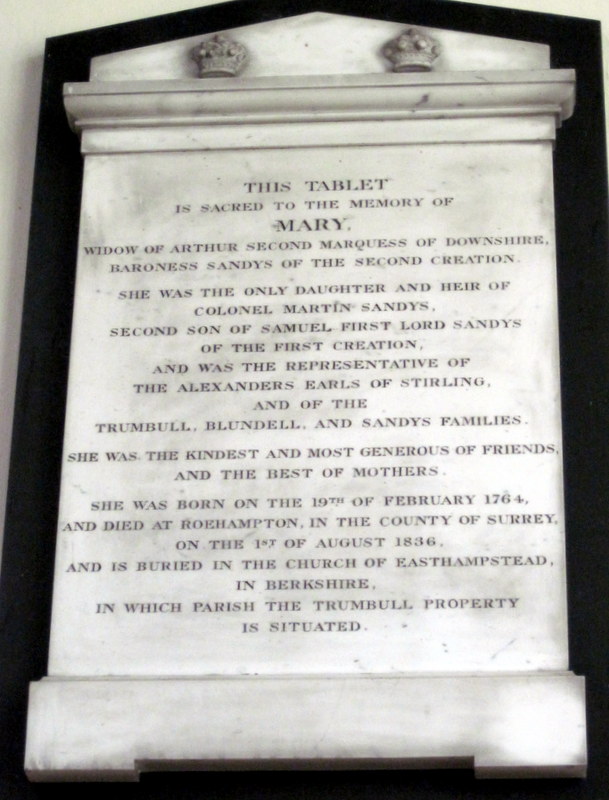 THIS TABLET
IS SACRED TO THE MEMORY OF
MARY
WIDOW OF ARTHUR SECOND MARQUIS OF DOWNSHIRE,
BARONESS SANDYS OF THE SECOND CREATION
SHE WAS THE ONLY DAUGHTER AND HEIR OF
COLONEL MARTIN SANDYS,
SECOND SON OF SAMUEL FIRST LORD SANDYS
OF THE FIRST CREATION,
AND WAS THE REPRESENTATIVE OF
THE ALEXANDERS EARLS OF STIRLING,
AND OF THE
TRUMBULL, BLUNDELL, AND SANDYS FAMILIES.
SHE WAS THE KINDEST AND MOST GENEROUS OF FRIENDS,
AND THE BEST OF MOTHERS.
SHE WAS BORN ON THE 19TH OF FEBRUARY 1764,
AND DIED AT ROEHAMPTON, IN THE COUNTY OF SURREY,
ON THE 1ST OF AUGUST 1836,
AND IS BURIED IN THE CHURCH OF EASTHAMPSTEAD,
IN BERKSHIRE,
IN WHICH PARISH THE TRUMBULL PROPERTY
IS SITUATED.
After Mary's death
On the death of Mary, her second son, Arthur Moyses William Hill (1792-1860) became 2nd Baron Sandys.  Whilst the 2nd Baron never lived at Wickhamford, he appears to have taken more interest in the village than his mother.  In 1841, Arthur undertook restoration of the Church of St John the Baptist at Wickhamford. A plaque in the church says: "This church and the family monuments within were restored and beautified by Arthur Lord Sandys of Ombersley Court, 1841."  This was where his 5xgreat-grandfather, Edwin Sandys, and 6xgreat-grandfather, Samuel Sandys, was buried.
As Wickhamford was never subject to Enclosure as in Badsey and Aldington, it was not until the 1842 Tithe Map was drawn up that there was reference to ownership of land.  At that time, nearly 99% of the village was owned by Lord Sandys.
Lord Sandys had no children and so, on his death in July 1860, his younger brother, Arthur Marcus Cecil became 3rd Baron.  At his funeral, on 24th July, three of his principal Wickhamford tenants were amongst the mourners – Robert Taylor of Field Farm, William H Smith of Pitchers Hill Farm and John Nind of Wickhamford Manor.  These tenants were again present at the funeral of the 3rd Baron in 1863.  In 1869, some years after the death of the 3rd Baron, it was decided to sell the Wickhamford estate, which had not been lived in by the family for over 160 years.  
Three months after Mary's death, it was announced that "The widow of the late Baron N M Rothschild has taken the country house at Roehampton, formerly occupied by the Marchioness of Downshire."  Downshire House today is now part of The University of Roehampton.
Hillsborough Castle, County Down, was sold in 1922 by the 6th Marquis of Downshire to the British Government.  It is now the residence of the Secretary of State for Northern Ireland and the official residence in Northern Ireland of Elizabeth II and other members of the royal family when they visit the country.
The Downshires continued to own Easthampstead Park until just after the Second World War.
Ombersley Court remained in the Sandys family until the 21st century.  It was put up for sale in 2017 following the death of the 7th Lord Sandys in 2013 and his widow in 2015.
The present-day Marquisate and Barony
For the first time in nearly 200 years, the Marquisate of Downshire and Barony of Sandys is held by one person, namely Arthur Francis Nicholas Wills Hill (born 1959) who became the 9th Marquis of Downshire in 2003 and the 8th Baron Sandys of Ombersley in 2013.  The present Marquis is the 5xgreat-grandson of Mary, Marchioness of Downshire and Baroness Sandys, and her husband, Arthur Hill, the 2nd Marquis.  The succession ran as follows:
3rd Marquis, Arthur Blundell Sandys Trumbull Hill (1788-1845), succeeded his father in 1801 whilst still a minor
4th Marquis, Arthur Wills Blundell Sandys Trumbull Windsor Hill (1812-1868), succeeded his father in 1845
5th Marquis, Arthur Wills Blundell Trumbull Sandys Roden Hill (1844-1874), succeeded his father in 1868
6th Marquis, Arthur Wills John Wellington Trumbull Blundell Hill (1871-1918), succeeded his father in 1874 whilst still a minor
7th Marquis, Arthur Wills Percy Wellington Blundell Trumbull Hill (1984-1989), succeeded his father in 1918
8th Marquis, Arthur Robin Ian Hill (1929-2003), succeeded his uncle in 1989
9th Marquis, Arthur Francis Nicholas Wills Hill (1959), succeeded his father in 2003
The inheritance of the Barony of Sandys was a rather more tortuous line of descent.  When Mary became Lady Sandys, Baroness of Ombersley, in 1802, the title was created with remainder to her younger sons successively, and failing them to her eldest son.  The succession ran as follows:
2nd Baron, Arthur Moyses William Hill (1793-1860), succeeded his mother in 1836
3rd Baron, Arthur Marcus Cecil Sandys (1798-1863), succeeded his brother in 1860; assumed the surname of Sandys in lieu of Hill by Royal licence in 1861
4th Baron, Augustus Frederick Arthur Sandys (1840-1904), succeeded his father in 1863
5th Baron, Michael Edwin Marcus Sandys (1855-1948), succeeded his brother in 1904
6th Baron, Arthur Fitzgerald Sandys Hill (1876-1961), succeeded his first-cousin once-removed in 1948
7th Baron, Richard Michael Oliver Hill (1931-2013), succeeded his father in 1961
8th Baron, Arthur Francis Nicholas Wills Hill, 9th Marquis of Downshire (1959), 9th Marquis of Downshire, succeeded his third-cousin thrice-removed in 2013
End Note
Our investigations into the Marchioness of Downshire began because of brief references to her in Badsey and Aldington Enclosure Award Schedules.  She owned less than 50 acres of land in the two villages, but this was small fry when we began to appreciate the extent of her land ownership. 
Little did we realise when we saw the brief references to her in the Enclosure records that the Marchioness of Downshire was one of the largest women landowners in the country and a high society hostess who consorted with monarchs.  
I can't imagine that she ever came to see the small amount of land that she was awarded in Badsey and Aldington!
Maureen Spinks
October 2021
See also: