At the time of Aldington and Badsey enclosures, in 1808 and 1815 respectively, John Jones was a major landowner in the village.  His family had owned land in the village for several generations.
* * * * *
Family Background
John Jones was born at Badsey in 1759, the eldest of four children of Piercy Jones (1710-1802) and his wife, Elizabeth Squire (née Silvester).  He was baptised at St James' Church, Badsey, on 28th October 1759.
John's father, Piercy, owned land in Badsey, and also owned land and property at Willersey, South Littleton and Cleeve Prior.  The Jones' family wealth in land appears to have come about through Piercy's mother, Mary Grove (1677-1762) who had married Joseph Jones (c1677-1761) in 1703.  Mary (1677-1762) was the daughter of John Grove (1625-1695) who owned considerable land.  Mary and Joseph Jones lived initially in Warwickshire where their six children were born, but moved to Badsey in about the 1730s.  Mary's eldest brother, Francis Grove (1667-1755), inherited from his father but he never married.  On Francis' death in 1755, he bequeathed his property to his nieces and nephews, the children of his sister, Mary Jones.
On the death of Piercy Jones in 1802, John Jones came into an inheritance but, even though he was the eldest son, he did not inherit all of his father's estates – these were divided between the three sons.  John received the messuage (this was the house now known as The Laurels, 26 High Street, Badsey), farm and lands in Badsey.  Piercy's will of 1796 reveals that John had been living across the road at The Pool House (present-day Nos 23 & 25 High Street), described as a "new built messuage or tenement with the garden and appurtenances", but this was left to his second son, Piercy, so John moved into the main farmhouse where his father had been living.   William Collett, farmer, described as "my good friend", was named as trustee of the land.
The Household at The Laurels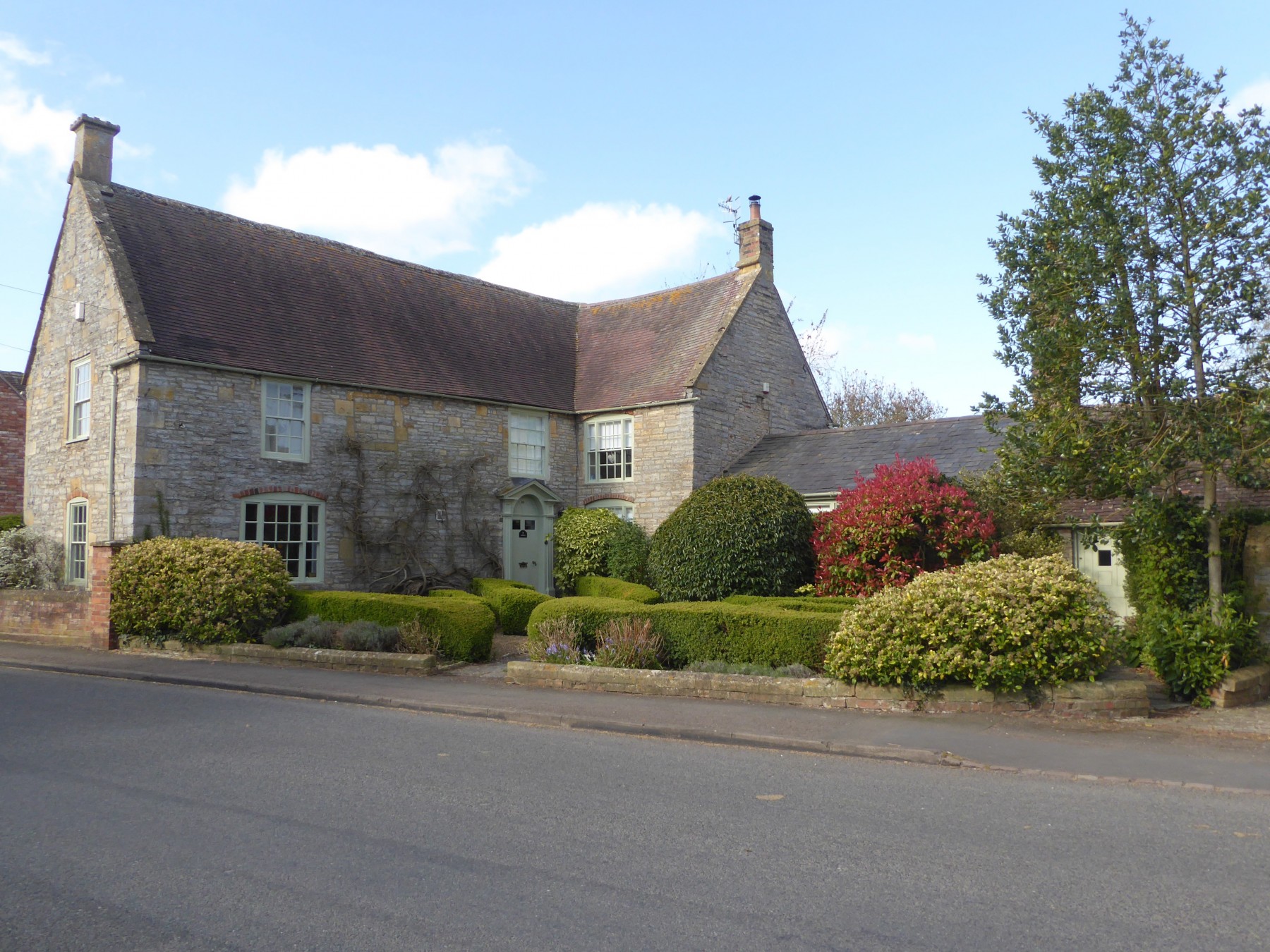 John Jones lived at The Laurels, High Street, Badsey, from 1802 until the time of his death in 1850.  According to the British Listed Buildings website, The Laurels dates back to the early 18th century and was remodelled in the early 19th century, which would have been when John took up occupation.
At the time of the 1841 census, John lived there with Mary Wheeler, described as an Independent, 13-year-old Christopher Wheeler, and a servant.  In later documentation, Mary was described as his niece.  Christopher Wheeler was John's great-nephew. 
John Jones died at Badsey on 29th October 1850, aged 91.  He was buried four days later in St James' churchyard, Badsey.
By 1851, Mary Wheeler lived alone at The Laurels with one servant.  In 1861, described as a proprietor of land and houses, she had her niece, Dorothy Ann Wheeler, staying with her as a companion.  Dorothy died at The Laurels on 3rd August 1865.  Her aunt, Mary Wheeler, died three and a half months later in London. 
Who were the Wheelers?
Mary Wheeler, who lived with John Jones, was described as his niece in various documents.  She was born in Warwick in 1785, the daughter of George and Dorothy Wheeler, and was baptised at St Nicholas, Warwick, on 10th November 1785.  John Jones had younger siblings:  Mary (1763-1785) who died at Badsey in July 1785; Piercy (1768-1837) who never married; and Joseph (1771-1853) who married three times but was too young to have had a daughter in 1785.  So none of these could have been the parent of Mary.
It is thought (but not confirmed by documentary evidence) that John's father, Piercy Jones, was married previously.  He was aged almost 48 when he married Elizabeth Squire Silvester at Cleeve Prior in 1758, so it is entirely possible that he was married before and had a daughter named Dorothy.  When Dorothy Wheeler died in 1825, her age was given as 85, which would have made her born about 1739.  If this assumption is correct, Piercy would have been about 29 when she was born.  For the purposes of this article, it is assumed that Dorothy was definitely the daughter of Piercy Jones and that John Jones was her half-brother.
Dorothy married George Wheeler on 15th October 1778 at Stratford-upon-Avon.  Her surname was given as Bellamy, so it is assumed that she was married before.  Dorothy and George had three children, all baptised at St Nicholas, Warwick:  Sarah (1782), Mary (1785-1865) and William (1789-1871).  Dorothy also had a daughter, Ann (c1773-1837), born about 1773, who, at the time of her marriage in 1802, went by the name of Ann Wheeler.  The children all grew up in Warwick, but two of the siblings, Ann and Mary, came to live in Badsey.
Two months after the death of her grandfather, Ann Wheeler married John Collett by licence at St James' Church, Badsey, on 13th May 1802.  John was the younger son of William Collett, named as trustee in Piercy Jones' will.  They had a daughter, Ann, born in 1802, but she died in November 1805, aged three.  Ann and John had no further children.  John died in in 1831 and Ann in 1837.
Mary Wheeler never married.  She came to live with her uncle, John Jones, at The Laurels, Badsey.  She lived there until almost the end of her life until dying on 20th November 1865 at 143 Hackney Road, London, the home of her nephew, Christopher.
William Wheeler never lived in Badsey.  He was a shoemaker who spent all his life living in Warwick, but at least two of his children lived for a time at The Laurels, and his four eldest children were mentioned in the will of his half-sister, Ann Collett.  William was married three times:  firstly to Priscilla Robbins (c1793-1816) by whom he had a son, John Jones Wheeler (1815-1872); secondly to Mary Claydon (c1794-1831) by whom he had three sons, George (1823-?), James (1826-?) and Christopher (1828-1898); and thirdly to Elizabeth (c1796-1867) by whom he had two children, Dorothy Ann (1842-1865) and Edward (1844-?).  As an adult, Dorothy came to live with her aunt in Badsey, acting as her companion.  Dorothy died at The Laurels on 3rd August 1865 and was buried in St James' Churchyard seven days later.  
John Jones' Land Ownership
The Aldington and Badsey Enclosure Awards give us some idea of what John Jones owned.  In Aldington, he owned two old enclosures called Jarrett's Ground amounting to just over 26 acres (this is the land just across the brook from Monks' Bridge).  This was not land that he had inherited from his father, but land which he had bought in December 1803 from Lord Foley. The Foleys had owned the Manor of Aldington and a significant amount of land for six generations, but the extravagance and gambling of the 2nd Lord Foley had brought ruin to the estates and it became necessary for the 3rd Lord Foley to begin selling off the land.)  Possibly the death of John Jones' father the previous year enabled him to be able to buy Jarrett's Ground.
In 1808, the Aldington Enclosure Commissioners awarded John Jones another 12 perches of land in lieu of rights of land – this was the piece of waste land near the Horse Bridge and was adjacent to Jarrett's Ground.
In Badsey, John Jones owned four old enclosures amounting to nearly 9 acres which he had inherited from his father:
House and Homestead, 1a 0r 6p – this was the house known as The Laurels in High Street, Badsey
Sand Close, 4a 0r 18p – this was situated between Badsey Fields Lane and Sands Lane
Claybrook Orchard, 2a 2r 7p – this was on the north side of Bretforton Road
Claybrook Close, 1a 1r 6p – this was on the north side of Bretforton Road
In 1815, the Badsey Enclosure Commissioners awarded John Jones three allotments:
On Badsey Green, 0a 2r 32p – this was south of Badsey Fields Lane
In Sand Field, 5a 2r 38p – this was north of Sands Lane
In Sand, Foxhill and Meerden Fields, 39a 3r 10p – this was at the end of Sands Lane near the parish boundary
He also exchanged his two outlying old enclosures, Claybrook Orchard and Claybrook Close, for an allotment of 5a 0r 17p made to Sarah Harrington (adjoining his large allotment in Sand Field).
Thus, by 1815, John Jones' total acreage ownership in Badsey and Aldington amounted to nearly 83 acres.
A document at Birmingham City Archives (Ref: BCA – MS3192/Acc1928-015/361768) reveals that he also owned land in Offenham, which he had bought in 1792 from Elizabeth Stephens.
A document at Worcester Archives & Archaeology Service (Ref: BA 5589, Ref 705:192, Parcel 65) provides the information that on 25th March 1833, John Jones and his Mortgagee and Trustees sold 27a 2r 30p of freehold land at Aldington to Mrs Ann Collett.  This land was Jarrett's Ground which he had bought in 1803.  Ann Collett was the niece of John Jones; she was also the daughter-in-law of William Collett named in Piercy Jones' will.  A further document of 1st May 1833 was a Grant to Miss Wheeler of an annual rent charge of £20 on the land at Aldington on the death of Mrs Collett and payable during the life of Miss Wheeler.  Miss Wheeler was Mary Wheeler, Ann Collett's half-sister.  In her will made in June 1834, Ann bequeathed the land to the use of William Collett (this was William, the half-brother of Ann's late husband, John) and others, the rents to be paid weekly to her half-brother, William Wheeler, the sum of 4 shillings during the life of Mary Wheeler, for the benefit of his four sons, John, George, James and Christopher (William's two youngest children had not yet been born).  In November 1842, an advertisement in The Worcestershire Chronicle reveals that John Jones Wheeler, put his one-fourth share up for auction.  
After John Jones' death
In his will made on 26th October 1850 (three days before his death), John Jones appointed his niece, Mary Wheeler, and his friend, Edward Appelbee, as Executors.  His mortgaged estate was left to Mary, who received all his furniture and personal estate for her own sole use, and the use of The Laurels, together with the adjoining homestead, garden and orchard.  All his other land in Badsey was given to the use of Mary Wheeler and Edward Appelbee to mortgage or sell.   Mary and two of his great-nephews, Christopher and James Wheeler, were also left sums of money.  
Mary Wheeler died in 1865.  The land originally known as Jarrett's Ground (now referred to as Gerrard's Pieces) was sold on 26th March 1866, four months after Mary's death.  The Laurels was sold in 1868, but it was not until 1888 that the rest of John Jones' estate (55a 1r 39p) was sold when it was put up for auction in 16 lots.  
Maureen Spinks, October 2021