An entry in our Visitors' Book from Barbara Kienzle of America, has prompted this article about the Wright family who lived in Badsey in the latter half of the 19th century.
Fanny Wright (1823-1899)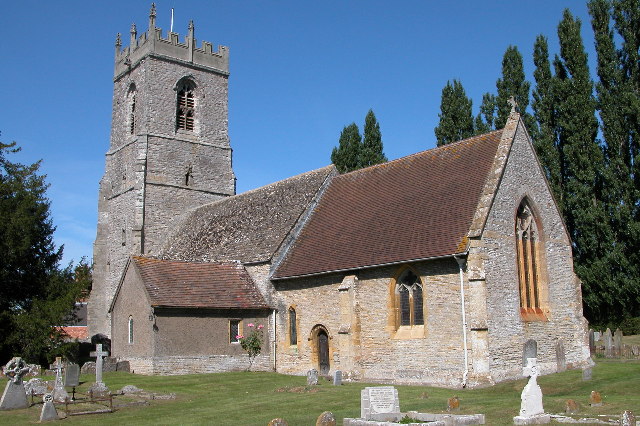 Widow Fanny Wright moved to Badsey in the late 1860s.  She had been born Fanny Careless at North Littleton in 1823, the daughter of Samuel Careless, a farmer, and his wife, Sarah (née Hemming).  She was baptised at North & Middle Littleton Church on 16th November 1823.  On 20th September 1847 at North & Middle Littleton, Fanny married James Wright, a commercial traveller.  James hailed from the village of Halford, Warwickshire, where he was born about 1819.
James and Fanny had two sons and two daughters:  Samuel James (1848-1889), Rosa Mary (1849-1899), Adolphus Careless (1851-1914) and Sarah Ann (1853-1923).  Samuel and Rosa Mary were born in Evesham and baptised at All Saints, Evesham, but, by the time of Adolphus' birth, the family had moved to Bermondsey, London, and were living at 70 Princes Road. 
When his children were still very young, James Wright died in 1854 in Bermondsey, aged 35.  He was buried in the village of his birth, Halford in Warwickshire, on 14th February 1854.
Following James' death, Fanny returned to Worcestershire to live.  In 1861, she was to be found living in North Littleton with her 79-year-old widowed mother, Sarah Careless (described as a farmer of 70 acres employing three men and two boys) and her 40-year-old widowed brother, Thomas, plus a servant.  Samuel, Rosa Mary and Sarah were all at home, but Adolphus' whereabouts are unknown.
The exact date of Fanny's move to Badsey is unknown, but she was certainly living there by the time of the 1871 census.  She and her youngest child, Sarah, were living at "Wheat Sheaf".  This was later to become what is still known today as The Wheatsheaf Inn, but at that stage it was not an inn, just a grocer's shop.  In the first half of the 19th century, the building (which had been owned by the Gibbs family since the 1780s) had been a bakehouse.  When Sarah Gibbs (daughter-in-law of John Gibbs who had bought the property) died in 1867, her two sons, William and Charles, inherited but, as none of the family had lived in Badsey for many years, it is likely that they took the opportunity to sell it. 
By 1881, Fanny was described as a Beer Retailer and Grocer.  Rosa was now living there as well, and both she and Sarah were described as Assistant to Beer Retailer.  Another scenario is that Fanny may not as yet have been the owner.  Charles Gibbs, son of Sarah, was a maltster in Worcester, and may have converted the building into a beer shop.  But, whether Fanny bought The Wheatsheaf shortly after Sarah Gibbs' death in 1867 or whether she bought it at a later date after it had been converted into a beer shop, she was definitely the owner by 1890 as an entry in the Poor Rate Book for that year reveals.  In 1891, Fanny was described as a Beer Retailer and Shopkeeper.  Her granddaughter, Ellen (the daughter of Samuel), was also staying there.
In 1888, Fanny took the opportunity to acquire more assets in Badsey.  At an auction of land in 1888, Fanny bought a part of Sands Garden, market garden land which was divided into five lots of around an acre each.  Fanny bought Lot 1.  Firstly a terrace of four houses called Cotswold View (Nos 13-19) were built in 1889, then another terrace of four houses called Cotswold Terrace (Nos 5-11) in 1893.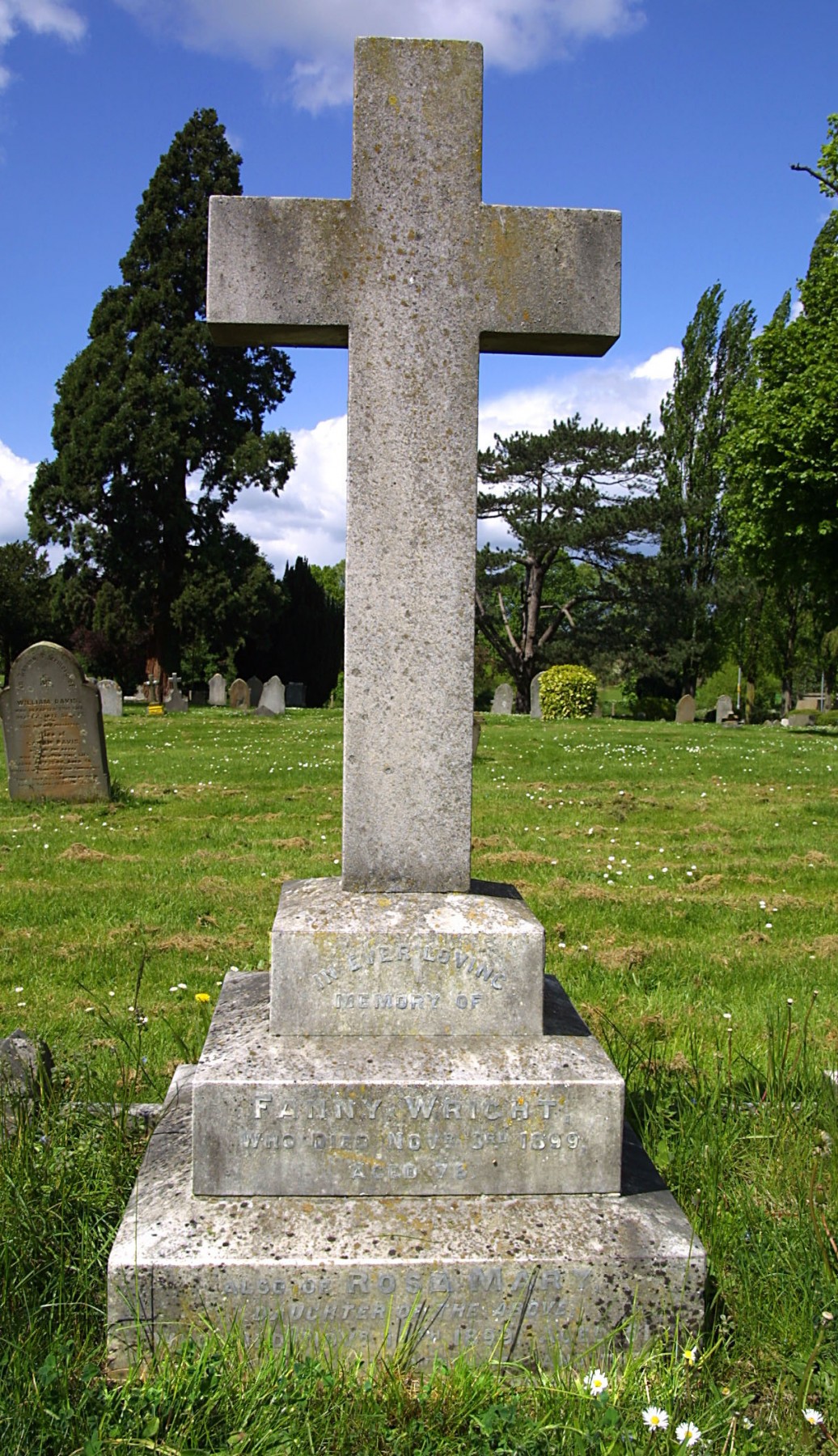 An article in the Worcester Journal in November 1895 reveals that Fanny Wright was charged with selling coffee adulterated with 40% of chicory.  Valuation Office Survey records for 1913 for The Wheatsheaf Inn reveal that Fanny Wright sold The Wheatsheaf to Flowers & Sons on 1st January 1896 for £1,366.  It may have been the coffee incident (although the tin was clearly labelled "Chicory and coffee") and the fact that she was by now 72, that caused Fanny to sell up.  The new occupier was Thomas Marshall and The Wheatsheaf changed from being just a beer shop to an inn.
Fanny died in November 1899 and was buried at Waterside Cemetery, Evesham, along with her daughter, Rosa, who died 11 days later.  Probate of Fanny's will was granted to her daughter, Sarah Ann Glasbrook.  It is possible that the land to the west of the houses erected in 1889 and 1893, which had not yet been built on, was sold by Fanny's children, which paved the way for the building of a pair of semi-detached houses (Nos 1 & 3) in about 1900. 
Adolphus Careless Wright (1851-1914)
Adolphus Careless Wright (given his mother's maiden name as his middle name), was born at 70 Princes Road, Bermondsey, on 21st March 1851, the third of four children of James Wright, a commercial traveller, and his wife, Fanny.  Adolphus (as yet unnamed) was just one week old at the time of the census and a professional nurse, Ann Barrat, was staying with the family.  He was baptised at St James' Church, Bermondsey, on 28th March 1852 (the officiant incorrectly put his year of birth down as 1852 instead of 1851 and his address as 7 Princes Road instead of 70).  When his sister, Sarah, was baptised in 1853, the address was correctly put down as 70 Princes Road.
Adolphus was just under three years old when his father died in February 1854.  It is thought that the family then returned to his mother's native Worcestershire as, by 1861, Fanny and three of her children were living with her widowed mother in North Littleton.  Where Adolphus was is not known.
No more is heard of him until 3rd January 1871 when he married Emma Smith at St Luke's Church, Leicester.  Emma was born about 1846 in Stourton, Warwickshire, the fourth of five children of Joseph Smith, a farmer, and his wife, Sarah.  From the birth-places of her siblings and from census returns, it seems that the family lived in a number of different places.  In 1861, when living at Little Dorsington, Welford on Avon, Joseph was described as a farmer of 106 acres employing two men and two boys.  By 1871, Joseph was described as an "occupier of land" and lived in Badsey in the house which is now No 18 High Street.  His new son-in-law, Adolphus Wright, was acting as farm bailiff, presumably for the Byrd family who owned the property.  Adolphus' mother, Fanny, lived just down the road at The Wheatsheaf. 
Adolphus and Emma had two sons and three daughters, all born at Badsey:  Frederick William (1871-1951), Gertrude Emma (1873-1914), Kate (1874-1926), Edith Melinda (1888-1912) and Edgar Adolphus (1881-1960).  It is thought that Joseph and Sarah Smith died in the 1870s, although they are not buried in Badsey.  Adolphus and Emma appear to have then moved next-door to the building which is now occupied by The Spar Shop, which was where they were living at the time of the 1881 census.  Adolphus was described as a market gardener of 9 acres, although in the latter part of the 1870s he had been involved in the beer trade, presumably when The Wheatsheaf, where his mother lived, began to sell beer.  In Trade Directories for the Midlands in 1876 and 1880, Adolphus appears in a list of beer retailers.  When his daughter, Kate, was baptised in 1875, he was described as "Farmer and Publican" and when Edith was baptised in 1878, he was described as "Innkeeper".
In 1883, the family left Badsey in order to seek a new life overseas.  Their destination was Geauga County, Ohio, where they remained for the rest of their lives, either living in Bainbridge Township or Auburn Township.  They were following in the footsteps of several other Badsey families who had emigrated to Ohio the previous decade and settled in Auburn.
A passenger list for 1899 reveals that Adolphus and Emma returned to England for a visit in 1899.  They embarked at New York on "Servia" and arrived at the port of Liverpool on 21st September 1899.  They left Liverpool on 28th October 1899.  Adolphus' mother died just six days later, so perhaps they had returned home to England for a final visit if they knew that Fanny was ailing.
Adolphus died at Auburn in 1914, and Emma died two years later.
Other members of the Wright Family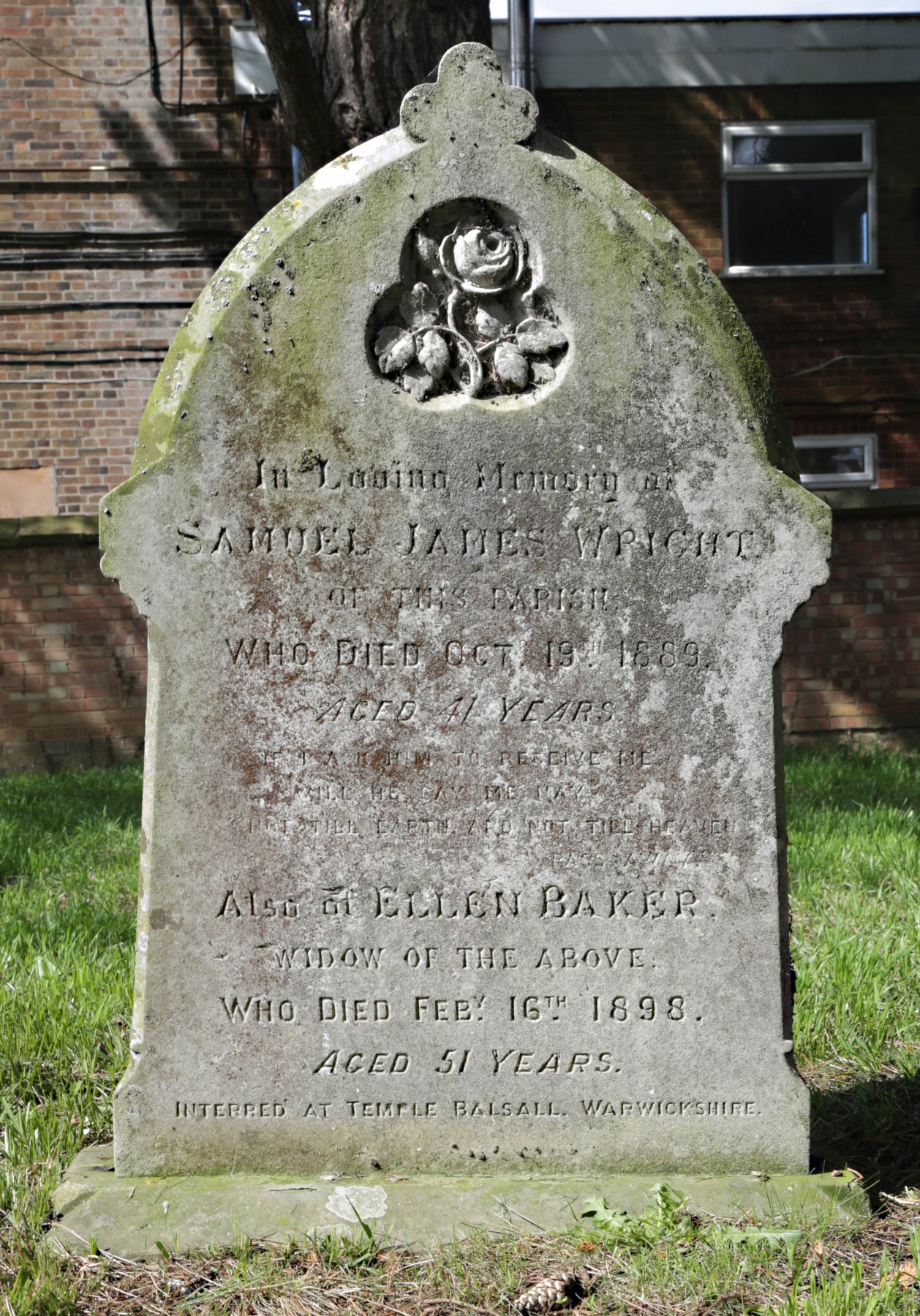 Samuel James Wright, the eldest son of James and Fanny Wright, married Ellen Rimmer from Churchtown, Lancashire, on 17th October 1870 at St John Ladywood, Birmingham.  They had two sons and five daughters:  Allan J (c1871), Thomas H (c1873), Ada T (c1876), Ellen Catherine (1876), Charlotte A (c1878), Sarah J (c1880) and Mary (c1884).  The three eldest children were born at Charlton, Ellen was born at Offenham, and Charlotte and Sarah were born at Inkberrow.  In 1881, they were living at Inkberrow where Samuel was a Butcher and Farmer.  Samuel died on 19th October 1889 and was buried in Bengeworth Cemetery.  In 1891, widowed Ellen, described as a Farmer, lived on Boutts Lane, Inkberrow, with Thomas, Ada, Charlotte, Sarah and Mary.  Ellen died on 16th February 1898 and was interred at Temple Balsall, Warwickshire, although there is an inscription on Samuel's gravestone at Bengeworth.
Rosa Wright, the second child of James and Fanny Wright, did not marry.  In 1871, she was still living at the farm house in North Littleton, where she had lived with her family in 1861.  She was acting as housekeeper for her widowed uncle, Thomas Careless.  In 1881 she was assisting her mother at The Wheatsheaf in Badsey, but in 1891, she was living on Warwick Road, Balsall, Warwickshire, where she was a grocer.  Her niece, Kate (the illegitimate daughter of her sister, Sarah Ann), a Pupil Teacher, was living with her.  Rosa died in November 1899, 11 days after her mother, and was buried with her at Waterside Cemetery, Evesham.  Probate of her will was granted to her sister, Sarah Ann Glasbrook.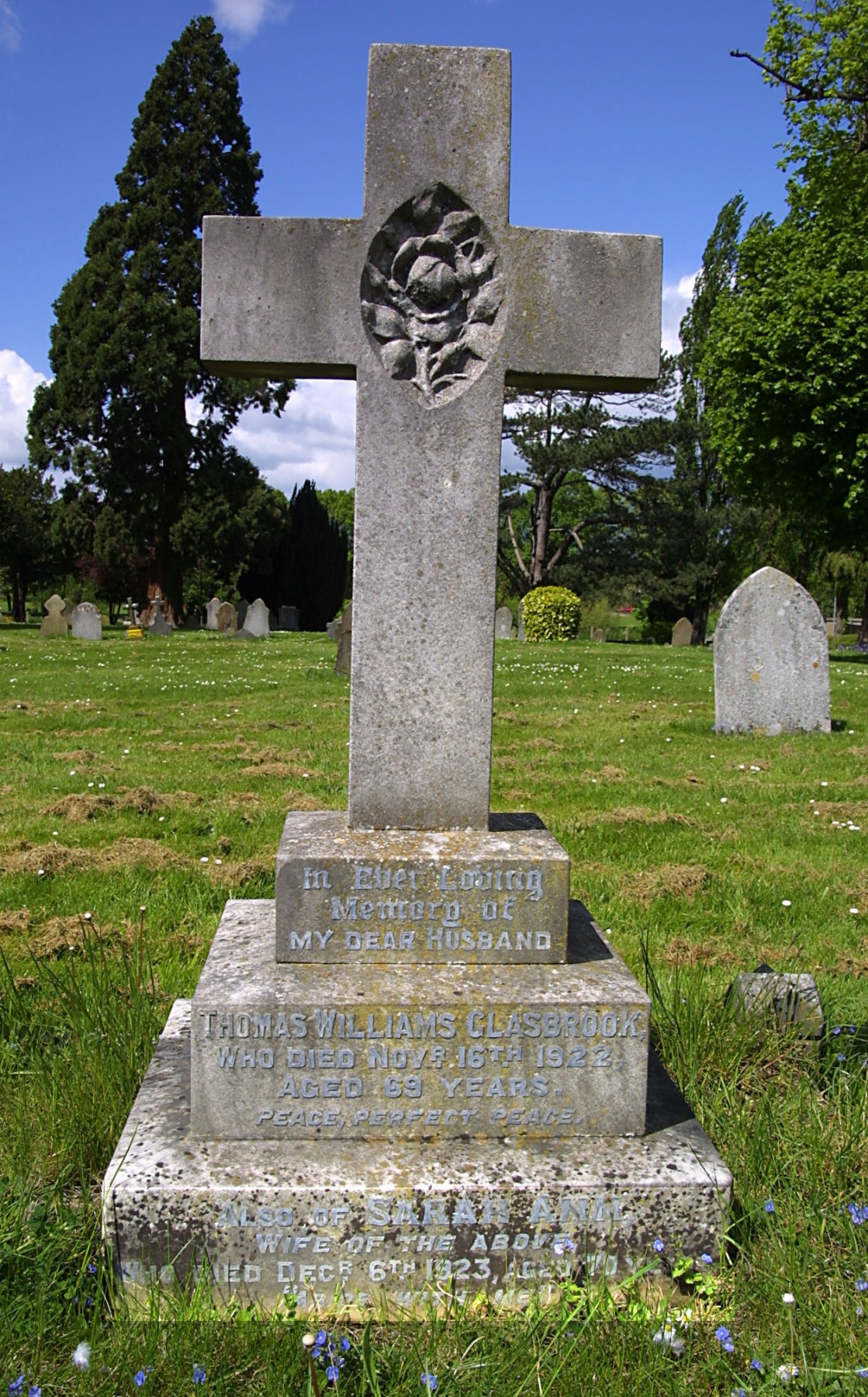 Sarah Ann Wright, the youngest child of James and Fanny Wright, gave birth at Charlton to an illegitimate daughter, Kate, on 14th November 1874; Kate was baptised at Cropthorne the following year.  Fanny Wright now had two granddaughters named Kate Wright, as Sarah's daughter, Kate, was born just a day after her brother, Adolphus, had become father to a Kate.  At the time of the 1881 census, whilst Sarah Ann was in Badsey, Kate was boarding in Cropthorne.  Sarah Ann married a saddler, Thomas William Glasbrook, at Badsey in 1889.  Thomas was born in Evesham about 1856.  At the time of the 1891 and 1901 census, they were living at 26 Port Street, Evesham, where Thomas was a saddler and Innkeeper.  Thomas Glasbrook died in 1922 and Sarah in 1923.  They were buried next to Sarah's mother and sister at Waterside Cemetery, Evesham.
Maureen Spinks, July 2019