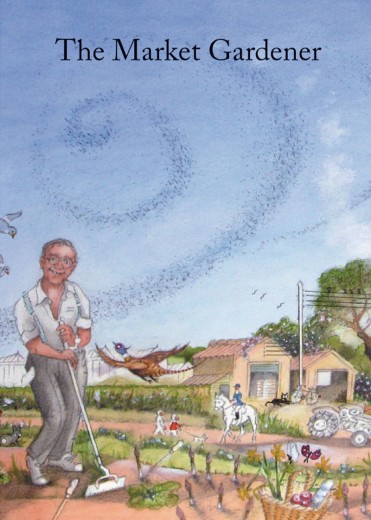 A film made by members of the Badsey Society led by Will Dallimore. Here are the full credits.
Running time 46 minutes.
Aspect ratio 16:9. Available on both DVD and Blu Ray.
Published by the Badsey Society, 2 October 2012.
Price £6
The production and publication of this film forms part of the Last Market Gardener project led by Maureen Spinks for the Badsey Society. We are grateful to the Heritage Lottery Fund for their support.
Buy
| | | |
| --- | --- | --- |
| DVD video | £6.00 | |
| Blu Ray video | £6.00 | |
This is a documentary film about market gardeners and their families in the Vale of Evesham. It is the fascinating story of small family businesses working to make a living from the land, told through interviews and archive footage. It explains the role played by children and land girls, and what it was like in the winter. Local customs for growing and marketing crops like tomatoes and asparagus are described. Historical research sits alongside the day-to-day stories of those involved.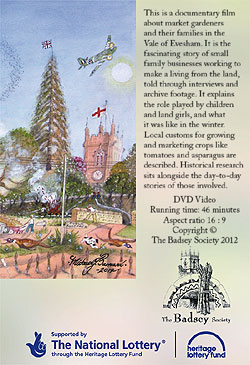 Here is the leaflet included in the box and the artwork on the Blu-ray disc surface.
The first public performance of The Market Gardener was at the Regal Cinema, Evesham, on Monday 1st October 2012. It was attended by more than 140 people.
"A fabulous collection of stories, photographs and recordings spanning 140 years" - Robert Raphael, Mayor of Evesham
"...it beautifully portrays the good times and the bad" - Maureen Butler in Cotswold and Vale Magazine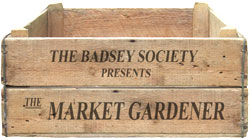 The Badsey Society can arrange public screenings of this film. Please contact us for more information.