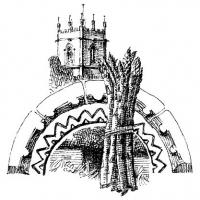 Welcome to the website of The Badsey Society where we invite you to enjoy photos, memories and historical research about the people and places that make up the village of Badsey, the hamlet of Aldington and the neighbouring parish of Wickhamford. To view, just browse and open the categories listed on the left, or enter text into the Search box.
Our current project
Our current focus is on the history of the parishes at the time of the First World War. We are grateful to the Heritage Lottery Fund for a £10,000 grant for our project, "Badsey, Aldington and Wickhamford - a rural community's view of the Great War", which runs from 2015-2018.
This project will focus on all aspects of life for the villagers of the market gardening communities of Badsey, Aldington and Wickhamford during the First World War, whether at home or overseas, with the ultimate aim of producing a book about the period, in addition to this new website.
A major part of this website contains the numerous letters written by Sir Julius Sladden and his wife, Eugénie, and their eight children, all of whom survived the war (one son gaining the Military Cross). The letters deserve special attention as they provide a first-hand account of events as they were unfolding. Juxtaposed between monumental international events are the relatively mundane events happening at home in Badsey.
In addition to the vast quantity of letters written by the Sladden family, there are various other resources available, for example:  soldiers' letters which appeared in the Parish Magazine, articles in The Evesham Journal and Charles Binyon's diary shedding light on the market gardening community.  We shall be investigating soldiers' stories, German prisoners of war at Badsey Manor House, the tribunals of men who claimed exemption, Belgian refugees who were sheltered in the village, food production, the role of women and the variety of activities on the home front.  During the course of the project, new articles will continue to be added to the website.