Introduction
This article follows on after the one entitled 'Churchwardens of St John the Baptist, Wickhamford 1663-1790'. The information regarding the periods of service of the earlier Churchwardens detailed below comes from various parochial documents in the Worcestershire Record Office. For the more recent occupants of the position, local newspapers and the Parish Magazine have been useful sources. Other information on the Churchwardens is based in parish registers and details already recorded in earlier articles; links are provided after each entry.
The 50 year period between the last Churchwarden in the previous article, James Ashwin in 1790 and the first one recorded below, John Taylor in 1842, has proved difficult to research. No documents have been uncovered, so far, to name any occupants of the post. As the Churchwarden at this time was often the tenant of Wickhamford Manor or one of the village farms, names may eventually be found.
 
John Taylor
1842, 1846
John Taylor was born in Linton, Derbyshire in about 1788. His wife, Sarah, was born in Ashby-de-la-Zouch in about 1795. They moved to Wickhamford around 1818 and appear in the 1841 census at Elm Farm, with three sons. The eldest, John, born about 1817 was not baptised in Wickhamford, but younger children were - Sarah (9/08/1818 - bur 5/04/29 aged 11), Frances (8/10/20), Robert (2/03/23), William (12/03/26) and Francis (8/05/28). In total they had eight children.
In 1851, John Taylor was employing 12 labourers on his 295 acres. He was buried in Wickhamford, aged 64, on 12th March 1852 and Sarah was buried with him on 1st April 1878, aged 83. (The lower part of the Taylor headstone is largely flaked away, but the top is readable and records John's death – see picture below).
John's son, Francis Taylor, also became as Churchwarden, in 1870 – see below.
(For more information on the Taylor family, see the article ' The Taylor Family: a farming life in Wickhamford').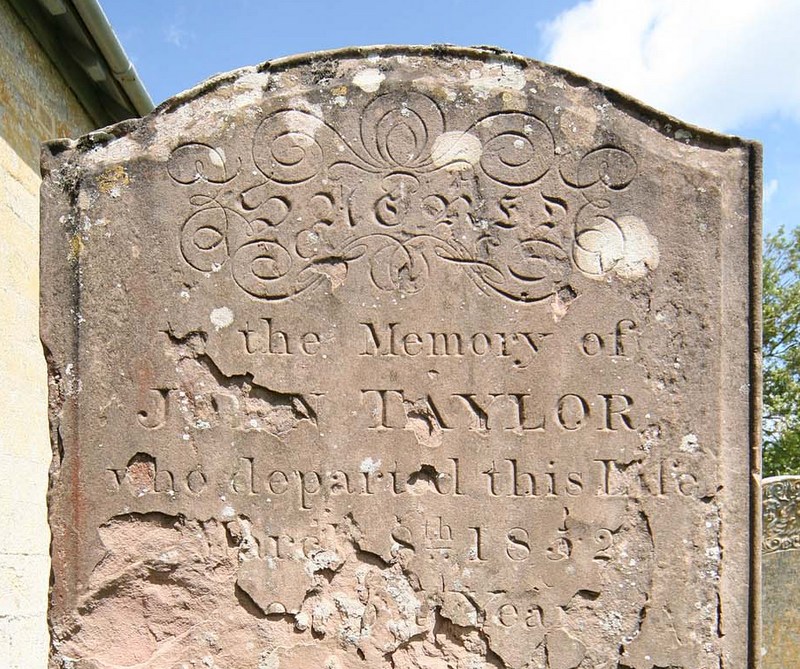 Samuel Taylor
Pre-1849-1856
Samuel Taylor had been born in Oakthorpe, Derbyshire, the son of Thomas and Mary Taylor. He had been baptised in Measham, Derbyshire on 5th January 1798. His family moved then moved to Wickhamford.
At the 1841 census Samuel Taylor and his wife, Ann, were at Wickhamford Manor, with three servants. He had married Ann Baylis at Stanton, Gloucestershire on 28th September 1829, at which time he was a widower. By 1851, he was farming 790 acres and employing 25 men.
Samuel Taylor, died on 18th June 1856 and was buried in Wickhamford churchyard on 24th June. In 1861, his widow, 63-year-old Ann, was still at the Manor living with her son-in-law, John Nind (see below) and her daughter, Jane. Ann Taylor died on 27th October 1884 and was buried with her husband.
(For more information on the Taylor family, see the article 'The Taylor Family: a farming life in Wickhamford' ).
 
John Nind
1857-1869
John Nind was born in Dumbleton in about 1829, farmed there in 1851 and had married Jane Taylor by the 1861 census, when he was the tenant at Wickhamford Manor. He was recorded as a farmer with 344 acres and employing 16 men and four boys.
He had one son at this time, John Samuel, who had been baptised in Wickhamford on 9th August 1857. Other children were – Frederick William, bpt 14/08/1859 (died aged 15 weeks and buried 21/10/1859) and Arthur William baptised on Christmas Day 1861. John Nind's mother, who lived with the family, was buried on 22/10/1862.
John Nind was one of three mourners from Wickhamford who attended the funeral of Arthur, 2nd Baron Sandys, at Omberley on 24th July 1860. It was Arthur Sandys who carried out restoration of the Sandys family monuments in Wickhamford Church in 1841.
He had moved to Beckford by the 1871 census, as was listed as a retired farmer and he died in 1873. Jane Nind died in 1885.
It was around the time that John Nind ended his role as Churchwarden that the Vicar, Rev. Thomas Hunt, responded to a questionnaire, in 1868, from Christ Church, Oxford asking for information about Wickhamford. Regarding the Church, the chancel was in good repair but there was other parts needed attention, the churchyard was in a disgraceful state and the village population were described as – 'moral condition stagnant and indifferent from sluggishness'.
(See article '1852-1887 - Reverend Thomas Henry Hunt').
Francis Taylor
1870
Francis Taylor was born at Elm Farm, Wickhamford, the son of John and Sarah Taylor and was baptised 6th May, 1828.
In 1851 he was working for his father on the farm, which consisted of 253 acres. In 1867 he married Letitia Arkell in Winchcombe. By 1861 his father had died and he was running Elm Farm and employing 6 men and 2 boys. He probably left Elm Farm around 1880 as on the 1881 census it was unoccupied. Francis Taylor was by then living in Elmley Castle and he was employed as a farm bailiff.
He was a beneficiary in his father's will, when Probate was granted on 1st May 1852. He was an executor of the will of William Cook, a labourer of Wickhamford, when Probate was granted in March 1879.
(For more information on the Taylor family, see the article ' The Taylor Family: a farming life in Wickhamford').
 
George Burrows
1872
George Burrows was born in Buckland in about 1838 and he married Sarah Ann Gabb, in Inkberrow, on 29th September 1865.
In 1861 he was a farmer at Thorn Hall, Inkberrow, working 137 acres and employing 3 labourers and 2 boys. At the time of the sale of the Wickhamford Estate by the Sandys family, in 1869, he was at Field Farm, Wickhamford. The farm consisted of 401 acres, at that time the largest farm in the village. On the 1871 census, he was employing 7 labourers and 3 boys. One daughter, Minna, was baptised in Wickhamford on 18th July, 1869. He also had another daughter, Louisa, who was born in Inkberrow in 1866.
At some time between 1871 and 1881 he left Field Farm and on the 1881 census he was the proprietor of the Golden Cross Hotel, Bromsgrove. In the Littlebury's Directory for Bromsgrove in 1879, George Burrows was already at that hotel and described as a 'wholesale bottler of Buron ale and Dublin stout'. By 1891 he had moved again and was a licenced victualler at the Crown Hotel, High Street, Cheltenham.
George Burrows died in Worcester in 1924, his wife, Sarah, having died there in 1918.
 
Francis Taylor
1873-1880
See section above on Francis Taylor's first period as Churchwarden in 1870.
 
Edward William Pope
1881
Edward Pope was a son of Daniel and Caroline Maria Pope nee Wintle, and he was born in Upleadon, Newent in 1848. He married Maria Champion in 1869 in that area; they had five children, but none of them was baptised in Wickhamford.
Edward Pope lived at Wickhamford Manor, which was known as Manor Farm at that time. The farm consisted of 204 acres and in 1881 he was employing 4 men and 3 boys.
He was appointed Churchwarden in 1881 and died in office 3rd May 1882, at the early age of 33, and was buried in Wickhamfordon 6th May 1882.
(For more information on Edward Pope, and the Pope family, see the article 'The Pope Families of Wickhamford Manor').
 
George Pethard
1882-1891 & 1897-1901
George Pethard was born in Badsey in 1838 but by 1841 his parents, John and Amelia (nee Jarrett), had taken over the Sandys Arms. As well as running the inn, John had a wheelwright's business at the premises.
George married Sarah Ann Slatter in Claines, Worcs. on 5th July 1860. In 1861 he was described as a carpenter and living in a cottage (now demolished), that was in a field to the south of Wickham House, with his wife Mary and 3 month old daughter, Sarah.
Four more children were born to George and Mary - Frederick George, 1862, Edgar William, 1865 (died 1900), Amelia, 1866 (died 1867) and Edward John, 1868. Shortly after Edward's birth Mary died and was buried in Wickhamford on the 6th March 1868.
By 1871 George Pethard's father had died and he was living at the Sandys Arms with his widowed mother and running the wheelwrights business. Sadly his children were not living with him but were being cared for by neighbours or family members.
George then married Hannah Byrd of Bretforton in 1880 and on the 1881 census they were living at the Sandys Arms with his mother and three of the children of his first marriage, Sarah, Frederick and Edward. (Edgar was living with his employer in Broadway).
George had four children with Hannah and all were baptised in Wickhamford - Henry Jarrett (bp 28/12/1884), Vernon Joseph Byrd (bp 20/06/1886), Millicent Gertrude (bp 08/01/1888) and Florence Mabel (bp 01/03/1891).
George died and was buried in Wickhamford on 24th December 1911, aged 74 . Probate was granted March 1912 and the beneficiaries were his widow, Hannah, and the three surviving children of his first marriage, Sarah Ann Bott, Edward Pethard and Frederick Pethard, both described as wheelwrights.
(See the article on The Sandys Arms and also the Obituary in the Parish Magazine of January 1912).
 
Robert Taylor
1893-1894
Robert Taylor was born in Alderton the son of John and Elizabeth Taylor in 1849.
Robert married Sarah Kate Wood in 1887 and in 1891 they were living at Elm Farm but not working it as a farm as Robert is described as a carpenter. A son, John, was baptised 17th May 1890, but died 6 days later. Another son, also called John, was baptised 30th July 1891.
The 1901 census shows the family living at Whitechapel Farm, a property just outside the Wickhamford boundary towards Broadway. This census shows they had a son William H. born in Wickhamford in 1888 (although he was not baptised there) as well as John.
The family returned to Wickhamford as,in the Land Valuation Survey of 1912, Robert was the owner of a property on Pitchers Hill now known by the name of Rosebank.
In February 1893, the churchyard was extended at the West end to its present size – the sketch map below is in the Almonry Museaum, Evesham.
Robert Taylor died 13th August, 1928 and Sarah Kate died 2nd March 1942 and there is a headstone in Wickhamford churchyard.
(For more information on the Taylor family, see the article 'The Taylor Family: a farming life in Wickhamford' ).  Also, see - Taylor, Robert (1849-1928) and family - of Elm Farm and Rosebank, a photographic archive for a number of photographs of Robert.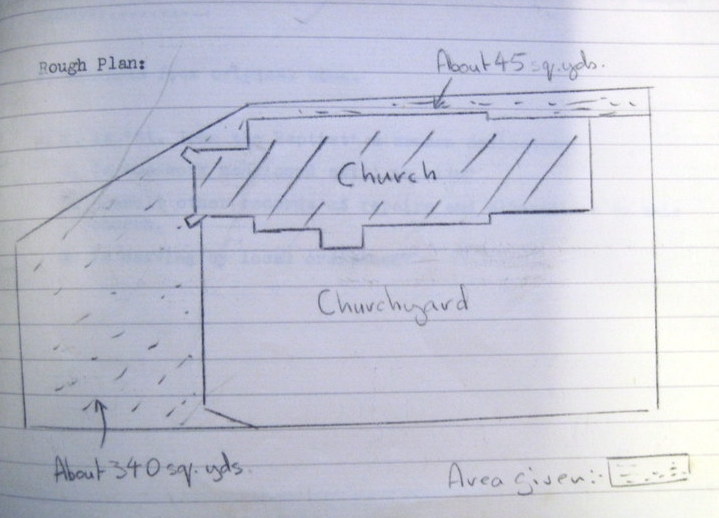 Edward J. Pethard
1896
Edward Pethard was born in 1868 the son of George and Sarah Anne Pethard nee Slatter - see above under 'George Pethard' for details of Edward's early life.
He married Annie Georgina Smith of Childswickham in 1894 and they had three daughters who were baptised at Wickhamford - Violet Lilian, 3rd November 1895, when the Vicar stated in the Register that Edward was a wheelwright at Manor Farm, Priscilla Marjorie, 25th June 1899 and Nancy Kathleen, 23rd August 1903.
In was largely during the period that Edward Pethard was Churchwarden that repairs were done to the Church chancel, and the nave was roof was restored externally.
On the 1924 Electoral Register, he was living at what is now 20 Pitchers Hill.
He died in 1946 aged 78.
(For more information on the Church repairs see article 'Wickhamford Church Repairs 1893-1901').
 
John Idiens
1901–1904
John Idiens lived in Wickhamford Manor from the end of the 19th century to around 1905/6. He was a son of John and Sophia Idiens of Birmingham and born there in 1852.
He married Alice South in 1879 and they had seven children, all born in Evesham, where John worked as a coal merchant.
John Idiens became tenant of Wickhamford Manor in the 1890s and their eldest son, Harold mentioned in the Parish Magazine as the organist at the Church in 1902.
The family moved to Canada in 1913, after being recorded in Poole, Dorset in the 1911 census.
( There are full details about John Idiens and his family in the article The Idiens Family of Wickhamford Manor).
 
From 1905, two Churchwardens were elected each year, one to represent the Vicar and one to represent the parishoners. In the rest of this article, Vicar's wardens are shown by (V) and parishoners' wardens by (P).
John Idiens
(V) 1905-1906
See above for details of John Idiens.
 
Frederick Ingledew Hooper-Ingledew
(P) 1905-1906 & (V) 1907
Frederick Ingledew Hooper was born in Worcester in 1857. In the 1901 census he was aged 43 and living at Elm Farm with his wife, Lilian Jane, aged 38 (who had been born in Ohio, USA) and their two daughters, Muriel, aged 20, born in America and Dorothy, aged 15, born in Claines, Worcester.
He had married Lilian Studebaker on 27th November 1879 in Las Vegas and their four children were – Margaret Muriel (b. 1880, Las Vegas), Winifred Catherine Winsmore (b. 1883, New Mexico), Dorothy Stella (b. 1886, Claines) and Gilbert (b. 1887, Claines). Frederick appeared on the 1890 Voter's list in Las Vegas and the 1892 list in Los Angeles.
Frederick's occupation in 1901 was a fruit farmer. The census shows he was using the hyphenated surname 'Hooper-Ingledew', the name that appears in the US records. By 1911, Frederick was living at Bohemia Gardens, Willersey Road, Bowers Hill, Badsey. The 1912 valuation survey shows he owned the property plus the 6 acres of land attached and it was planted with Pershore and Victoria plums and apples. He was also renting, with two others, a 40 acre plot of land in the vicinity of his house from Christ Church College, Oxford.
Frederick and Lilian left England for Canada in 1915, their son, Gilbert, having emigrated a few years earlier. Frederick Ingledew Hooper (he had now reverted back to the surname, Hooper) died in Vancouver, British Columbia, in 1939.
 
Robert Taylor
(P) 1907-1916 & (V) 1917-1919
See details for Robert Taylor above, who previously served as churchwarden in 1893 and 1894.
The Church established a Reading Room in Manor Road in about 1907. This later became the Memorial Hall.
 
George Crompton Lees-Milne
(V) 1908–1911
George Lees-Milne, born in 1880, moved to Wickhamford with his wife Helena Christina (nee Bailey) and their young daughter Audrey from Sandbach, Cheshire in 1906, having purchased Wickhamford Manor together with land and other property from the trustees of J. P. Lord. His wealth came from the cotton industry.
Two sons were born in Wickhamford; George James Henry ('James') was baptised there on 5th September 1908 and Richard Crompton on 11th September 1910.
He extended the Manor by adding another wing and he also made his mark on the area of village in the vicinity of the Manor. In the 1930's he demolished a row of four cottages and built in their place the house known as Hody's Place where he moved to after he sold the Manor in the 1940's.
He altered Robin Cottage from a white painted house with a tiled roof to a thatched residence that looked much older. He also built a pair of thatched cottages close to the Memorial Hall. As the owner of the Manor he had his own box pew, above which now hangs his Memorial and in 1949 he restored the choir gallery in the Church, which had been removed about 50 years earlier – see picture below. This was completed shortly before his death and, by a quirk of fate, was first used for his Memorial Service, which took place on 3rd December 1949.
George Lees-Milne was a Churchwarden again in his later years, until his death in 1949; his wife, Helen, died in 1962.
(For more photographs of the Lees-Milne family see the articles 'Wickhamford Manor and the Lees-Milne Family and The 4th Worcestershire (Evesham) Battalion Home Guard).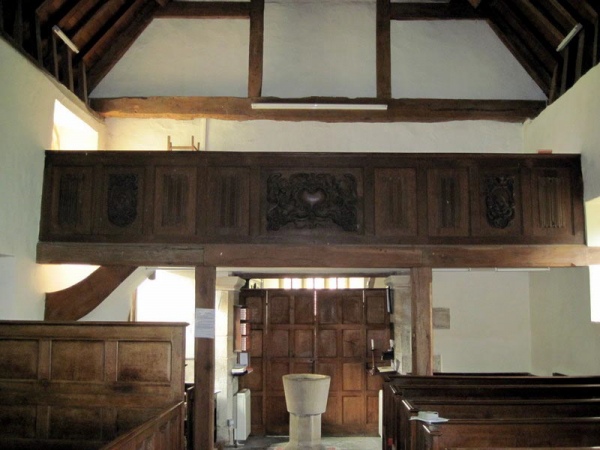 Benjamin Ryle Swift, M.A.
(V) 1912–1916
Born in 1866 in Birkdale, Lancashire, where his father was the Vicar, Benjamin Swift obtained a 1st Class degree in Classics at Oxford University in 1888. He was living in Dorchester in 1901 was employed as 'Secretary to the Technical Instruction Committee of County Council'.
He married Eveline Mary Lock in Dorchester in 1909 and moved to Wickhamford soon afterwards to become a fruit grower. He took over the tenancy of Longdon Hill House (now Oxley House) and in the 1912 Land Valuation Survey was recorded as growing mainly plums on about 11 acres of land. He wife died in 1913, aged only 35, and was buried in Dorcester.
Benjamin Swift was the organist in Wickhamford Church for many years. He moved to Port Street, Evesham in 1931, although he still grew fruit in the village, having 28 acres in 1941.
He died on 22nd April 1947, aged 80.
(See the article for 'Benjamin Ryle Swift of Longdon Hill' for more details of his life).
 
George Albert Agg
(P) 1917–1950
George Albert Agg was born in 1873 the son of Decimus and Mary Agg (nee Foster). In 1901 he was living with his parents in Main Street (now Manor Road), Wickhamford and his occupation was a market gardener. He married Catherine Archer in 1902 and they had two children, Edith, baptised on 26th April, 1903 and Albert, baptised on 12th January 1907 (who died in 1932).
In 1911, the family were living at what is now 46 Pitchers Hill, renting the property from the Wickhamford Estate owned by J.P.Lord. The Farm Survey of 1941 shows that George Agg was still living on Pitchers Hill and working land in Wickhamford and Badsey.
Catherine died in 1937 and George Agg remained a Churchwarden until ca 1950/51. He died in 1952 and was buried in Wickhamford on 16th February.
 
Edmund Cooke
(V) 1951-1960+
Edmund Cooke was born in Hyde, Cheshire, in 1891, the son of Joe and Eliza Cooke. He studied motor engineering at the University of Manchester and enlisted in the Royal Flying Corps in 1916. He was then transferred to the newly formed R.A.F. in 1918.
He married Eva Cull in South Wales in 1925, but they had no children. Apart from his roll as Churchwarden, he was also on the Memorial Hall committee.
During his time as a Churchwarden, land in Golden Lane was purchased in 1955 for use as a cemetery. The first burial there was in 1957 and no new graves were dug in the churchyard, although existing graves there were still used for family members.
Edmund ('Ted') Cooke died in 1969.
 
Ernest William Sturt
(P) 1951- ca 1959 ?
Ernest Sturt was born in Surrey, joined the Police service in Reigate in 1906. By 1920 he was Chief Constable of Bacup Borough force in Lancashire. He retired in 1938 and moved to Wickhamford to run Leystones Garage on Longdon Hill, with his wife Clara Eliza nee Kemp.
During the Second World War he was the village A.R.P. warden and Officer Commanding 'G', Evesham, Company of the 2nd Cadet Battalion of the Worcestershire Regiment.
He lived, towards the end of his life, in Weathervane Cottage, Manor Road, and died on 21st July 1963, aged 77 . His wife, Clara, died on 25th March 1881.
(See also the article on Leystones Garage).
 
In the cases of the next three men, Messrs Willis, Newbury and Sheaf, the periods of appointments are not known exactly as the Parish Magazines in the 1950s did not record the names of the Churchwardens.
Clarence Henry Willis
(P) 1950s
Clarence Willis was born in 1905, a son of market gardener Thomas Henry and Elizabeth Willis nee Harris. The family lived in Badsey in 1911.
He married Alice Lilian Penson in 1933 and they went on to have no less than eight children – twins, Barbara and Henry in 1933, Gordon (1934), Margaret (1936), Brenda Lilian (1939), more twins, David and Dorothy (1941) and finally Barrie in 1944. The Parish Magazines were no produced for much of this period, but confirmations of Margaret on 5/04/1950 and Brenda on 27/10/1954 are recorded there. He was living at 35 Pitchers Hill in 1939.
Clarence Willis was a market gardener in Wickhamford with a piece of land on what was known as 'Seed Ground'.
He died in 1985 and was buried in Wickhamford cemetery on 27th September. His wife, Alice, who died in 1990, was also buried there.
 
Jesse Harris Collet Newbury
(P) 1950s
Jesse Newbury was born in 1907, the son of John and Margaretta Newbury nee Smith. He married Alice M. Halling in Willersey on 18th November 1933 and they had three children – Ann (1934), John (1945) and Jennifer (1948). As mentioned above, Parish Magazines were not produced for part of this period, but a record of Jennifer's baptism on 22nd February 1948 in Wickhamford is there. Jesse Newbury worked for many years for James Brewer's Bakery in Badsey and then as a driver for Smedley's Canning factory at Worcester Road, Evesham.
At the time of his death, Jesse Newbury was resident at 'The Hawthorns', Evesham but lived for many years at 6 Sandys Avenue. He was buried in Wickhamford cemetery on 22nd May 1992. His wife, Alice, was buried there previously, having died on 18th October 1987.
 
John Thornton Sheaf
(P) 1950s
John Thornton Sheaf was born in the Evesham area in 1916, a son of John and Rosina Sheaf nee Thornton.
He married Hilda Mary M. Hibbert in 1947 and they had a daughter, Penelope H. who was born in 1950. In Smith's Directory of 1956, their address is Manor Cottage, Wickhamford, but they left the village soon after. The Parish Magazine of May 1957 states –
"We are all very sorry to hear of the impending departure of Mr. and Mrs. Sheaf.  They have delivered invaluable service to the Church and to the life of the village generally.  However, we are glad to know that their new home is in fairly easy reach of Wickhamford and that Mr. Sheaf will be able to continue as Churchwarden." He had also been Treasurer of the Parochial Church Council, but had asked to be relieved of the role.
Both John and Hilda Sheaf died in 1987.
 
James Edward Parry
(P) 1958 -1985
James Edward Parry was born on 1st May 1907 in Northampton, the son of David Owen and Minnie Parry nee Rickard. By 1911 the family were living in Worcester Road, Evesham and 'Owen' Parry was employed as a clerk.
'Ted' Parry and his wife, Dorothy Margaret nee Gilbert (b. 1909 in Evesham), had a daughter, Jane (b. 1939) and two sons, Geoffrey (b. 1941) and John (b. 1945). Before the Second World War, he built the pair of houses by the Murcot Road, now known as Windward House, but then called 'Clovelly' and 'Kingsley'; he lived in the former, while his widowed mother, Minnie, lived in the latter.
After the War, they lived for a number of years in Wickham House before moving to 40 Manor Road in 1978. Their children, Jane Margaret and Geoffrey Edward Parry were both confirmed on 27th October 1954 in Badsey Church.
Ted Parry ran a business at 7 Vine Street, Evesham (central heating, plumbing, electrical and T.V/radio repairs) until the 1980s. He was a member of the Wickhamford Parish Council for many years, retiring in 1987. In 1951, D. Margaret Parry was a founder member and first Secretary of the Women's Institute branch in the village. She embroidered, in 1968, the tapestry for the cushion that is on the old chair in the chancel – see below. James Edward Parry died in 1991, the funeral service taking place in Wickhamford Church on 4th April, and his wife died in 2000.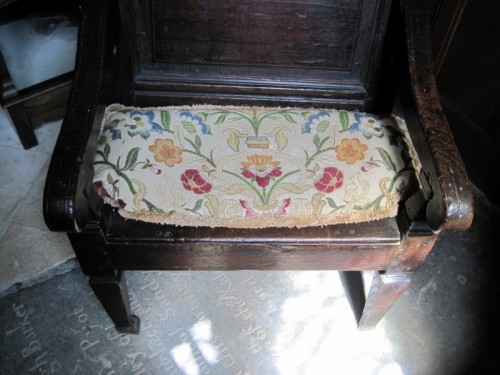 Harvey John Dunkerley, C.B.E, M.A.
(V) 1967-1973
Harvey John Dunkerley was born in 1902 in Edmonton and he married Thelma G. Couch in 1961. The couple had four children baptised in Wickhamford, (the christening of the eldest being performed by the Bishop of Worcester) – Felicity Grace, 8/12/1962, Elizabeth Clare, 25/7/1965, Jennifer Rose, 8/10/1967 and John Anthony, 13/4/69.
John Dunkerley, as he was known, was the Controller for the Midland Region of the B.B.C. when he was awarded the C.B.E. in the Queen's Coronation Honours List. He lived just outside of the Wickhamford boundary at Gallipot Farm.
He died in 1985 and his wife, Thelma, later became a Churchwarden (see below).
 
David Gerard Poulter
(V) 1973-2004
The second son of Leslie and Kathleen Janet Poulter nee Grieve, Gerard was born in 1937. His father had moved to Evesham in 1926 and lived, until the Second World War at The Lodge of Wood Norton. The family then moved to The Driffold, by the Murcot Road and, after the War, to Pitchers Hill Farm (now called Wickham Farm), Manor Road.
Gerard Poulter, and his elder brother John, took over the running of the dairy farm from their father and married Anne M. Hirst in 1970. Their children were baptised in Wickhamford - Giles Edward in 1973 and Jessica Helen in 1976.
It was in 1984, during the period that Gerard Poulter and Ted Parry were Churchwardens that conservation work on the Royal Arms was carried out in the Church – see picture of the completed work below.
Gerard Poulter was  Chairman of the Memorial Hall Committee for a number of years.
(See article 'The Restoration of the Royal Arms in the Church of St John the Baptist, Wickhamford in 1984').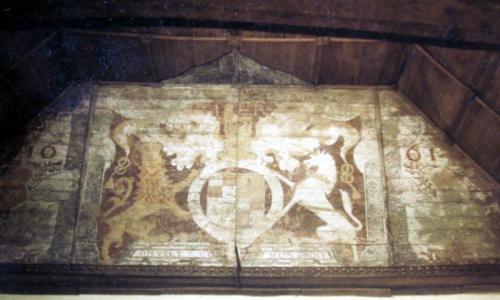 Mrs Thelma Grace Dunkerley
(P) 1986-1994
Thelma was born in Oldbury, Worcs. in 1934, a daughter of William and Florence Couch nee Millward. She was the first lady to be appointed as a Churchwarden in Wickhamford.
See above, under Harvey John Dunkerley, for more information.
 
Kenneth Maden
(P) 1994 onwards
Ken Maden was born in Rossendale, Lancashire, on 25th April 1946 the son of Ronald and Ruth Maden nee Holt. He married Diane S. Christy in 1971.
Following the closure of many Lancashire mills in the 1970s, he moved to Wickhamford in 1980 upon joining the Prison Service at Long Lartin. Their younger daughter, Laura, was baptised in Wickhamford church on 12th June 1983, and their elder daughter, Caroline, was confirmed there on 24th June 1990.
Ken Maden was brought up as a Baptist, so when asked to become a Churchwarden he had to be baptised in the Church of England, which was performed just before his appointment in March 1994. The witnesses to this rare adult baptism in Wickhamford Church, by Rev. Peter Mitchell, were Diane and Laura.
He is a member of the Memorial Hall Committee and plays the trombone in the Avonbank Brass Band.
 
Mrs Patricia Clinton
(V) 2004 onwards.
Patricia M. Hartwell was born in 1946, the daughter of Bertie and Margaret Hartwell nee Dutton, and lived in Harvington. She worked as a shop assistant and married Graham L. Clinton in 1968 moving to Wickhamford that year.
Their children, Pauline Estelle and Richard Graham were baptised Wickhamford on 8th August 1971 and 11th August 1974 respectively.
 
A fitting tribute to all of the Churchwardens of Wickhamford over the centuries, and others, can be seen on the gate to the churchyard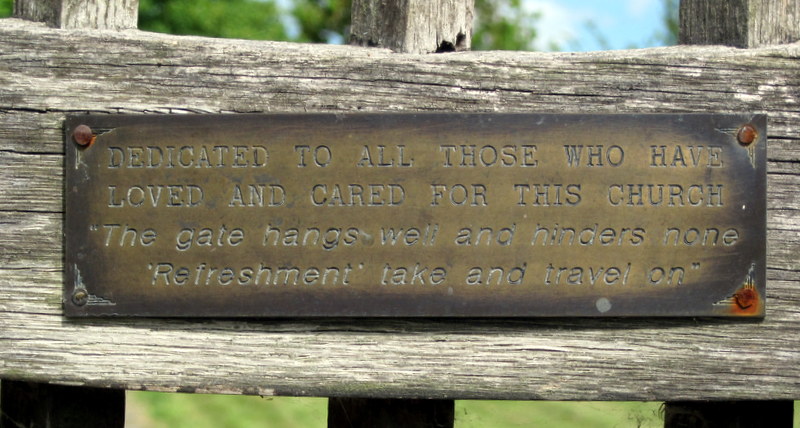 Appendix – Photographs of the more recent Churchwardens are presented below – in many cases these pictures are from times of their lives not coincidental with their periods of service.
In some instances the authors have no pictures and would welcome contributions from readers.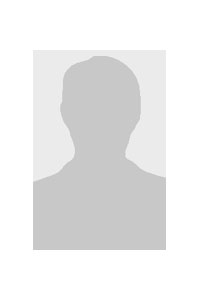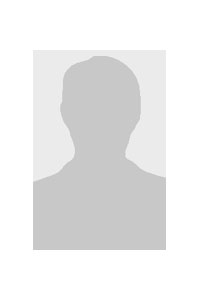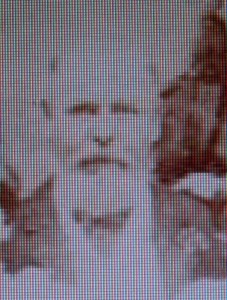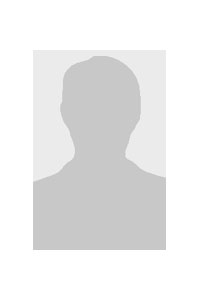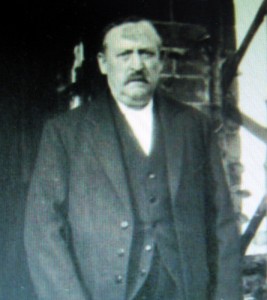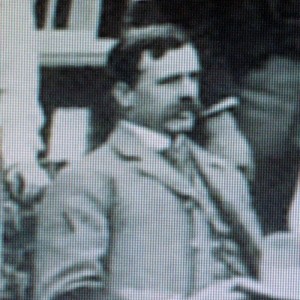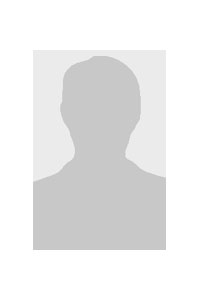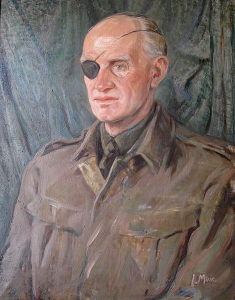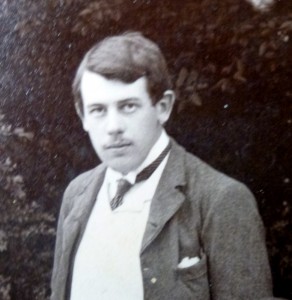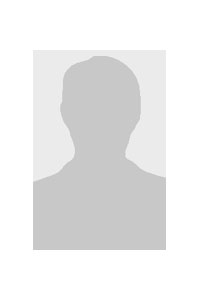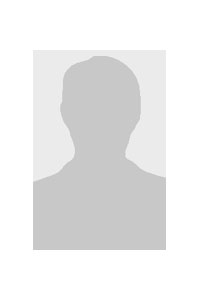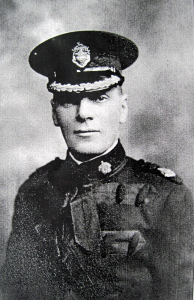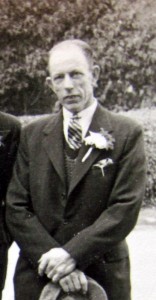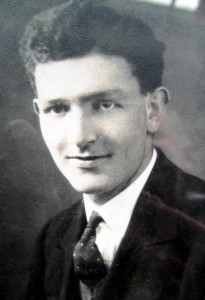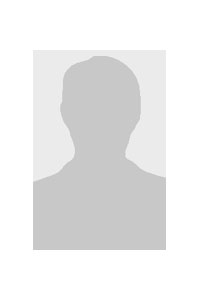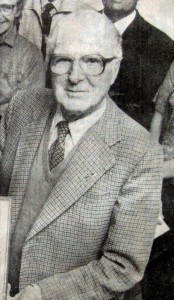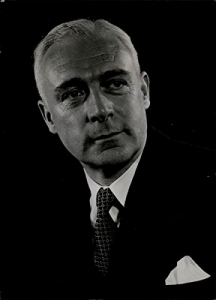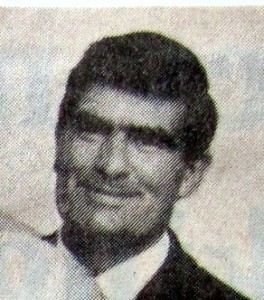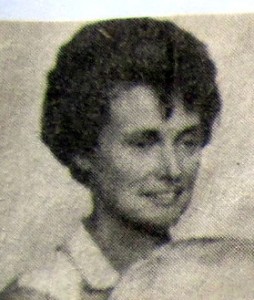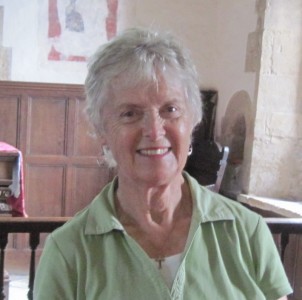 Val Harman and Tom Locke – August 2015