Fanny WALTON (née ROBINSON) (1877-1956)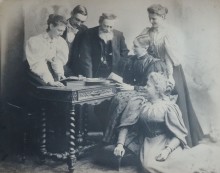 The Robinson family c1897, with Fanny on the left. All three photos by kind permission of Jenny Gosney and Richard Walton.
Biographical Details
Fanny Walton, née Robinson (1877-1956) was the niece of Eugénie Sladden, being the daughter of her sister, Mary Anna Robinson.
Fanny Robinson was born on 15th July 1877 at Marshgate House, Richmond, Surrey, the youngest of four children of Frederick Dalgarno and Mary Anna Robinson.  She was baptized at St Mary Magdalene, Richmond, on 22nd August 1877.
On 31st March 1898 Fanny married Charles Henry Walton, a solicitor, at St Matthias Church, Richmond (a letter of December 1896 reveals that she had previously been engaged to a Mr Workman).  Fanny and Charles moved to Pembridge House, 10 Strawberry Hill, Twickenham where all their five children were born:  Francis Edwin (1899-1969), Eleanor Mary (1900-1985), Lancelot Henry Frederick (1902-1998), Miriel Margaret (1906-1989) and Phyllis Myfanwy (1907-1971).  Fanny is mentioned in most of the letters written by her mother, Mary Anna Robinson.
Fanny's husband, Charlie, died at Pembridge House in 1945.  Following her husband's death, Fanny moved to Langham Cottage, Riverside, Twickenham.  She died on 1st December 1956 at Walton-on-Thames Hospital.
Letters mentioning this person: