After the Armistice of 11th November 1918, servicemen began to return home to restart their lives.  When the Census of 1921 took place, many of the nearly 70 households in Wickhamford contained residents who had served their country.  In addition, some were mourning lost family members. To have settled down to a life of peace in a Worcestershire village would have been very difficult for many of the inhabitants.  The recorded population was 305, but 16 were visitors.  A few of the residents were away on the night of the census, so the normal population would have been between 290 and 300. Some twenty-five men recorded in the Census had served their country and the relatives of five who died lived in Wickhamford. Approaching half of the households had members directly involved in the Great War.
This article looks at the Census returns and points out residents with Great War connections.  For clarity, the present-day addresses are used in this article.
Longdon Hill
Of the ten properties on Longdon Hill, only two had ex-servicemen present in 1921.  At Orchard Court, farmer Benjamin Carter employed Rees Caron Felix as a farm assistant.  He had served in the Honourable Artillery Company, in France. At 1 Longdon Hill, were the family of William and Elizabeth Holland.  Their son, Albert William Holland, was killed in action in France, in January 1918, while serving with the Worcs. Regt.  In 5 Longdon Hill were ten members of the Southern family.  The eldest son, garden labourer Harold Henry Southern, enlisted in the Army when underaged and served in France, but his Army details are unknown.
A different aspect of the consequences of the War can be found at Oxley House at the top of Longdon Hill.  Benjamin Ryle Swift, a widowed fruit grower and market gardener had taken into his home five young Austrian boys who had been rescued from that country, which was suffering from a post-War famine.  They were aged 5-12 and he was paying for their full-time education.
Manor Road
In 1921, there were 24 properties in Manor Road and two in Wickhamford Lane.  Starting at the lower end, in 1 Wickhamford Lane, lived George Higgins Hardiman, a market gardener, who had served in France with the Army Service Corps.  Wickhamford Manor was the home of George Lees-Milne, his wife and three children, but they were away on census night.  He had been in the Cheshire Yeomanry until 1905 but had then lost an eye in a riding accident, so could not serve in the War.  He had been employed by the Government to secure horses from farms for use by the Army.  A gardener at the Manor, until the War broke out, had been Irvin Godfrey Wilcox.  He joined the Royal Field Artillery and was killed in France in March 1918.  George Lees-Milne's wife, Helen, lost her brother in the War and his name appears on the Wickhamford War Memorials. He was Robert Neale Menteith Bailey, who served with the East Riding of Yorkshire Yeomanry, was wounded in Palestine and died in Egypt.
At the end of Manor Road was a terrace of four houses, where Hodys Place now stands.  In one of them, Percy Hartwell, market gardener, had served in the Worcs. Regt and Machine Gun Corps and had not been discharged until 1920.  Opposite, in Corner Cottage, were the family of Emmanuel Butcher, gardener at the Manor.  Although no longer living in the family home, two of his children, had served.   Muriel Evelyn Butcher had been in Queen Mary's Army Axillary Corps in France and William Butcher had been a sergeant, but his records no longer survive.  At a hospital in Étaples, in 1918, Muriel had been subjected to aerial bombing and was sent home on sick leave, suffering from shell shock.
At 52 Manor Road, was Norris Haines, who worked as a chauffeur for the Lees-Milne family at the Manor.  He had served in the Army Service Corps in France and Italy, being discharged in 1919.  Next door, at 54 Manor Road, lived William Howells, a market gardener.  It is not known if he served in the War, but he did appear before a Military Tribunal in April 1916, when he worked for George Lees-Milne as a carter and driver.  He was refused exemption from Military Service and is presumed to have enlisted. 
At Elm Farm, lived John and Elizabeth Mason.  They had lost their son, George Mason, who was killed in action in France in 1917.  Another son, Thomas Mason, survived the War.   Opposite Elm Farm, in Weathervane Cottage, lived Edgar Thomas Ellison, a domestic gardener.  He had been in the Army Service Corps, but his records do not survive.    Along the road from Elm Farm, in Brookfield Cottage, lived Bertha Drysdale and her son John Mortimer Drysdale, a wheat merchant, who was an aviator who joined the Royal Flying Corps and then the Royal Air Force on its formation in 1918. He had served in France and was mentioned in despatches that year. His brother, Roger Gillespie Drysdale, had served as an officer in the Royal Warks. Regt, and following illness, when his request to resign his commission was refused, he took his own life in 1915.
At 42 Manor Road, market gardener, Wilfred Charles Pitman, had been in the Army since 1909, in the Worcs. Regt.  He had later joined the Royal Field Artillery and served in Egypt.   On the opposite side of the road, Grey Gables was two cottages in 1921, both occupied by members of the Heritage family.  In one, was market gardener Percy Cyril Heritage, who had been in the Worcs. Regt and Royal Garrison Artillery.  He had been severely wounded in the foot and arm at one stage.  
Jesse Richard and Olive Colley lived at 10 Manor Road.  Their son, Vincent Colley, had emigrated to Canada in 1911 and he joined the East Ontario Regt in 1914.  He arrived in France in 1915 and was killed in action in June 1916.  Another son, no longer living at home, was Jesse Colley, who served from 1916 in the Machine Gun Corps. Next door, at 8 Manor Road, John Henry Walters, market gardener, had served in the Worcs. Regt and Royal Garrison Artillery.  He had been reported missing in 1918, but was eventually evacuated to England suffering from a poisoned hand.  Then, at 6 Manor Road, was another market gardener, Basil Griffin, who had served in France with the Royal Berks. Regt, enlisting in 1916, when aged 38 years.  He was later transferred to the Labour Corps and he served in France.   Just further along, at 2 Manor Road, lived William Percy Wormington.  This market gardener had not joined up, but the Military Tribunal in 1916 exempted him from the Army, as long as he joined the Volunteer Training Corps (V.T.C.).
Pitchers Hill
In 1921 there were about 30 households living on Pitchers Hill.  At the start of Pitchers Hill was the Sandys Arms, where the licenced victualler was Frank Banner.  He was recruited late in the War, joining the Devonshire Regt in 1917, aged 36, but was soon transferred to the Labour Corps where he served only in the U.K.  Ernest Fallon, Worcs. Regt, is on the village War Memorials, having died in France in 1915.  His connection to Wickhamford is unknown, but he was a 'potman' in a Birmingham public house in 1911, so may have been working at the Sandys Arms when he enlisted in 1915.
Next door, at 3 Pitchers Hill, were the Pethard family who for many years had run the Sandys Arms.  Vernon Joseph Byrd Pethard served in the Royal Fusiliers and Labour Corps, having joined up in 1916.   
Next along the road were three recently constructed Council Cottages, all containing ex-servicemen in 1921. At 5 Pitchers Hill, was bricklayer Allen Halford, who was one of five brothers who served.  He was in the Worcs. Regt and with the B.E.F. in France from 1915.  He was severely wounded later in the War and transferred to the Labour Corps.  At 7 Pitchers Hill, market gardener Charles Parker had enlisted in the Worcs. Regt in December 1914.  He served overseas and eventually was in the Labour Corps.   In the last of these Cottages was Gilbert Charles Franklin, a garden labourer.  He had been in the Gloucs. Regt since 1911, serving in China until the outbreak of War, transferring to the Machine Gun Corps in 1916.
Further along towards Broadway, on the north side of the road, the next house in the 1921 Census with Great War connections was 71 Pitchers Hill.  Here lived market gardener's labourer, George Henry Pitts, who joined up, aged nearly 40, in June 1917.  He served with the Worcs. Regt in Italy and was awarded the Military Medal.  Next door at 73 Pitchers Hill, was David Hampton, who, due to market gardening work, was exempted from the Army but did join the V.T.C.  in 1916.  At 93 Pitchers Hill, two families were living in the house in 1921.  Fruit grower, Tom Herbert Collett, had suffered from gas injury whilst in the Royal Field Artillery on the Western Front.  The other family in the house were Alice Cox and her children.  She had lost her son, Frank Cox, who was died of heatstroke while serving with the Royal Field Artillery in Salonika, Greece, in 1916.  He had lied about his age when joining up in 1914, and was still under 18 when he died.
Returning towards Evesham, on the south side of the road, Albert Cox, was a gardener's labourer, living at 46 Pitchers Hill.  He was another son of Alice Cox and had served in the Royal Field Artillery in France and Salonika.   His next-door neighbour, at 44 Pitchers Hill, was market gardener, Francis Henry Halford, brother of Allen Halford (above), who served in the Worcs. Regt in France.
At 20 Pitchers Hill, lived the son-in-law of the occupier, Edward Pethard.  He was Cecil Herbert Ward, a dealer in market garden produce, and his service career may be unique.  He enlisted in the Worcs. Regt at the outbreak of War in September 1914, but was discharged the following April, due to heart problems.  In early 1918 he enlisted as a driver in the Royal Naval Air Service.  When the R.A.F. was formed in April 1918 he transferred to them as an Air Mechanic, but the transfer was annulled in July and he returned to the Royal Navy, where he remained until August 1919.
In one of the last two houses on this side of the road before it becomes Longdon Hill, was Frederick Taylor, a gardener's labourer at 4 Pitchers Hill.  His service record is unknown, but he was probably in the Labour Corps and lung problems in later life could have been due to gas injury during the War.  His neighbour in this pair of houses was John Thomas Pitman, a market garden's foreman, who served in the Labour Corps and Army Service Corps.
The Effects of the War
The longer-term reactions to period in the Armed Services would have varied from person to person.  Some never spoke of their experiences for the rest of their lives.  Others joined in reunions of their units.  Norris Haines (marked with a X) is one who did, as shown in the picture below.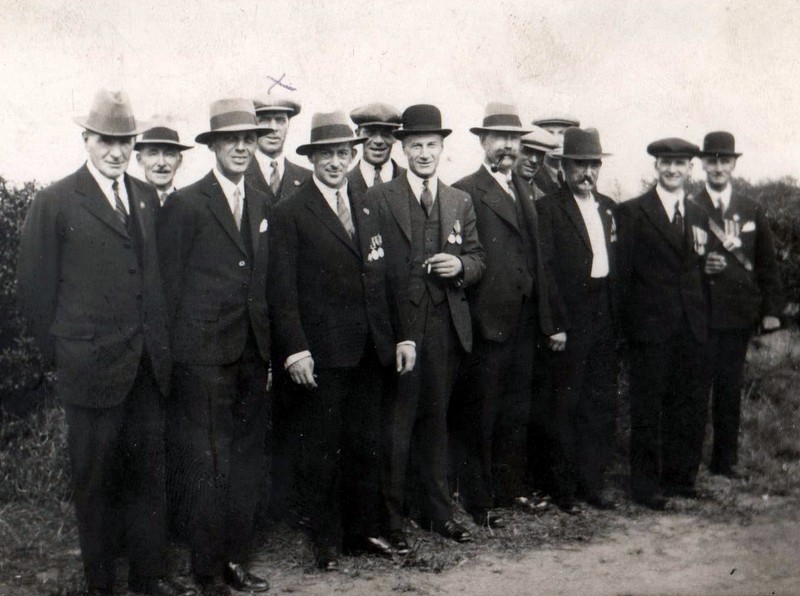 Many would have gathered of an evening in the Sandys Arms, no doubt often reminiscing over a pint or two. With Wickhamford men having fought the Germans on the Western Front, the Austrians in Italy, the Bulgarians in Northern Greece and the Turks in Egypt, there would have been plenty to mull over.  In 1921, no one would have thought that war would return in less than 20 years, when a number of the Great War veterans would join the Home Guard.
Tom Locke – May 2022