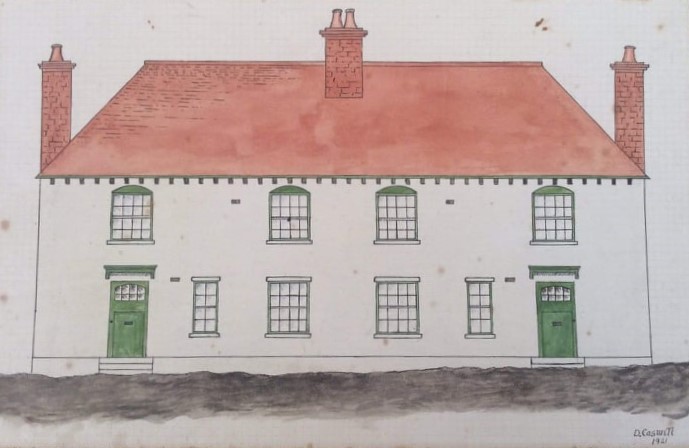 This year, 2020, marks the 100th anniversary of the first Council houses to be built in Badsey.  Twenty-four homes (or cottages as they were often referred to) were built on the western side of the road extending from the Bretforton Road down to the old school (now The Pub in a Club).  They were built under the provisions of the Housing and Town Planning Act of 1909, but plans were delayed because of the First World War.
It is thanks to Charles Arthur Binyon that the scheme in Badsey came to fruition soon after the war had ended.  Full details of all the planning involved and the building of the houses may be read in Will Dallimore's chapter on council housing in Aldington and Badsey, Villages in the Vale:  A Tapestry of Local History, and in Binyon's booklet, Official Opening of the 1000th Council House, which contains a history of council housing in Evesham Rural District.
We know from a newspaper report in The Evesham Standard that the first eight houses were occupied by July.  By mid August 1920, ten of the cottages were occupied.  Most were finished by the end of 1920 and we know from Binyon's diary that all the Badsey homes were occupied by February 1921.
There had been 67 applications for 24 houses.  Many of the new tenants were returning servicemen with young families and a majority were to remain in their new home for the rest of their lives.  The new houses were known as Nos 1-24 Synehurst.  Nos 11-24 were renumbered as 25-38 in 1949, when the 14 houses that had been built in 1927 on the east side of Synehurst became 11-24.
In 1931, plans were drawn up for further council housing and, by 1933, tenants were able to move into Synehurst Crescent and Synehurst Avenue, which had the effect of severely reducing the size of the Synehurst large back gardens.
In 1950, there were considerable discussions at Parish Council meetings about the site for a further development of council housing.  One of the areas under consideration was at the end of Synehurst Avenue.  In the event, an area to the east of Synehurst was developed and became known as Green Leys.  It was not until another nearly 70 years had passed before houses were built on this land, adjacent to 38 Synehurst, in a development known as Sladden Close.  In 1966, there had also been attempts to erect a petrol filling station at Brook Meadow, Synehurst, but this was turned down.
The Housing Act of 1980 gave Council house tenants the "right to buy".  As a result, many of the Synehurst homes are in private ownership.
Maureen Spinks, September 2020